The corner of Bush and Divisadero will not look the same by the end of 2015, as a big new condo development rises and the intersection's restaurant and retail landscape evolves.
For 41 years, Nawai Kharsa, owner of King of Falafel restaurant at the corner of Divisadero and Bush Streets, has been offering loyal customers an array of Middle Eastern food. But the end is near. Landlord Rick Howard—who also owns Harry's Bar, Bruno's, Eddie Rickenbacker's and the Owl Tree—purchased the King of Falafel building in 2013. As The New Fillmore reported last year, he had planned on having King of Falafel out by January of this year.
However, he's given them a one-year lease extension, and they will now have to vacate by December 31st, 2015.
Howard plans to renovate and seismically retrofit the space before leasing to a new tenant, and last year had the space listed for $12,000 per month. But commercial real estate listing service Loopnet.com indicates that the property is off the market for now. 
"This whole business is very nasty," said Kharsa. "My family has operated this business for more than 40 years, and now it is all lost. We can't even sell it." As Eater SF reported, Howard claims that Kharsa had plans to sell the business while simultaneously negotiating for a long lease extension.
He also said he has no plans to open a business of his own in the space once it's been retrofitted, so look out for a new business to assume the corner once the space is ready sometime in 2016.
Next door to King of Falafel, sewing machine shop and sewing school Wee Scotty has moved out of its 1807 Divisadero St. location after a reported rent increase from $2,500 a month to $8,000. Wee Scotty relocated to a new location at 609 Clement St. The Divisadero space remains vacant nearly a year after Wee Scotty's departure.
Meanwhile, 10 months after opening in the former Tortilla Heights space on the southeast corner of the intersection, the San Francisco Athletic Club is doing brisk business with the sports bar crowd.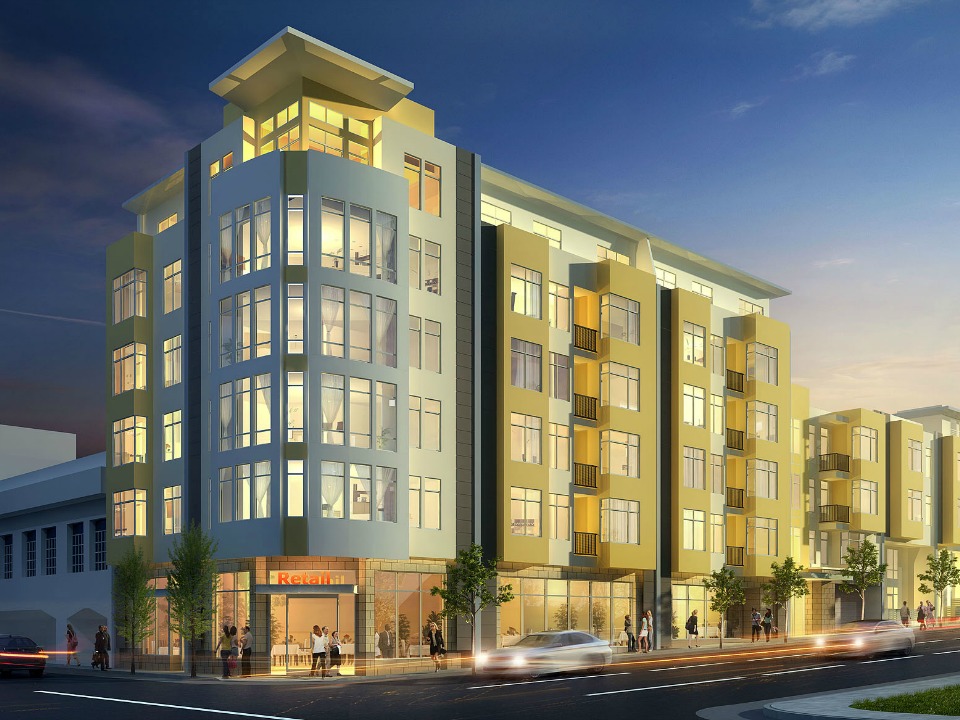 (Photo: KB Home / BusinessWire)
The most visible change at Bush and Divisadero will be the new six-story commercial and residential complex that is replacing the San Francisco Community Convalescent Home, to be known as KB Home's Bush Street. The structure will house 81 luxury condominiums likely priced above $1 million each, and 3,866 square feet of commercial space."We're looking at uses such as a fitness center, a bank or of course a restaurant," said leasing agent Matt Taylor of CBRE Real Estate Services.
The property is being developed by national builder KB Home, who bought the project for $38 million from Los Angeles-based investor Ares Management LLC and Mill Valley-based developer Thompson | Dorfman Partners LLC, who made a tidy profit after acquiring the site in 2012 for $14.6 million.
Planned amenities for KB Home's Bush Street include an on-site gym, rooftop common areas, community gardens, and a gated garage. Unit size will range from 615 and 1,704 square feet, with up to two bedrooms with dens and two baths, according to a KB Home news release.
Taylor said that the project should be completed by December 31st, 2015, just as King of Falafel says its final goodbyes.