After more than a decade of development plans, an on-again-off-again sale sign and a hefty dose of community activism, plans may finally be in motion for the blighted Harding Theater. Now, Divisadero's large white elephant could be coming back to life in the hands of a family-owned movie theater business. 
Harding owner Michael Klestoff has been sitting in the empty building for over a decade, with the hopes of turning it into condos. But the Harding's historical presence and the pressure of the local community derailed those plans, and last November he told us he was looking for a tenant. 
That potential tenant may have been found. According to Klestoff's architect Mark Topetcher, Danny and Doug Marks, two brothers from Chicago, are interested in the space. Although a lease hasn't yet been signed, all parties appear confident, and if nothing else this is the closest the Harding has been to a renovation in several decades.
The Marks family has reportedly been in the theater business for decades, buying a drive-in during the 1960s. All told the family constructed 10-15 theaters, roller rinks and bowling alleys in the Chicago area before selling to Lowe's in 1989. Now the youngest generation, Danny and Doug Marks, are revisiting their family's roots by launching a series of spaces that combine bars with arcade and movie theater elements throughout the Chicago area.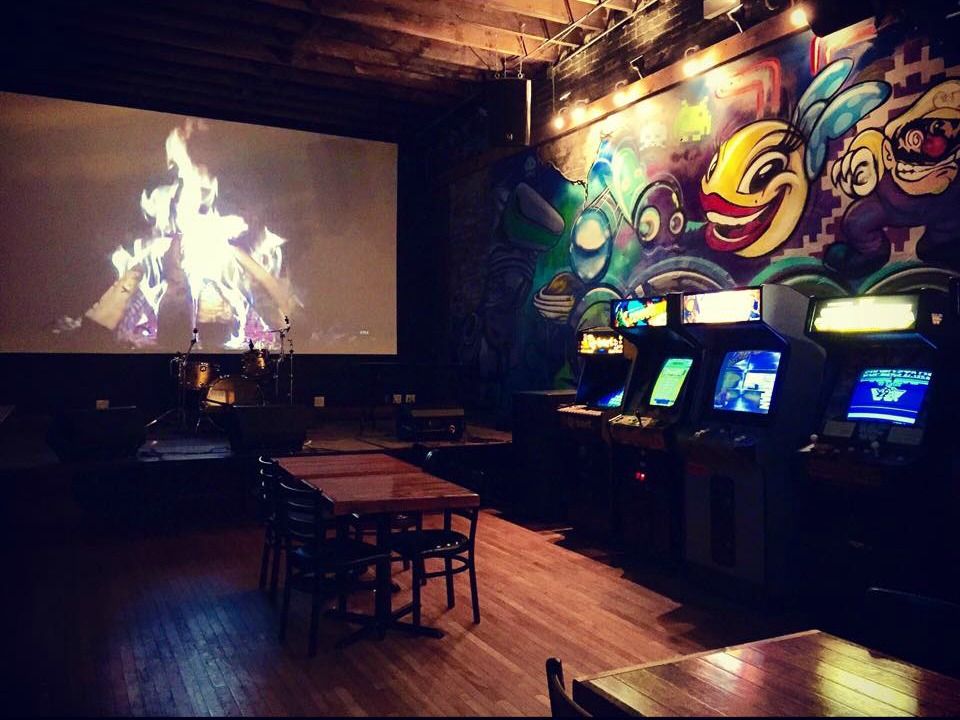 Interior of Emporium Arcade Bar in Wicker Park. (Photo: Emporium Arcade Bar)
The pair currently run two arcade bars called Emporium in Chicago—one in Wicker Park which opened in 2012, and the other in Logan Square, which opened last summer.  A third 9,800-square-foot location is in the works in a Chicago suburb. And this year the pair could be taking a big leap away from the Windy City by expanding to San Francisco—specifically, to the Harding Theater along Divisadero Street.
"I love SF, I think it's a cool city," Danny Marks told us. His interest in San Francisco as the location for his next venture happened when two San Francisco-based friends were visiting him in Chicago. "They started talking to me about it, and said there was a need for this type of venue in the city," said Danny. They also sent him an email with a link to the Harding. At the time he was opening the Logan Square location, but by the time March rolled around the dust had settled, and he flew out to San Francisco to start exploring possible venues. 
Danny saw a number of neighborhoods and spots, but didn't quite find anything that resonated with him. "We were looking for something with wow factor," he said. Upon returning to Chicago he dug up that old email about the Harding, and flew out to San Francisco again to take a look. This time it was love at first sight. He met with owner Michael Klestoff and District 5 Supervisor London Breed, who suggested he present his ideas to local neighborhood groups before launching forward.
And this month, that's exactly what he's going to do. At the next Alamo Square Neighborhood Association (ASNA) meeting on May 18th, Danny will be introducing himself to the public and presenting some preliminary ideas for the Harding. If all goes according to plan, this may also be when the lease is signed. 
Ideas aside, the Harding is going to need a lot of physical work to get it up to code. The Harding was built as a movie theater in 1926, and shortly after was converted into a live performance space, hosting the Grateful Dead in 1971, among others. In 1976 it was converted to a church, and existed as such until 2004. Since then it has stood empty, suffering under the effects of time. 
According to architect Mark Topetcher, the first priority will be upgrading the outdated infrastructure. ADA bathrooms have to be built, electrical systems replaced, and a new mechanical system installed (the current mechanical room is being demolished).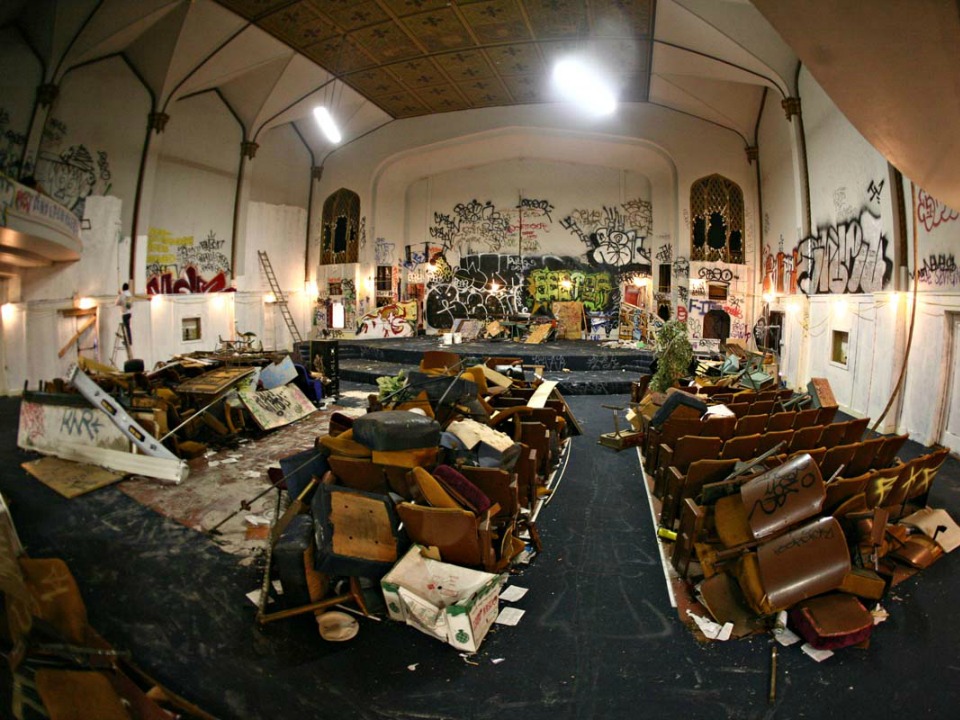 Interior of the Harding Theater in 2010. (Photo: SF Citizen)
The exterior will most likely be restored to its original '20s-era glory.  Mark Topetcher tells us that the marquee will most likely be restored, and that the original name—Harding—will remain on the blade sign.
On the street level, two retail spots may become available, which according to Mark could happen before the lessee for the larger theater is finalized.
As for the intricately-detailed interior ceiling and arched stage, the verdict is out on what has to be preserved (via historical requirements) and what can be changed. But Danny tells us that he and his brother "love vintage architecture, and our current buildings are in landmarked historic spaces." 
The theater itself would remain, but Danny told us that "it wouldn't exactly be a traditional movie theater, where you buy a ticket and sit in a movie seat." One of his current Chicago locations has a large 20-foot screen, where Danny says they show "everything from local indie films, movie nights, video games, quirky/offbeat background video stuff presentations and sports events." 
As for the games, they would vary from vintage to brand-new. Classic arcade and pinball games would be available, as would newer indie video games and more active games such as pool, air hockey, and foosball. 
Danny also mentioned the idea of incorporating local food and entertainment into the action, with ideas such as a rotating food truck, local brewery night fundraisers, and live music. "We try to be a 360-degree fun time," he said. 
In March we reported that Michael Klestoff was moving forward with plans to turn the vacant lot on Hayes Street, which sits adjacent to the Harding Theater, into a five-story, nine-unit building. The new plans could be seen as a perfect compromise: Klestoff gets his condos, and the community gets a reactivated entertainment space. 
To hear more about the Marks brothers' plans for the space, stop by the next ASNA meeting on Monday, May 18th at 1660 McAllister St. Doors open at 6:30pm, and the meeting will start at 7pm.