Hayes Valley is a neighborhood defined by change, with seemingly constant new construction projects and an ever­-evolving roster of businesses opening and closing. Being one of San Francisco's most desired neighborhoods is not without shortcomings, as many of the businesses that drew people to the neighborhood no longer remain.
So it's no wonder locals tend to revere what's left of the old Hayes Valley as neighborhood institutions. One such place is Cafe La Vie at 514 Octavia St. We caught up with Samantha Wong, the owner of the neighborhood coffee shop, barista Elmer, and cafe regulars to learn about Cafe La Vie's place in the neighborhood.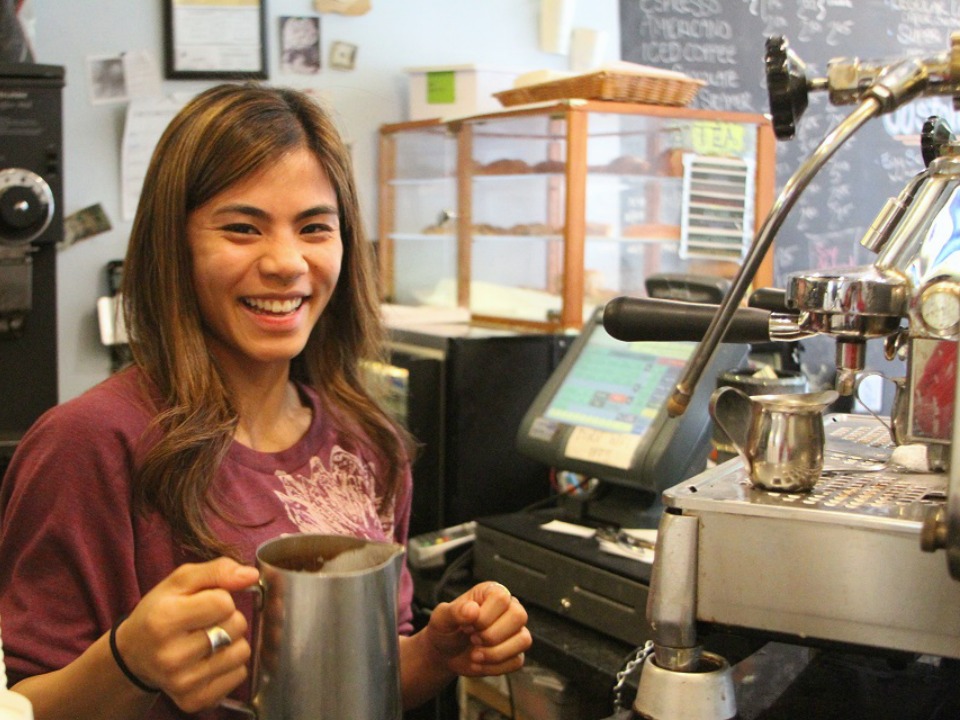 Cafe La Vie owner Samantha.
Cafe La Vie has been family owned and operated for eight years. It was originally owned by George Hom but a few years ago, his daughter Samantha took over. She's young and friendly and a bit shy, and it's easy to mistake her for one of the baristas, as she does take on the role as needed.
"I didn't want to take over at first." she said, "I worked here in the summers, but I graduated with a business degree and thought 'why not?'" She enjoys being at the cafe. "I think it's fun. I love it ... I've always been very shy but when I started working here, I found my voice, my personality."
George opened Cafe La Vie when Samantha was in high school. He loved Hayes Valley and scoped it out for a while, finally settling on the location. "He actually surprised us with the cafe," said Samantha.
From the beginning, the vision for Cafe La Vie was for it to be a neighborhood spot. "I feel like I know everyone that walks in," said Samantha. "I have a ton of favorite regulars." The baristas play a big role in the local vibe. Most are from the neighborhood, and it's not uncommon for them to know customers by name as well as by their regular orders. "I think it's the personalities of all the baristas that make people come back," said Samantha.
This sentiment is echoed in many online reviews and by regular customers. "They never have bad or obnoxious personalities," said patron Lauren Jestin, who has lived in Hayes Valley since 1995. Daniel, a Hayes Valley resident of 20 years, noted on a recent visit that the staff are all "nice human beings."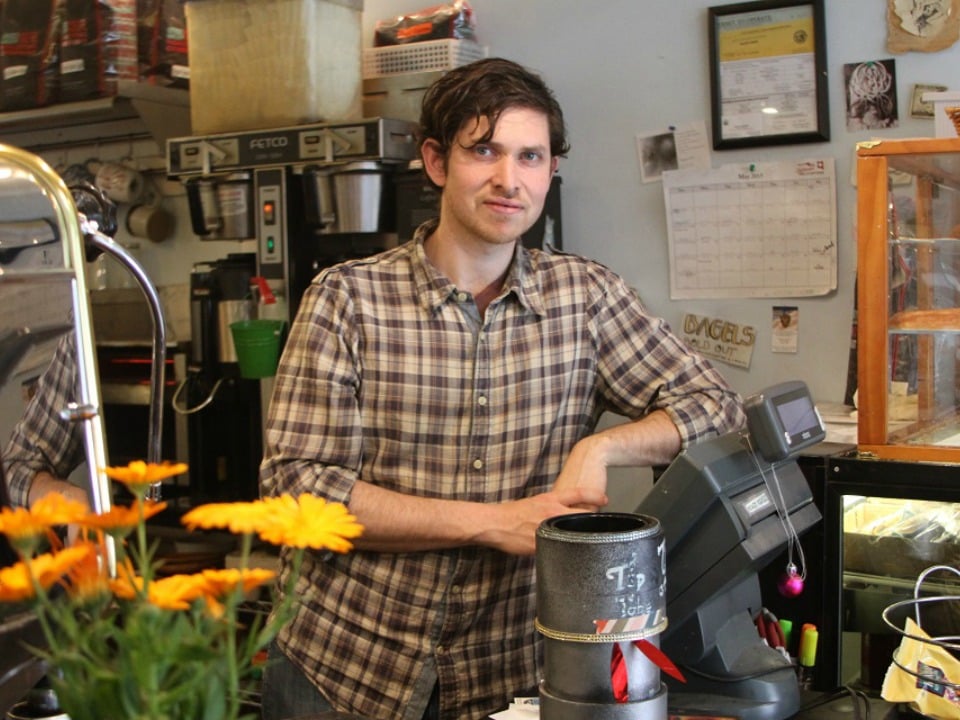 Elmer at Cafe La Vie
One such barista is Elmer, a recent graduate from San Francisco State University. He also noted the pleasures of interacting with customers. "There are people you get along with more, and the customer-seller interactions are more like talking to a friend."
In the midst of all the changes to Hayes Valley, the big question is where Cafe La Vie fits in. This stretch of Hayes Valley is beginning to look like a coffee district with the addition of Artís across the street, La Boulange on the corner, Ritual Coffee Roasters nearby and many restaurants and shops serving coffee as well.
But Samantha isn't worried. "We're one of the last neighborhood spots," she said. "Artís is a different niche." Elmer thinks Artís has the right idea coming to Hayes. "It's not competing," he said. "It's going to appeal to those who want artisanal coffee. If you want something good and cheap, you'll come here."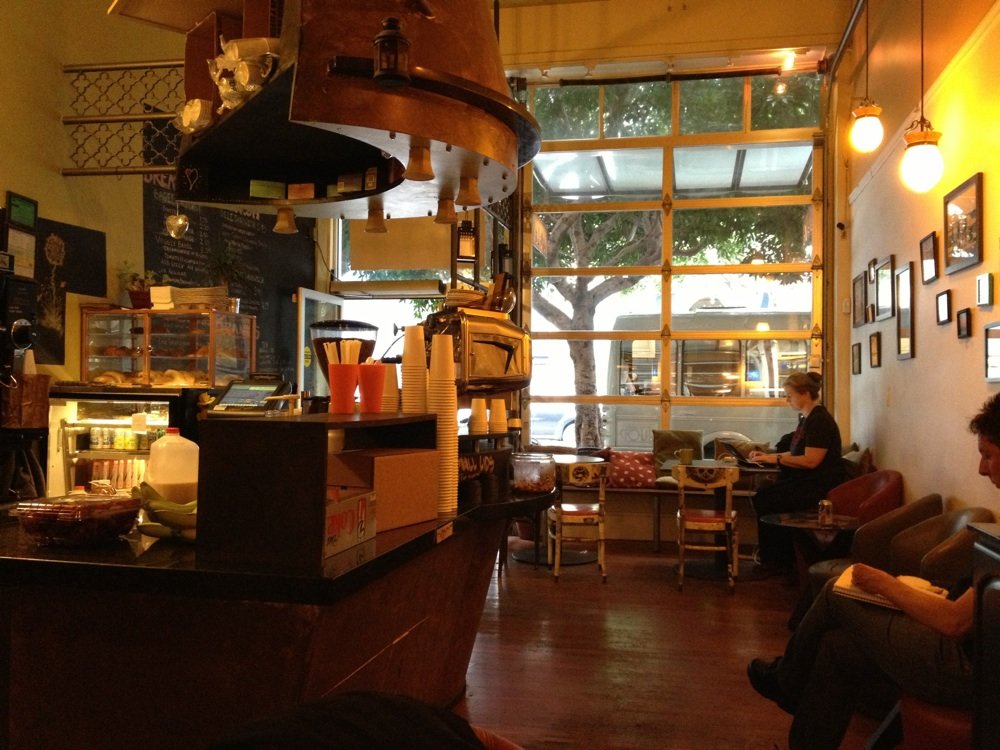 Photo: Miklos P./Yelp
The coffee isn't the only reason people frequent Cafe La Vie. The large retracting garage door provides a good spot to people-watch and catch a breeze, and free wifi and comfortable seating makes it attractive to students or people who work from home. Hayes Valley artists show and sell their pieces there, and dogs are welcome (there's even a free treat bowl). Pastries are brought in fresh and sandwiches are prepared to order, and a fireplace in the back keeps patrons warm on chilly days.
Outside the cafe, the sidewalk can feel more like a living room, with people stopping by to sit and talk. Cafe regular Lauren likes to pull a chair outside on warm and sunny days. She talked about the people she's met at the cafe over the years and how they're like family. According to Lauren, sometimes they become something more. "A lot of people met here and got married."
Cafe La Vie is open Monday through Saturday from 7am to 6pm, and Sundays from 8am to 6pm.