In the wake of the devastating April 25th earthquake in Nepal, a North Beach restaurant is working with the Bay Area's sherpa community to raise funds in support of relief efforts. 
Urban Curry (523 Broadway St.) will host a fundraiser on Friday in cooperation with the California Sherpa Association. It all started back when Kathrin Moore of Nob Hill, her husband Bill Robberson, and a group of 15 others and six sherpas trekked in Nepal in October 2014 and made friends. On the day of the magnitude 7.8 quake, they got a message from friends in Italy about it.
"When the earthquake happened, we had just chatted an hour before with our lead trek leader," Binaya Neupane, Moore said. She texted him and he said he was fine, but his best friend, Pasang Dawa Sherpa, was on Mt. Everest, and he wasn't sure of his status. (Sherpas are an ethnic group from the most mountainous region of Nepal and use "Sherpa" as a surname.)
A flurry of communication ensued. After reaching out on social media and Googling someone she saw interviewed on local television, Moore located a Mountain View man, Nima Sherpa, who, through friends in Nepal, confirmed Pasang Dawa Sherpa was alive. Moved to do something to help, Moore and Nima Sherpa decided to organize a fundraiser  at Urban Curry, where many sherpas gather, to support relief efforts provided by the California Sherpa Association. About 400 sherpas live in the Bay Area, she said.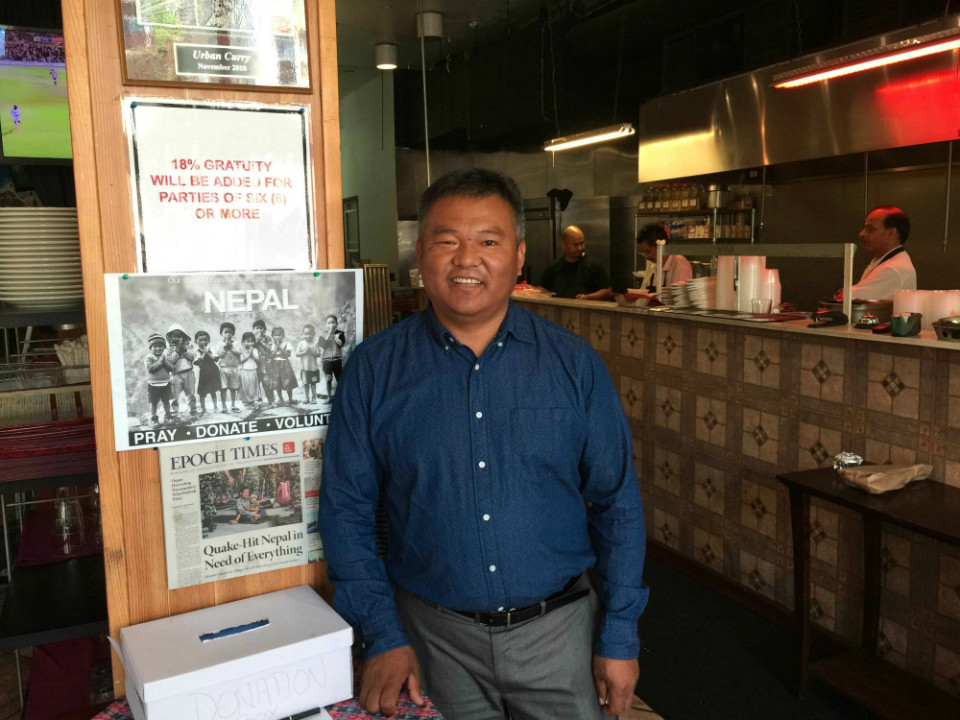 Purna Sherpa
The community is invited to enjoy free Nepali appetizers and a no-host bar from 6:30–9pm Friday, and everyone is encouraged to bring checks or make donations to the group online. Urban Curry owner Purna Sherpa also will donate 50 percent of sales from the $20 buffet that day to the effort, and it'll be available longer hours: 11am–5:30pm. He also has a donation box in the restaurant.
Moore said in addition to her personal connection to Nepal after her trekking trip, her sympathy for the earthquake victims is also due in part to living in San Francisco. "We could find ourselves in this world in a very similar situation," she said, "and we hope people would then reach out to us."