Steelers fans and lovers of french-fry-stuffed sandwiches will now have to go to the Mission to get their fix, as the North Beach location of Giordano Bros. (303 Columbus Ave.) is going dark today.
As partner Jeff Jordan told Inside Scoop, the quirky Columbus location, which Giordano Bros. has occupied for 11 years, has made expansion difficult, as it sits at the crossroads of a number of different neighborhoods. It's also significantly smaller than their Mission location, and they'd like to have more room. With their lease expiring, they decided to move on.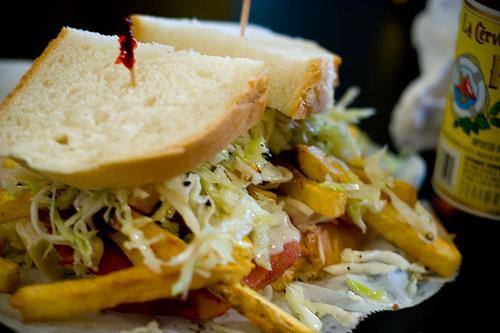 Photo: Giordano Bros./Facebook
Giordano Bros. is known for offering all-in-one sandwiches, a Pittsburgh regional specialty that features cole slaw and french fries stuffed inside the sandwich. The North Beach location served as a gathering place for fans of Pittsburgh's sports teams, with a vocal crowd of Steelers boosters during football season. Those fans can now visit the Mission location, which will remain open as usual, and look forward to a new, larger location somewhere else in the city, which should open sometime next year.
We'll keep you posted on the future of Giordano Bros.' former North Beach space, and who will occupy it next.