In just a few years, Shannon Street—the alley between Taylor and Jones off O'Farrell Street—has gone from a blighted block full of drug use and crime to a haven for artistic expression and emotional healing. The key to the block's turnaround has been the San Francisco Veterans Mural Project.
Founded by Navy veteran Amos Gregory, the project gives veterans the opportunity to use paint, rather than drugs, to heal from the emotional trauma caused by war. It started when Gregory began riding his bike around the neighborhood at night, snapping photos of his down-and-out comrades living on Tenderloin streets. Through his photography, he met a homeless Marine Corps veteran who led him to Shannon Street.
After months of examining the scene in the alley, Gregory approached the owner of a shop at the corner of Geary and Shannon streets, offering to paint a mural over a graffiti-laden wall facing the alley. With a quick "go for it," the project was on.
Since then, Gregory and a growing team of veteran artists—some homeless, some living in SROs, many living with disabilities—have convinced the majority of the alley's property owners to lend their facades to the project. Rather than dodging needles and excrement, a stroll through the alley, now referred to as Vets Alley, is an opportunity to consider a broad range of topics important to veterans at home and abroad, like deportation of foreign U.S. veterans, the plight of Syrian refugees and legalization of medical marijuana.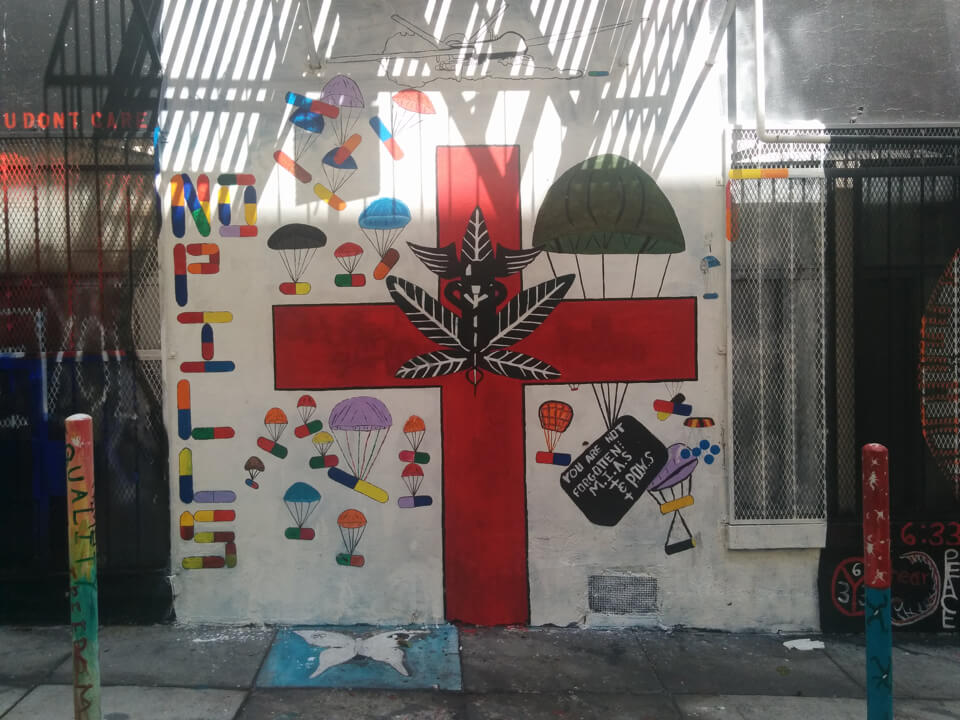 Vets Alley artists originally had a rent-free agreement with a private property owner to use a basement on O'Farrell Street, directly across from the alley, to store their supplies, including paints, brushes, projectors and ladders. It also served as a space for artists to quietly decompress after an emotionally intense painting session, Gregory said.
In the fall of 2013, however, things changed. The landlord demanded $20 per day, and when Gregory refused to pay the new fee (plus back rent), the group was kicked out. Another O'Farrell Street building owner invited the artists to stay for a few months until they found a permanent situation. But a few months just wasn't enough, and they eventually returned to the street.
Despite more than a year of conversations with District 6 Supervisor Jane Kim's office and the Mayor's Office of Economic and Workforce Development, not to mention a seemingly promising negotiation with the Tenderloin Neighborhood Development Corporation and Vanguard Properties, Gregory said Vets Alley still has not been able to secure a new home.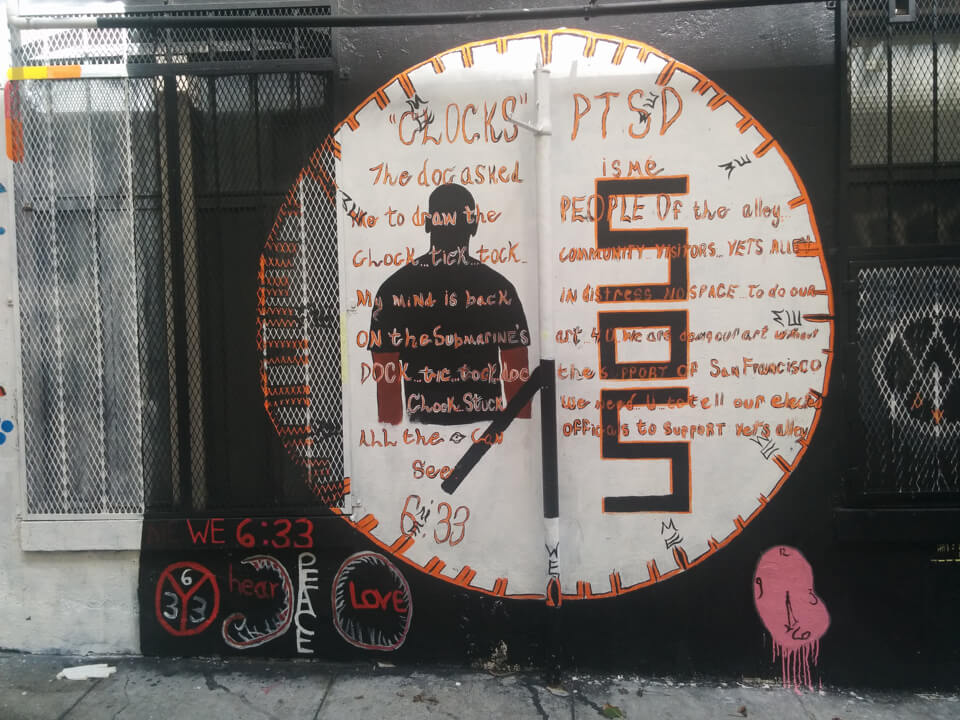 A Vets Alley mural calling on visitors to help support the project.
While the lack of a dedicated indoor space is a hassle for the artists, who are now storing supplies in SRO units around the neighborhood, it's about much more than having a place to put their paints, Gregory said. It inhibits the group from moving forward with its plans to create a community center for veterans and the wider Tenderloin community.
Robert Reid, one of the first community members to get involved in the project, said that one of the Tenderloin's biggest needs is after-school programs. He envisions the Vets Alley community center teaching simple art classes for youth, and eventually adding classes on mural painting, photography, videography and more.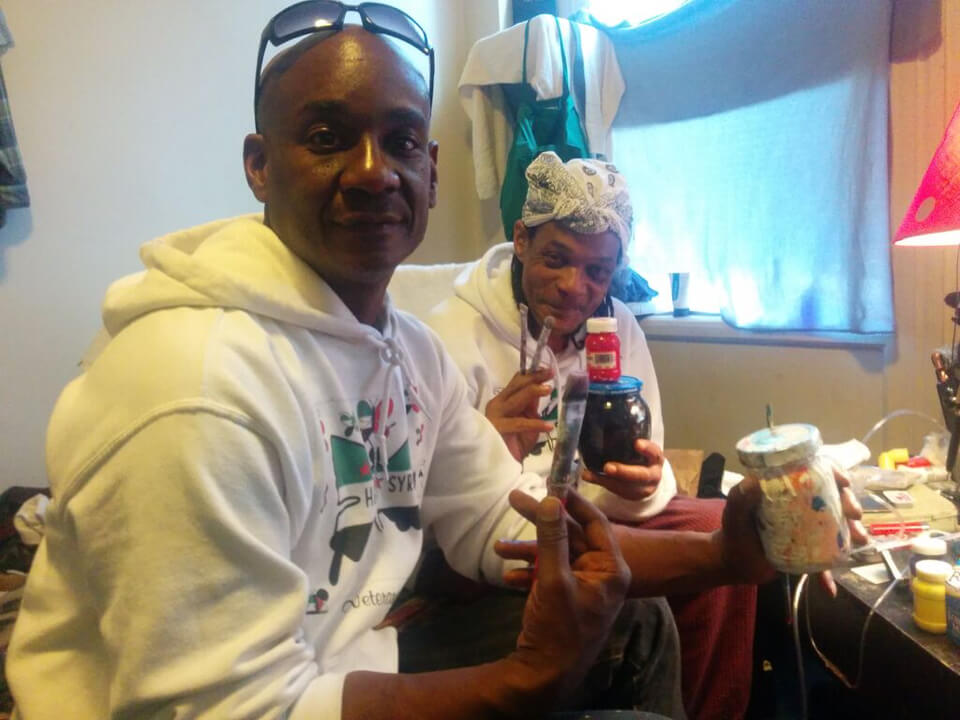 Gregory (front) and Reid (back), showing off a collection of art supplies that Reid stores in a backpack in his SRO room.
Given that the Veterans Mural Project is not yet a nonprofit, navigating the city's support services for arts organizations has been tricky. When asked where displaced arts groups like Gregory's should turn for support, OEWD representative Juan Carlos Cancino said, "The best resource for displaced nonprofits and nonprofit arts organizations is Northern California Community Loan Fund, who manages the City's Nonprofit Displacement Mitigation program."
NCCLF has helped a number of nearby arts organizations — including CounterPulse, the Center for New Music, SF CameraWork and The Luggage Store — calculate their programs' financial feasibility, find new locations in the Tenderloin and Mid-Market, and negotiate long-term leases. However, NCCLF's director of consulting services Joanne Lee told Hoodline via email that "CAST is a better resource for individual artists" as "only nonprofit organizations are eligible for these services."
CAST, the Community Arts Stabilization Trust, was formed by the Kenneth Rainin Foundation and NCCLF in 2013. By acquiring properties that can be leased to arts organizations, the trust aims to create long-term stability for the arts in the neighborhood. By press time, representatives had not responded to Hoodline's inquiry regarding support services for displaced neighborhood arts groups like Vets Alley.
Gregory is in the process of getting Vets Alley registered as a 501(c)(3) organization, but after more than a year of conversations with city representatives and no solution in sight, he believes Vets Alley is on its own. "If [city officials] really wanted to, in all this time, they would have found a place for us," he said.
But as the quest for a permanent space continues, a number of big Vets Alley projects are on the horizon. In September, a 29-year-old Marine Corps veteran named Shiloh, who served in the Iraq War, will paint a mural for the LGBTQI community. Gregory said that Shiloh left the Marine Corps due to pressure surrounding 'Don't Ask, Don't Tell,' and will explore what her and other veterans' service could have looked like if that policy hadn't been in place.
Another new mural in the works is "Bruce's Song." Bruce was the first black Green Beret to serve in Vietnam, Gregory said. To honor the veteran and jazz musician, who died of AIDS, his daughters are working with Gregory to paint the sheet music of the last song he wrote.
Gregory has also secured permission from the Department of Public Works to paint the street. The 270-foot-long mural will consist of just one word: "Healing."