This article, written by Jonathan Newman, was originally published in Central City Extra's September 2015 issue. You can find the paper distributed around central city cafes, nonprofits, City Hall offices, SROs and other residences—and if you can't find it anywhere else, you can read it in the periodicals section on the fifth floor of the SFPL Main Library.

Last month, SFPD Chief Greg Suhr sat down with reporters to answer their questions on safety, crime and the SFPD.
The meeting was at the new Mission Bay Police Headquarters, a clean, strangely quiet public space so unlike the clamor and grime of the Hall of Justice on Bryant Street.
Over the course of 90 minutes in a large, light-filled ground floor meeting room on Aug. 7th, Suhr spoke amiably to the members of the Neighborhood Newspaper Publishers Association. (Note: A reporter from Hoodline was also in attendance.)
Topics ranged from his department's summer youth employment program to the broken relationship between SFPD and the Latino community to the tsunami of tech advances—smartphones, cloud-based storage of crime data, video security monitoring and computer tracking—that drive crime-fighting today.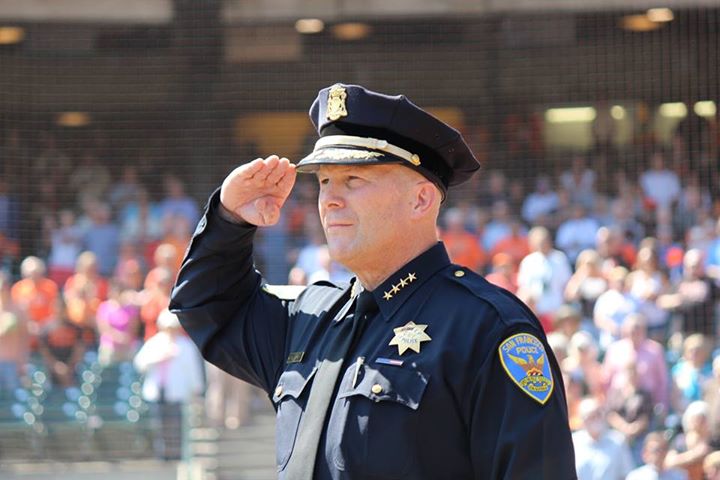 Greg Suhr. (Photo: SFPD/Facebook)
Technology And The Pier 14 Shooting
It was talk about tech that led to the chief's recounting of how Juan Francisco Lopez-Sanchez was so quickly apprehended in the killing of Kathryn Steinle on Pier 14 back in July, a tragedy that triggered Donald Trump's immigration rant and the debate over cities serving as sanctuaries for people in the country illegally.
Suhr credited tech for the quick arrest of Lopez-Sanchez."Every officer in the department has a smartphone," Suhr said. (The SFPD issues each officer a Samsung Galaxy 5s.) "When the first officer responded to the shooting, a tourist stepped forward with a picture she had snapped of the shooter. She sent the picture to the officer's smartphone, and he sent it out to all SFPD personnel. I even got one at home. It was cool. In 20 minutes, officers were able to ID and arrest the guy."
This anecdote, in turn, served as a springboard into analysis of the policy that released Steinle's suspected killer four months before she died in her stunned father's arms. Suhr defended the sanctuary policy, which many have blamed for the failure to keep Lopez-Sanchez in custody until he could be deported.
"We've been a sanctuary city since 1989. I grew up in the department with it. I got no problem with it," Suhr said. He noted that the due process ordinance amending the policy in 2013 allowed for "rearrested and convicted criminals to be turned over."
But it doesn't. A close analysis of the ordinance the supervisors unanimously passed and Mayor Lee quickly signed belies Suhr's position.
The ordinance says a local official "shall not" detain someone solely on the basis of an informal request from the Feds, unless that person has been convicted of a violent felony within the past seven years and a judge has heard evidence and found probable cause for the person to answer a current violent felony charge.
Lopez-Sanchez was certainly a rearrested and convicted criminal, as Suhr implied, but his record was not for violent crimes, so Sheriff Ross Mirkarimi was not required to turn him over to the feds on an informal ICE request.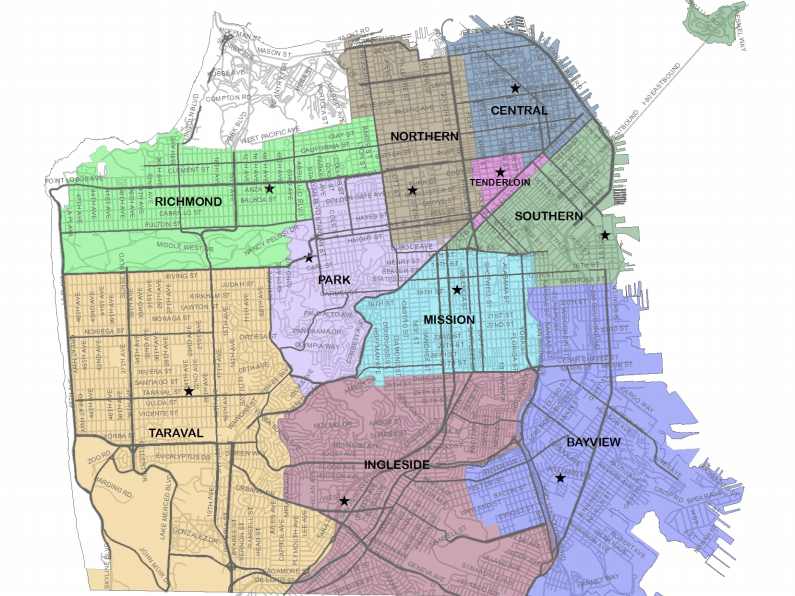 The new police districts. (Image: SFPD)
Redistricting Of SFPD Stations
Suhr has heard no complaints about the newly drawn boundaries for the police districts inaugurated in July, he said. Tenderloin Station expanded its jurisdiction one block across Market Street to Mission, eastward to Third Street, and west to South Van Ness.
Previously, Tenderloin jurisdiction ended on the north side of Market, leaving Southern Station officers to handle crimes and misdemeanors on the SoMa side.
"It never made sense to me that one side of a major thoroughfare was in one district and the other side was in another," Suhr said, citing the old lines that split Market Street crime enforcement between Southern and Tenderloin Stations.
"I heard a call come in this morning for Tenderloin officers, and Southern's officers picked it up," Suhr said.
That kind of cooperation and coordination between districts is crucial, Suhr believes, until more officers get deployed under Mayor Lee's plan to bring the department to its legislated full strength—2,200 officers—by 2017.
Relationship With Hispanic Community
Alexis Terrazas, editor of El Tecolote, questioned Suhr on the SFPD's relations with the Latino community, after the recent cop killings of Hispanics.
"The community trust is broken," Suhr said. "We're doing some solid work to rebuild it, including a successful summer jobs program where 90 percent of the jobs were filled by youth from the southeast and Mission districts. Gun violence is down, and we've found kids in our summer programs, more than 1,000 in two years, get into fewer problems."
Pitbull Shootings
Sergeant Sherry Hicks fielded the question about the Department's protocol for handling threatening dogs, prompted by the recent shooting of Felony Jack, a neutered pit bull that advanced on officers as they questioned his owner about drug paraphernalia.
Right now, police academy cadets receive only two hours training in handling troublesome canines. "We're crafting more training. But I'm happy to say Jack is recovering and he will be returned to his owner, although he's got a felony record now," Hicks said.
Suhr added a coda: "There are leash laws. If more people followed them, there'd be fewer problems."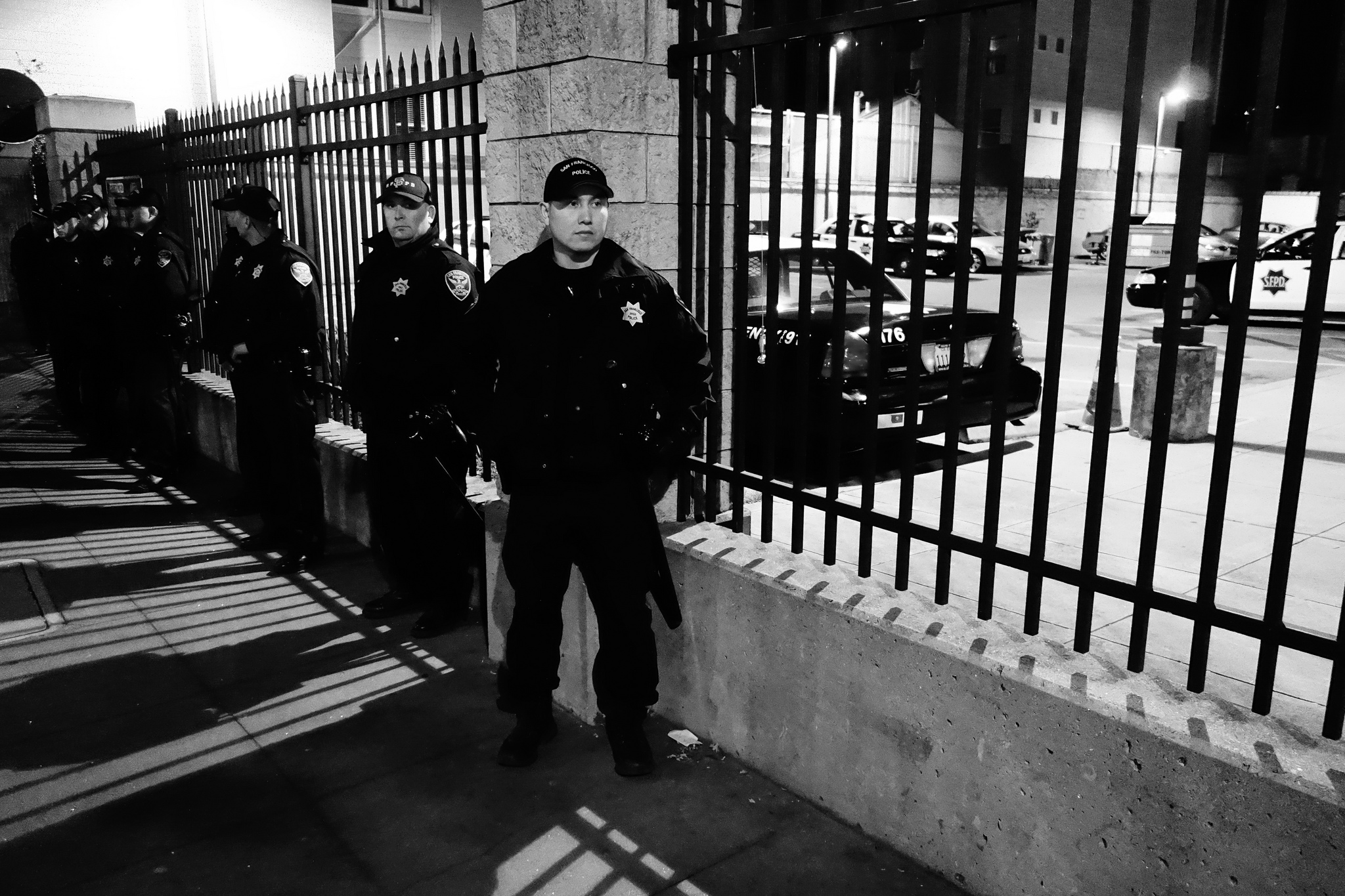 Photo: Steve Rhodes/Flickr
Increased Homicide Rate
Even though the city's homicide numbers are up—24 at the end of June, a 71 percent increase over the same period last year—Suhr said the closure rate on homicide cases is improving, and technical support behind law enforcement is the main reason why. The gunfire-detection technology Shotspotter is linked with GPS, and speeds officers' response to a crime scene.
Suhr said the department deploys task forces to a homicide site within 24 to 36 hours, to canvass all available public and private video cameras in the area.
Homicide victims' social media postings, if any, are reviewed by a special team, as are the often incriminating social media boasts posted by suspects.
The smartphone every officer carries is linked to the Crime Data Warehouse, which provides cloud-based storage. Run afoul of the law, and an officer can pull up your crime-related data instantaneously.
Still, tech can't seem to control every crime. Car break-ins are up an astonishing 47 percent for the first six months of this year, averaging more than 66 per day."Unless the officer is lucky enough to be an eyewitness, crimes of opportunity are difficult to stop," Suhr said.
"The best protection is to leave nothing visible in your car, not even an empty laptop carrier. Look, I learned the hard way. Both my car and my wife's car have been broken into parked outside our home. We left stuff in them. Now we know," he said.
The air in the meeting room remained cool, despite the strong sun pouring through the windows on the blue and gray walls. A tour of the six-floor, 263,000-square-foot, $243 million headquarters would have to wait. The meeting was over.