Marengo on the Alley, a sister restaurant to Cow Hollow's popular Marengo on Union, opened quietly on Thursday night in the FiDi. It's housed in the former Gio's and Sydney Town Tavern space at 531 Commercial St. in the FiDi, an alley-like street mid-block between Clay and Sacramento streets.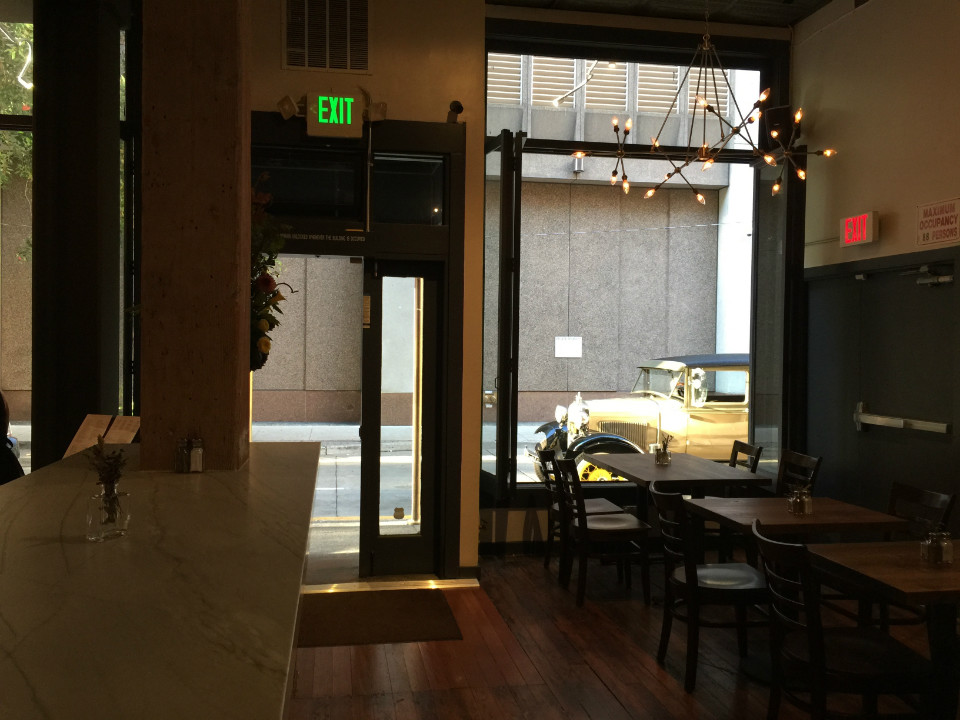 Marengo is run by a duo of couples, Jim and Leslie Gruettner and Kevin and Rayna Toomajian. They freshened up its look with lighter surfaces and a more contemporary feel. Former regulars of the nearby Elephant & Castle, which closed Dec. 31, 2014 and is now Fish & Farm, should look for some familiar faces: some of the staff have now moved over to Marengo.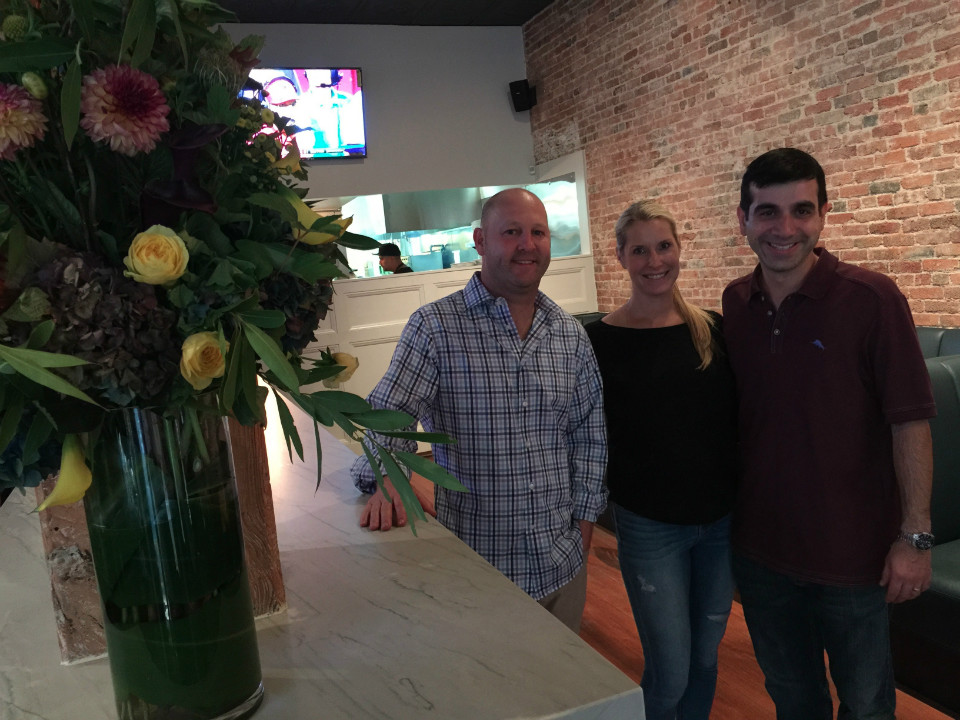 Jim Gruettner and Rayna & Kevin Toomajian.
The menu, which will be posted online in the coming days, is similar to the one at Marengo on Union, with inventive gourmet sliders ($4.25–4.95), salads ($10–17) and a top-notch drinks list. "There's going to be some new salads coming out here shortly and definitely some new sliders," says Rayna, who developed the menu and is working on a vegan slider. She's also introduced a ceviche-style Mexican gulf shrimp cocktail called campechana ($14), served with chips and a side of diced jalapeños.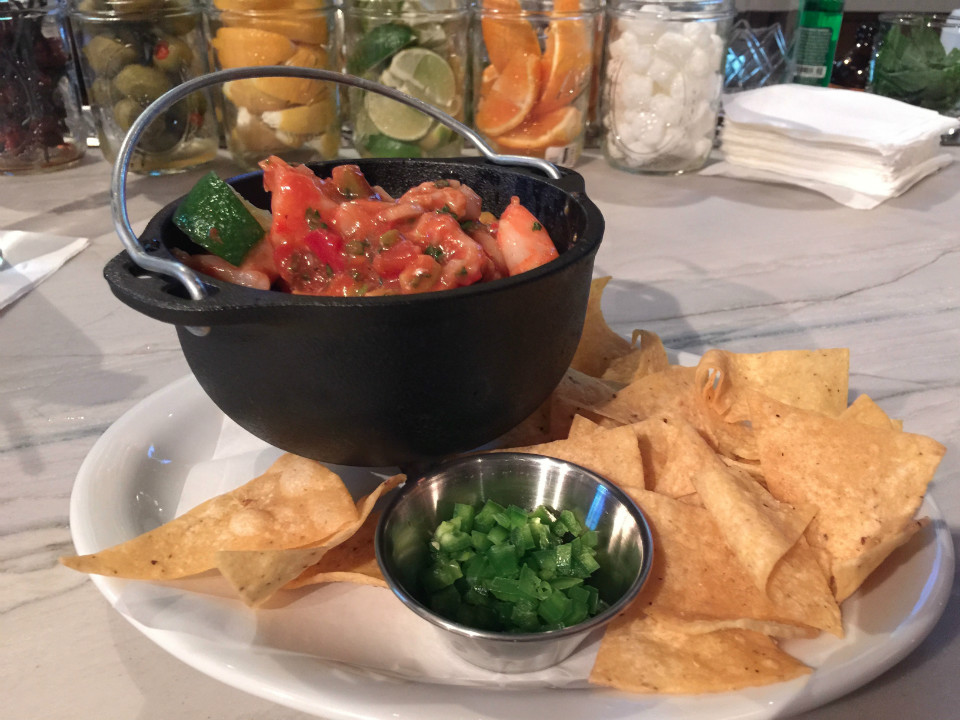 Campechana.
Though Rayna hails from South Padre Island, Tex., the inspiration for her sliders comes from around the globe. The Caribbean-inspired Jerk slider is a spicy jerk-marinated chicken breast with sesame ginger aioli, while the Shrimp Po' Boy slider has a blackened shrimp patty and Tabasco aioli. The Hellraiser has beef and cheddar with Sriracha and a charred jalapeño aioli. Ingredients are local, seasonal and organic whenever possible.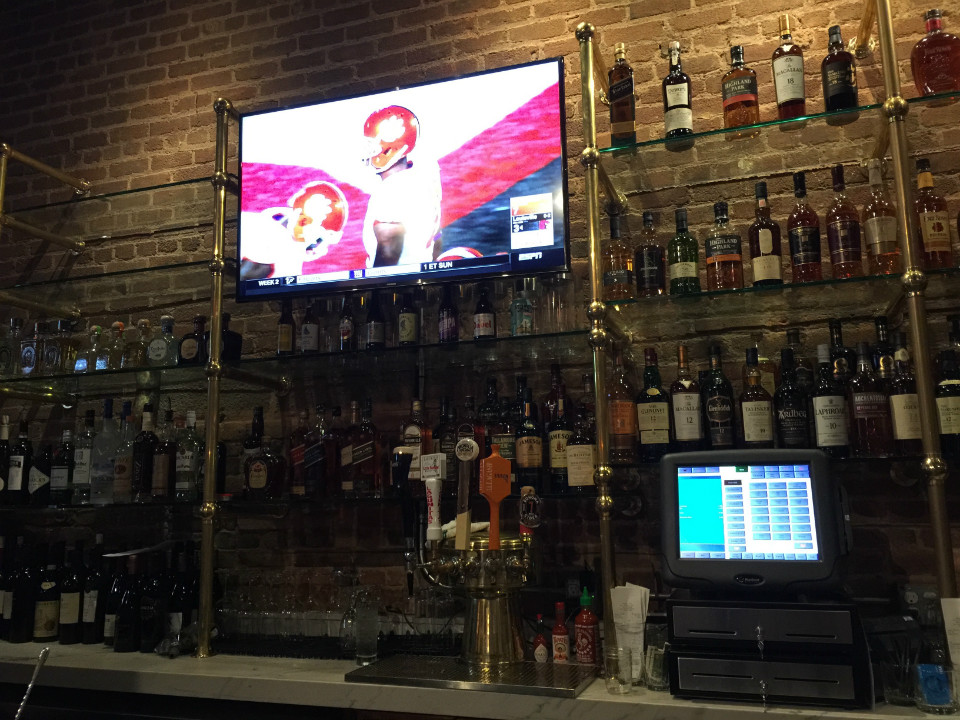 Rayna and Kevin met at Copia, the ambitious but short-lived museum of wine and food in Napa. They both worked at well-known wineries (Kevin taught wine education for 15 years), so their wine list is extensive and international, with a by-the-glass selection of more than two dozen wines ($8–19). 10 beers on draft and 10 by the bottle ($6–9) include favorites such as Anchor Steam and Guinness, along with Racer 5 IPA from Healdsburg and Einstök, a white ale from Iceland. Specialty cocktails, many featuring bourbon, are $11. 
As Marengo ramps up, it'll be open 2:30pm–close for a week or two before launching lunch service. Eventually, happy hour and weekend brunch will also kick off. After that, Kevin said, they'll assess the business to see if it should stay open longer on weekends.