The promised El Niño rains are here, so it's a good time to check your windows, dust off your umbrellas and take a look at the week ahead, as well as a few things you may have missed since coming back from Thanksgiving.
This week, we took a look back at Patty Hearst's 1974 bank robbery in the Sunset, in what is now the North East Medical Services location on Noriega Street. And we got up close and personal with great horned owls in Golden Gate Park and goats on Mount Sutro.
On the holiday front, the Illuminate SF festival, now in its third year, has placed 27 art and light installations throughout the city, including "Three Gems," which is located in the de Young Museum's outdoor sculpture garden.
Finally, in parking-related news, we covered a Parkside bakery's plans to open the first parklet in that part of the greater Sunset, and noticed some unusual double-decker parking on Funston Avenue.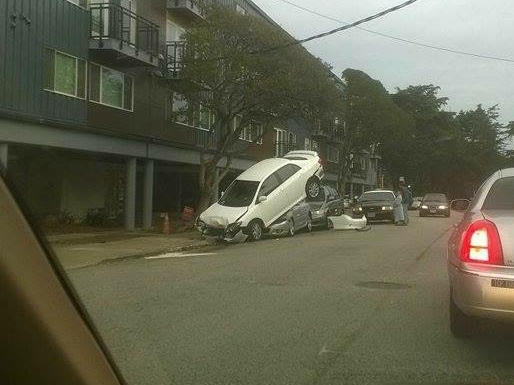 Photo: Imgur
Here's what's coming up for the weekend. Look out for that tidal wave of Santas on their way:
Thursday, December 3rd
Friday, December 4th
Saturday, December 5th
Sunday, December 6th