North Beach fixture and flâneur Roy Mottini, 68, died this past Monday, January 4th, following a year of health difficulties and hospitalizations. SFPD Officer Mark Alvarez told us he and Officer John Torrise discovered Mottini in his room at the Golden Eagle Hotel on Broadway on Tuesday, January 5th, after following up on a request for a wellness check by Caffè Trieste manager and co-owner Ida Zoubi. He passed away in his bed, in an apparently peaceful manner.
Mottini was known throughout North Beach as a fixture at Caffè Trieste, where he could be seen in a variety of natty attire. But he also struggled with mental illness: diagnosed as a chronic paranoid schizophrenic, he was notorious for shouting obscenities in public spaces, which led to his being shot in 2014. 
"Roy can be pleasant, he can be funny, and he can be extremely generous—especially to those who have less than he does. He can also be incredibly mean and nasty," veteran Trieste barista Ernesto Evangelista told us last month. "Love him or hate him, I think most people look out for him."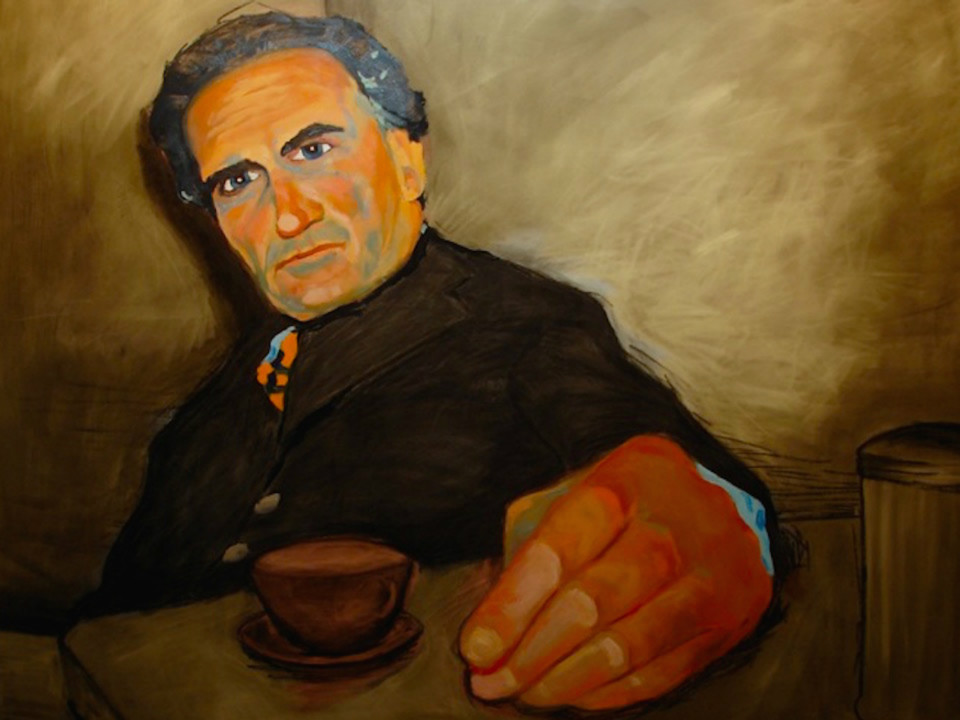 Painting of Roy Mottini by Ernesto Evangelista. (Photo: Courtesy of Ernesto Evangelista)
According to local officers, who were some of his most long-term caretakers, Mottini was a first-generation native San Franciscan. He was born on April 12th, 1947, to middle-class, Swiss-German parents, and attended Reardon High School and the University of San Francisco, where he studied art. He also traveled throughout Europe as a young adult, and spoke Italian. In a Hoodline interview just last month, he revealed that his goal was to become an artist.

In fact, Mottini led a relatively "normal" life until suffering a psychological breakdown around the age of 20. Few regulars know exactly what happened to Roy, but Alvarez was able to tell us that the turning point came on a trip to Canada. "He had a psychotic episode on a plane in the late 1960s, and the officials freaked out. It took four Mounties to drag him off the plane, and then they locked him up in a Canadian psych ward and gave him four rounds of electroshock therapy, after which they put him in a straitjacket in [solitary confinement]. He told me, 'I prayed and prayed to get out of there, and eventually, they let me out.' And he was repatriated back to San Francisco."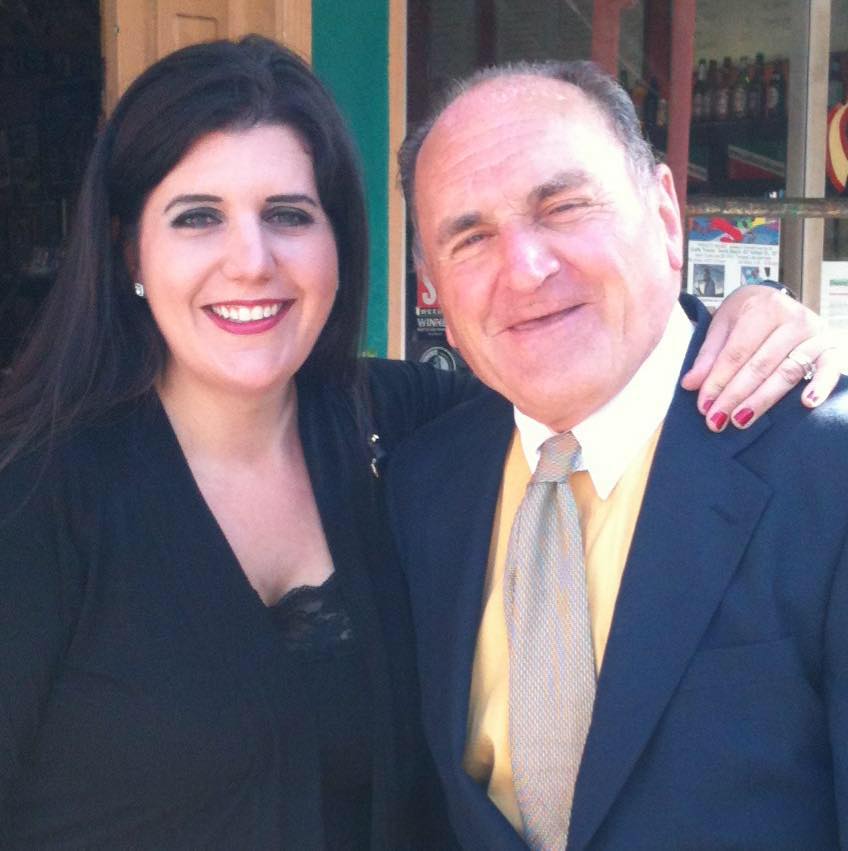 Ida Zoubi and Mottini. (Photo: Ida Zoubi/Facebook)
Eventually, Mottini was diagnosed as a paranoid schizophrenic—a difficult illness to live with, even with massive family support. Alvarez and several of his fellow officers, along with Zoubi; her husband, Fady; Supervisor Aaron Peskin; activist Mark Bruno; attorney Tony Gantner; and countless local regulars have long made up Mottini's support network.
Together, they helped Mottini with tasks large and small, from making sure he got his disability checks and took his medication to raising funds to get him a set of dentures. They helped him find new housing in the face of an eviction, shared meals with him and even delivered a down comforter to his cold room the weekend before he died.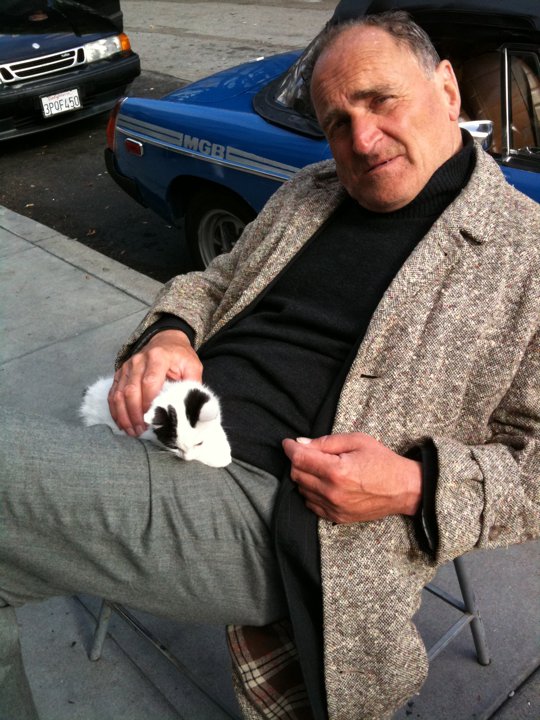 Photo: Ida Zoubi/Facebook
"Man, I'm still pissed at him for losing those dentures [retired officer] Freddie [Crisp] and I got him," reminisced Peskin with fondness. "And this one time, I picked him up from the hotel on Broadway and was going to drive him to the Mission. He said, 'I gotta get my orange juice first,' so I pull up to Trieste and Ida [Zoubi] brings him out some orange juice, and he throws it all over my front seat. I was delighted to see him the other day laughing and entertaining others, and I'm certainly going to miss him."
Fady Zoubi recalled how, even unconsciously, the neighborhood seemed to work in his favor. "One year at the North Beach Festival—which, as you know, is a zoo—Roy lost his wallet. It had his I.D., money, his health card, his life in it. Well, whoever found it lived in the East Bay, but they Googled his name and came up with the 2007Chronicle article about him and Trieste, so they mailed it back to the caffè. Stuff like that happened all the time with Roy, and when he would get upset and disturb customers too much, I would say, 'Roy, take a deep breath,' and he would take a deep breath. And then I'd say, 'Are you done?' and he'd say, 'Yeah, I'm done.' "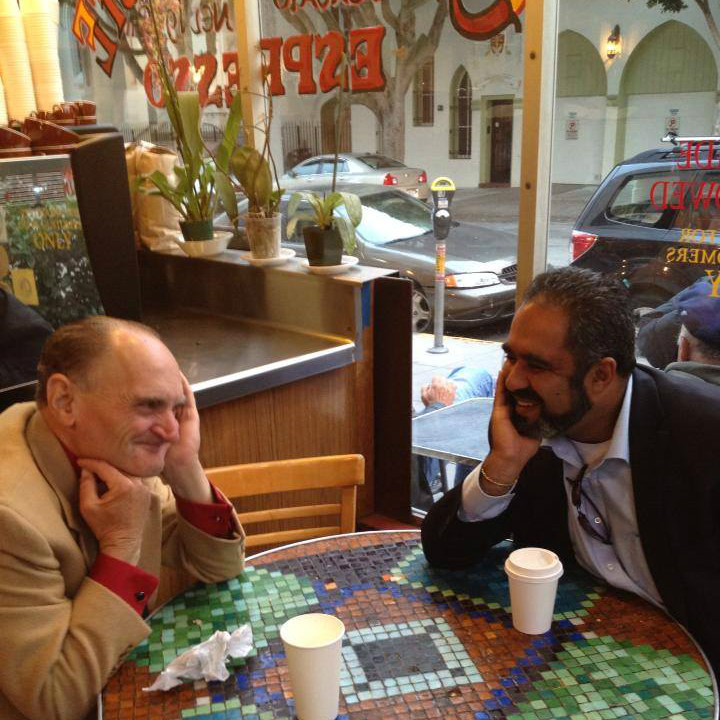 Mottini with Fady Zoubi. (Photo: Ida Zoubi/Facebook)
Even when Mottini got pistol-whipped and shot in December 2014 for agitating a gunman in a car, he was back at Trieste that afternoon, regaling regulars with his side of the story and boasting, "Fady, they shot me, but I didn't go down."
He lived for comebacks, be they eternal returns or impish retorts. But he also lived for the family he'd developed over 30 years in North Beach, and many of them lived vicariously through his frank, often entertaining assessments of life as he saw it there. 
Ida Zoubi remembers "all the times that I told him that he is not alone, and that we are his family and that we love him. He always agreed!"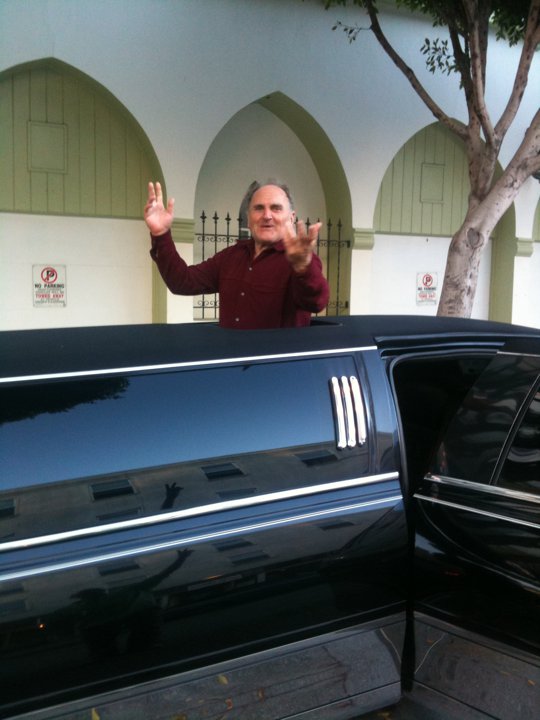 Photo: Ida Zoubi/Facebook
One regular Trieste customer says Roy's reach was far, even if he seldom left the neighborhood. "I'm a teacher and consultant, and I hold a lot of meetings here at the caffè. When the news broke on social media Tuesday, within hours people who've met me here, and who had only ever seen him once, chimed in with condolences—from as far away as China."
"All neighborhoods have folks like Roy, but not all of them have networks to support them in an organic way that isn't condescending or parasitic," the customer added. "This is why I can't imagine leaving North Beach—the interconnectedness. If other neighborhoods in big cities and small towns would follow this example, more Roys might find some joy in this life, no matter how challenging their situation. To love thy neighbor, you have to begin by getting to know thy neighbor."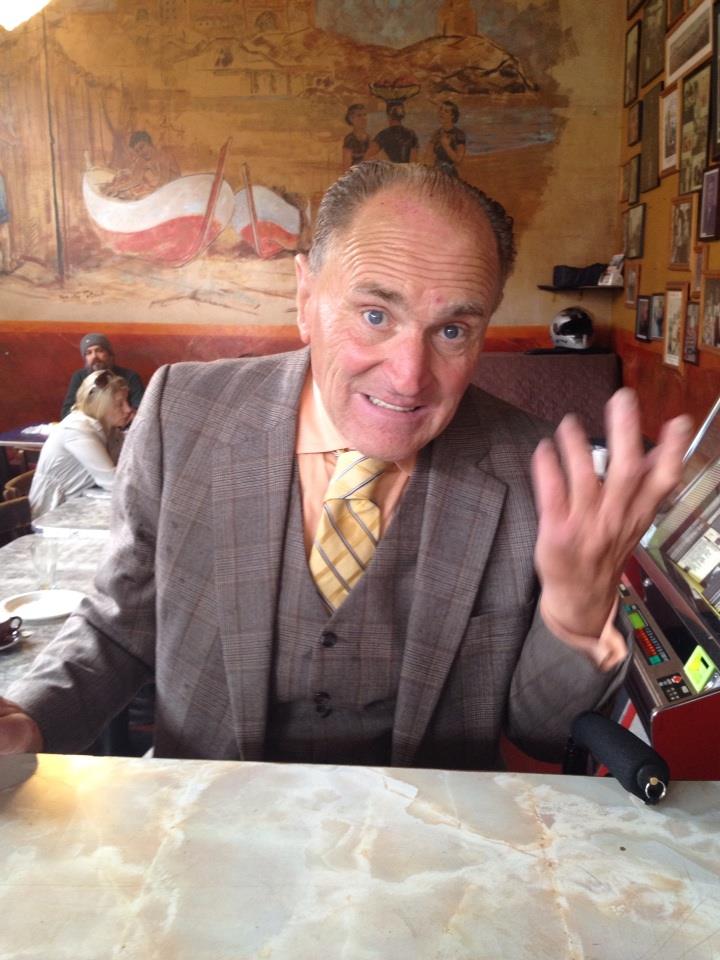 Photo: Ida Zoubi/Facebook
"He gave the 'hood, and Caffè Trieste, an edginess you find nowhere else in the world," said another longtime Trieste patron, Franjo Vernic, who often shared the Chronicle box/de facto coffee table on the corner with Roy. "He proved that you can live with mental illness, and we will all be poorer for his passing. May his soul soar until the end of time."
Wherever Roy may be now, he's sure to be looking sharp. "He's gone to meet that Great Haberdasher in the Sky," wrote one neighbor. Another said they'd "give anything just to see Roy pounding at the gates and shaking his walker at St. Peter, then offering an angel nearby his well-lined coat and five bucks."
Heaven is probably a lot noisier at the moment, Officer Alvarez said. "But North Beach will be sadly quieter."
---
Mottini is survived by a sister, Linda, and her husband Bob. A memorial will be held around the end of January or beginning of February; we'll update you on the date. Condolences may be sent to Caffè Trieste at 601 Vallejo St., San Francisco, CA 94133.