The San Francisco Planning Commission voted Thursday night to affirm several amendments to the Affordable Housing Bonus Plan (AHBP), a bundle of proposed zoning changes that would give developers the ability to build taller, denser buildings in exchange for creating permanently affordable housing. 
The ambitious housing program has moved one step along the approval process. But it is still far from becoming a reality.
Instead of voting on whether to recommend the entire proposal to the Board of Supervisors, commissioners held up-or-down votes on individual aspects of the program on Thursday.
Now, it's up to the Board of Supervisors' Land Use and Transportation Committee to decide whether to approve these proposals and send them to the full Board for a vote.
And early signs indicate that this latest effort to build more housing quickly will have a hard time getting approved.
As one of the most significant potential updates to San Francisco zoning in years, the AHBP has fueled fierce debate between housing activists, neighborhood associations, tenants groups and citizens who favor more growth and density.
Even in its amended form, opponents claim it will lead to widespread displacement and the "Manhattanization" of Baghdad by the Bay.
Today, we take a look at SF Planning's amended proposal for creating privately-financed affordable housing, which has changed considerably since our first explainer last November.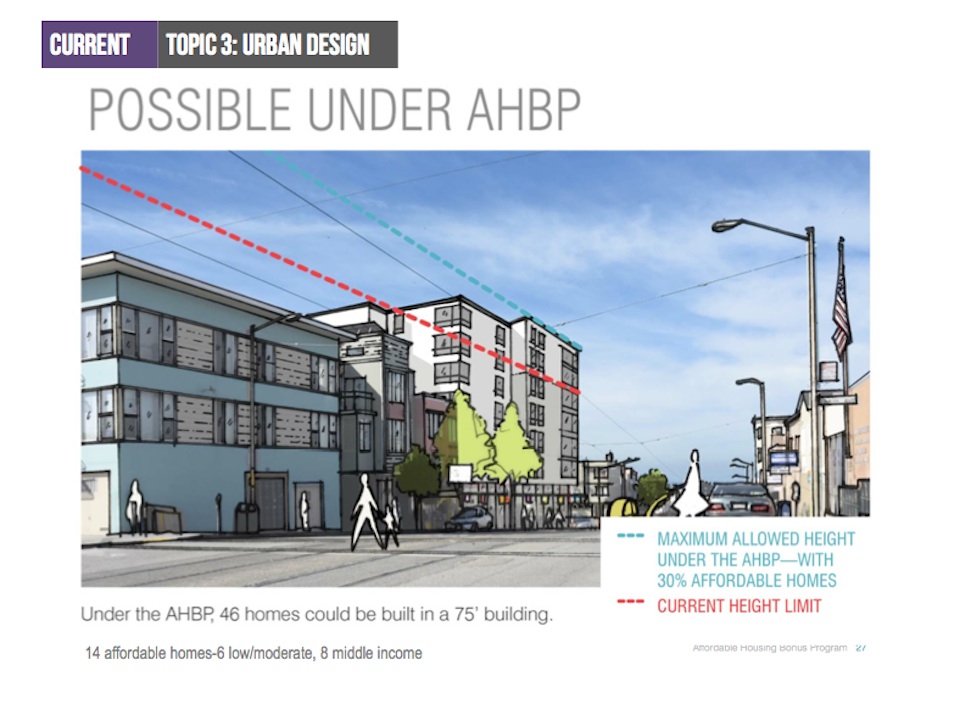 Red line indicates current height limit, blue line shows maximum AHBP height.
Thursday's session was the Commission's fifth hearing where AHBP was on the agenda; initially slated for a vote on December 3, the matter was continued to January 28, then to February 25 due to questions and reservations expressed via public comment and by multiple supervisors and commissioners.

As in previous hearings, Room 400 at City Hall was packed with opponents who declaimed a perceived lack of community planning and a one-size-fits-all approach to zoning many said would lead to widespread displacement and a loss of neighborhood character. Other detractors challenged the program's inclusion of moderate-income residents, since it would have allowed a single person earning up to 140% of Average Median Income ($99,990/year) to qualify for affordable housing.
(via SF Planning)
At the start of the hearing, District 4 Supervisor Katy Tang, who introduced the AHBP ordinance with Mayor Ed Lee last September, thanked opponents for offering feedback and attending approximately 20 community meetings. "Their comments have helped us make it better," said Tang. "We've worked hard to make sure this is something that reflects San Francisco values."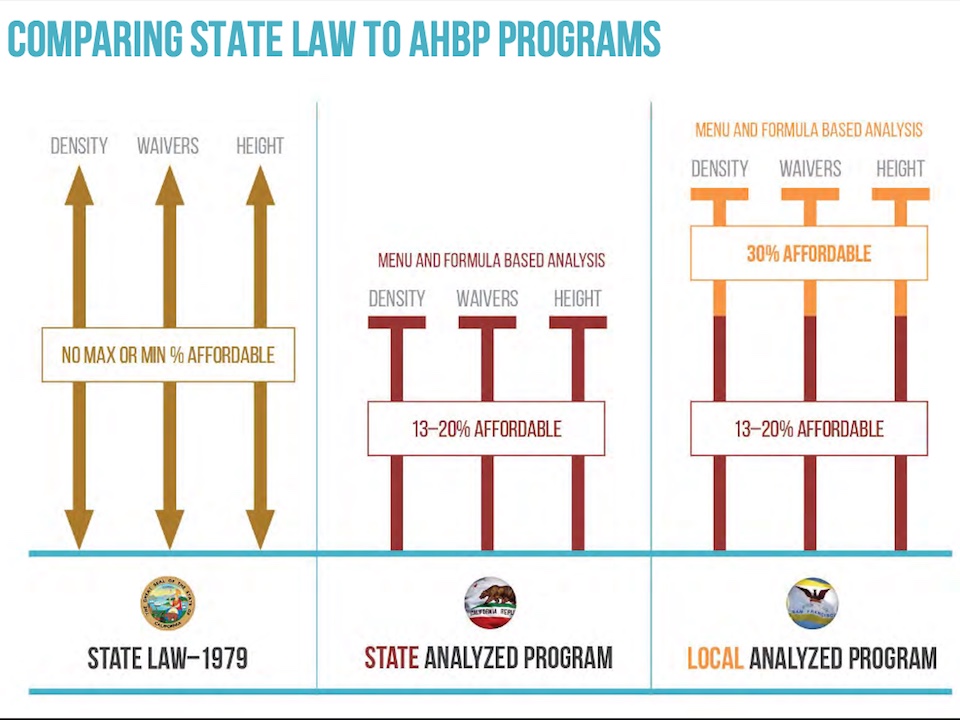 State density bonus mandates, compared to AHBP. (via SF Planning)
What Are Density Bonuses?

"What we're trying to do is develop a program that creates an incentive to provide 30% affordable housing," said AHBP Program Manager Kearstin Dischinger during the hearing. Over the next 20 years, "the program is expected to produce about 5,000 new, permanently affordable housing units without a single dollar of [public money] by offering two stories of height to subsidize that housing," she told commissioners.
"So, it's a pretty simple goal and a pretty complicated program," she added, noting that developers would have three different options for developing below-market apartments and condos if AHBP becomes law:
an existing state plan that already permits two extra stories and more units in exchange for creating 13-20% affordable on-site units;
the City's plan, which would allow greater density and two more stories if builders create 30% affordable, and;

a new City bonus for developers who create 100% affordable buildings: three extra stories above local height limits.
"We designed this to make the 30% affordability program more attractive," said Dischinger. "We think the outcomes from that program are better for our city." San Francisco's density plan offers "more autonomy" than the existing state mandate, she said, noting that Planning can add more restrictions and requirements under AHBP.
Lee and Tang proposed AHBP last year to bring the City into compliance with a 2013 lawsuit that determined local governments must allow developers to add up to 35% more units above local zoning limits if they agree to build permanently affordable housing on-site. The cost of a single housing unit in San Francisco is estimated at $650,000 and 2014's Proposition K mandates that the City build or rehab 15,000 affordable units by 2020,  so it's easy to see why officials are eager to encourage private developers to build more housing for the 99%.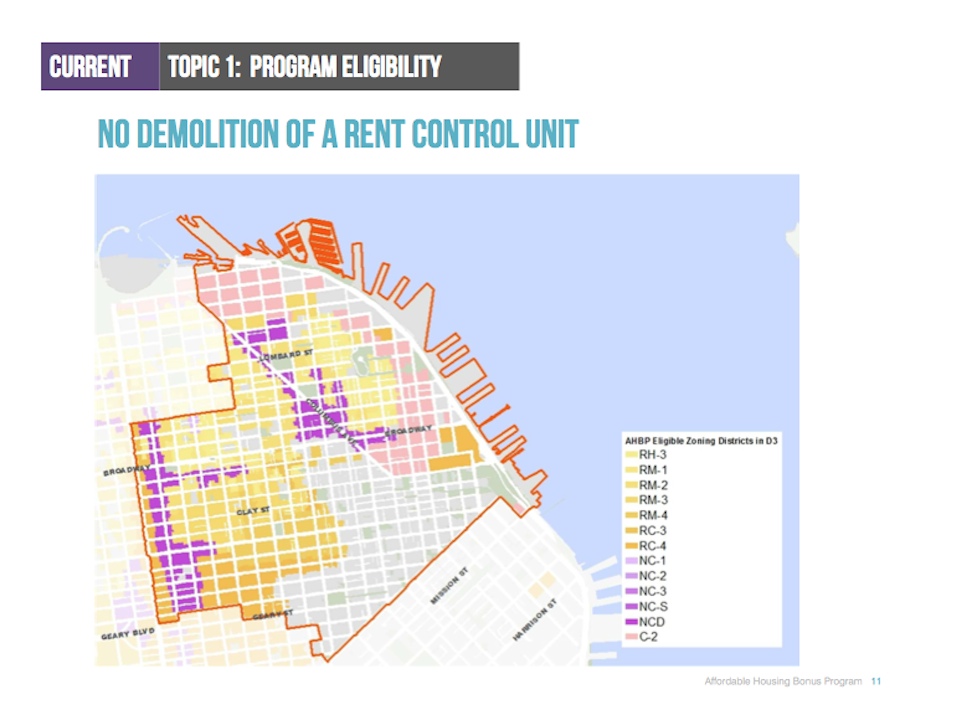 Parcels with rent-controlled housing are ineligible for AHBP. (via SF Planning)
70% Of City Off-Limits; Historic, Rent-Controlled Buildings Excluded 

Planning staff recommended that any projects that would demolish residential units or known historical resources be ineligible to receive a density bonus; a prior amendment offered by Supervisor London Breed also excluded buildings that are rent-controlled.
Since the program was announced, opponents claimed a map depicting 30,500 citywide parcels in residential and commercial corridors indicated large swaths of land will be redeveloped.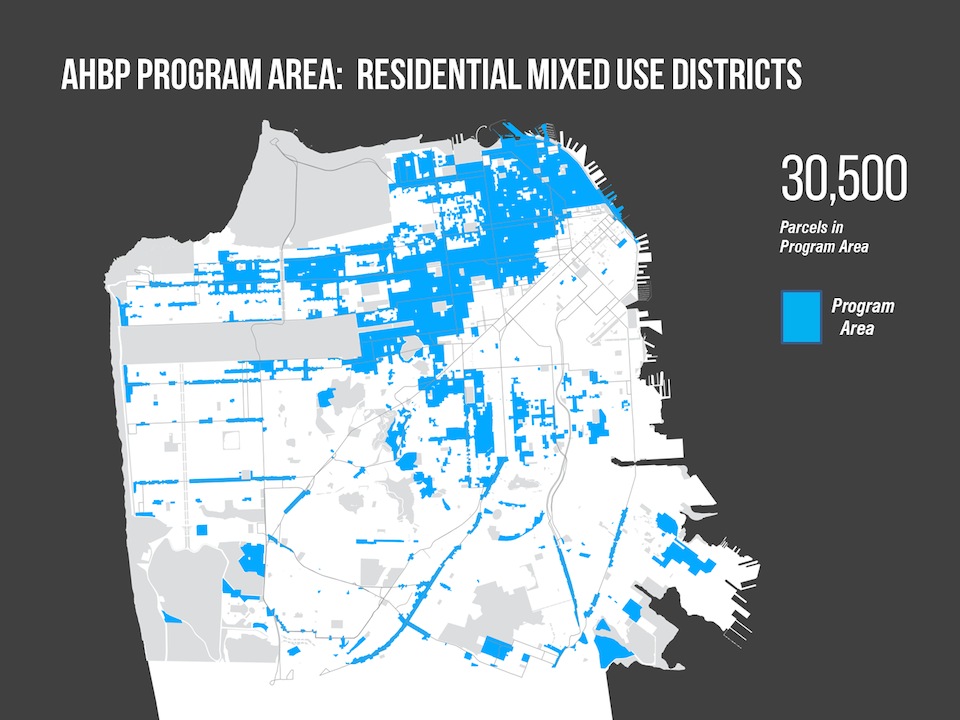 Most of the 30,500 parcels in the program area aren't eligible for AHBP. (via SF Planning)
Because most of those parcels already contain housing, Planning staff recommended making them ineligible for AHBP benefits. "I think it's fair to say that this map caused a fair amount of concern and confusion," said staffer Paolo Ikezoe during the hearing presentation. "It unintentionally masked some very important details."

Currently, the program identifies approximately 240 "soft sites" like parking lots and gas stations where AHBP housing might be built. The program defines soft sites as parcels with existing structures that take up less than 5% of the total zoned capacity (like the house in "Up").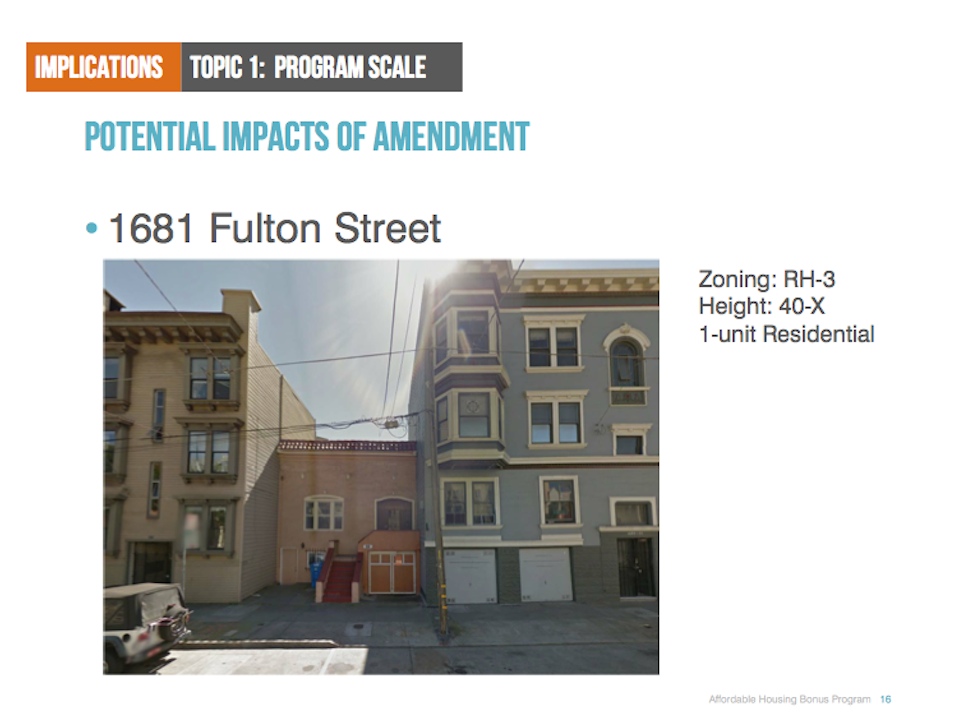 1681 Fulton St. formerly held a 1-unit building. (via SF Planning)
Also excluded: areas managed by the Port of San Francisco and former SF Redevelopment Agency, as well as special-use zoning districts like Market-Octavia and Eastern Neighborhoods.

Only residential projects with 5 units or more qualify for a density bonus, which means neighborhoods with RH-1 (single occupancy) and RH-2 (two-family dwellings) are also excluded. If implemented in its current form, AHBP will be limited to mixed-use and residential multi-use zoning districts.
Tighter Design Guidelines Proposed 
In another set of proposed changes, Planning advised commissioners to modify AHBP's design guidelines to "maximize light and air to the sidewalks and frontages" to "ensure that new buildings are context-sensitive." Staff also moved to limit lot mergers to 50% of a block's width, about 125 feet in most neighborhoods.
Dischinger said new design guidelines that related street width to building heights would improve the design review process and that the Planning Commission would issue a case report for each approved AHBP project.
Commissioner Kathrin Moore said restrictions on lot mergers were created "to avoid having the city look like Houston" and called for additional neighborhood-specific guidelines to ensure "that we're not forgetting what the essence of San Francisco architecture is all about." In general, AHBP design guidelines "need significantly more work and need to be more specific," said Moore.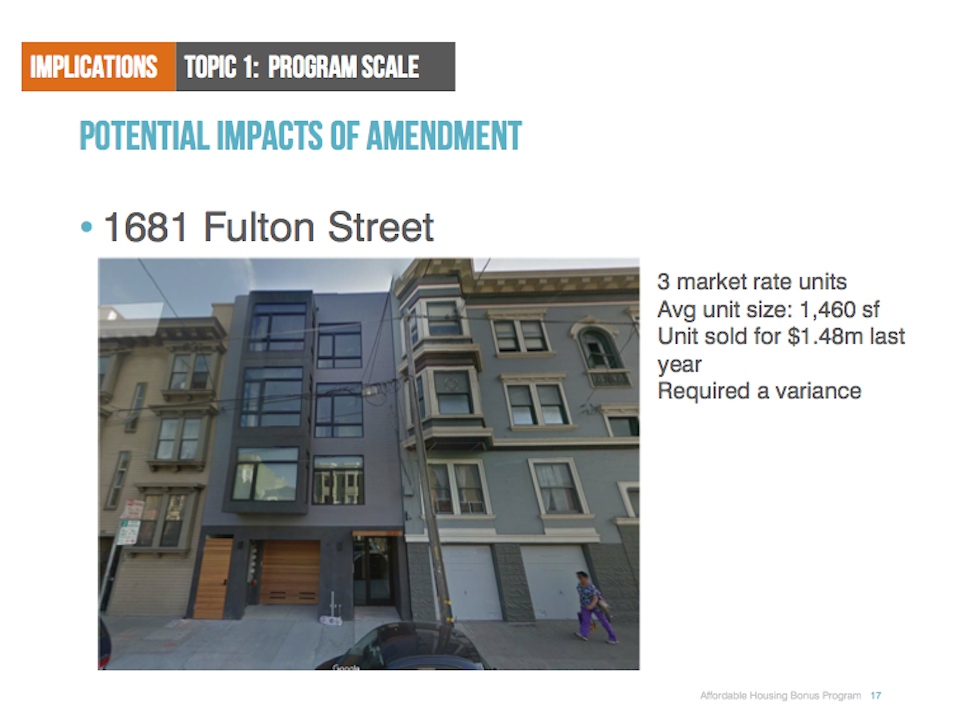 1681 Fulton St. today with 3 new units. (via SF Planning)

A Refined Project Approval Process

Several speakers opposed to the program said the AHBP project approval process would prevent residents from asking the SF Planning Commission to take a second look approved projects. Many also asserted that because eligible projects wouldn't require conditional use permits, passage of the density program would hobble Planning's enforcement authority.
Today, if Planning determines that a "case demonstrates an exceptional and extraordinary circumstance," the department schedules a discretionary review (DR) and a public hearing. For years, developers and advocates for growth have complained that the DR process stalls new construction; Planning attempted to reform the process in 2010 and 2011, but the legislation was tabled by a Board of Supervisors vote.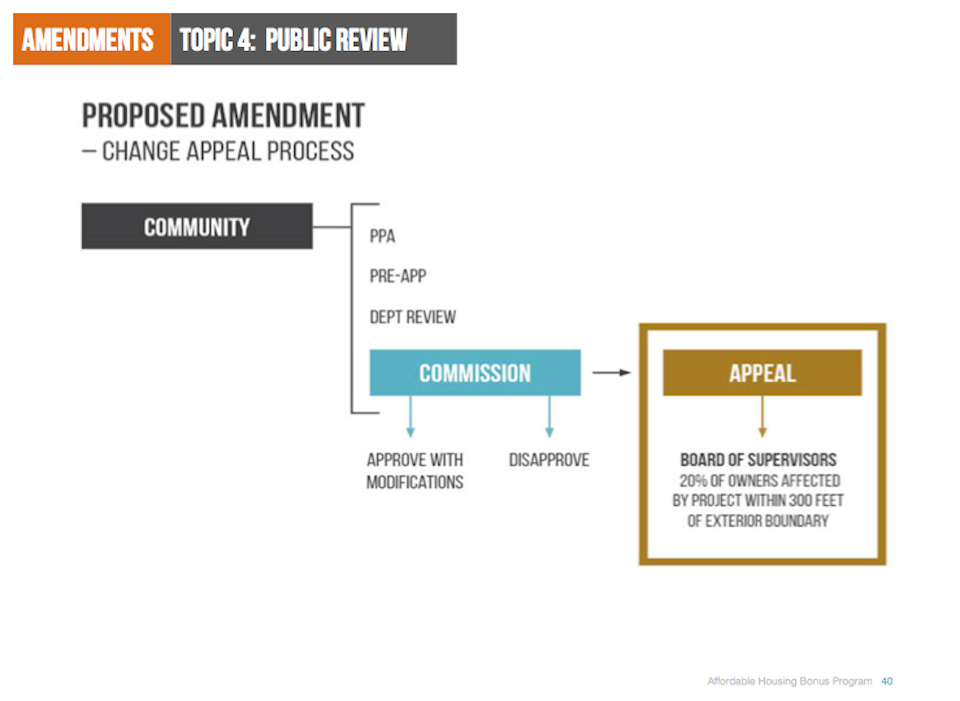 Planning staff amended the appeals process for AHBP projects.
Under the changes, every AHBP project would be subject to a Planning Commission hearing, which would function much like a Conditional Use hearing, Dischinger said. Instead of reaching out to the Board of Appeals to contest its department's rulings, Planning staff proposed that the Board of Supervisors settle these cases.
Existing guidelines permit anyone to file an appeal of a Planning decision, but staff recommended limiting AHBP appeals to residents who live within 300 feet of a proposed project.
Promoting Small Business Retention And Relocation
To protect small businesses located on AHBP-eligible parcels, Planning staff proposed giving commercial tenants at least 18 months' notice, as well as the first right of refusal to return after construction is completed. Plans also called for establishing a small business relocation fee and giving Planning the ability to reduce commercial use sizes or require commercial use in AHBP projects, if appropriate.
Dischinger recommended that relocation fees be consistent with the Uniform Relocation Act, federal legislation created after Fillmore district residents and merchants failed to receive adequate housing or compensation when urban renewal razed the neighborhood in the 1960s. Dischinger said displaced businesses could receive a capped amount, or relocation costs plus $10,000.
"When we presented it to the Small Business Commission, they were interested in working with us to further refine and develop," Dischinger said.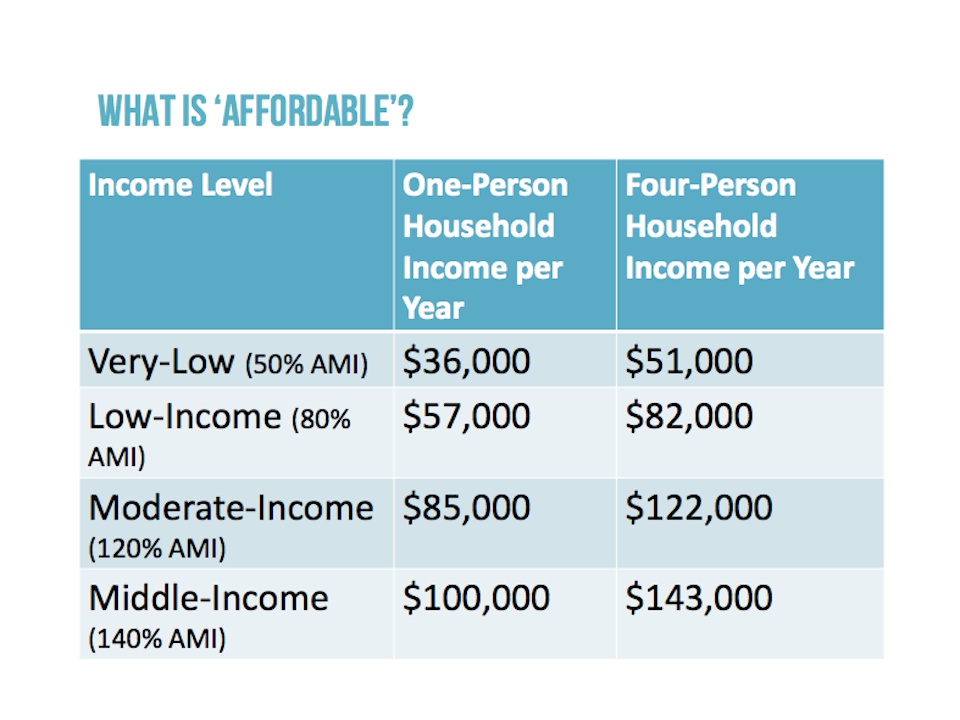 Average Median Income for SF, Marin and San Mateo. (via SF Planning)
Affordability: Who Gets To Live In AHBP Housing?
In community meetings and Planning hearings, many project opponents criticized AHBP's inclusion of middle-income individuals who could earn 120% of Average Median Income for a rental and 140% of AMI to buy an affordable unit. "Within the constraints of feasibility," staff proposed converting some of those units to 100% and 120%, respectively.
According to Calvin Welch, a member of the Haight Ashbury Neighborhood Council, which opposes AHBP, Planning staff used a regional AMI instead of a citywide number, so even lowered AMI requirements exclude most people of color. Given the fact that many eligible parcels are in minority neighborhoods, "displacement may occur," he told Hoodline.
In general the testimony has been 90 percent against #AHBP. Sunset, Richmond. Noe, Pac Heights, Nob Hill, TL, Castro, Haight. No. No. No. No

— J.K. Dineen (@SFjkdineen) February 26, 2016
"It's a regional number that includes the two most wealthy suburban counties in the United States: San Mateo and Marin," said Welch in Thursday's hearing. "Why are we using a regional definition designed totally to attract government money for a program that is boastfully advertised as not costing taxpayers a dime?" 
"That's why, no matter how much lipstick — and now rouge and nail polish we put on this pig — it's still a pig," Welch concluded. Kate Hartley, Deputy Director of the Mayor's Office of Housing and Community Development, said her office could use data to create neighborhood-specific requirements to ensure that affordable rents and sales prices are 20% below the local average.
Hartley said using a regional AMI number makes the density bonus program easier to administer. "There's nothing magical about a San Francisco AMI chart versus a HUD unadjusted AMI chart. What we're talking about is, what's the average income that people make?" Because City AMI is 10% more than the 3-county regional number, Hartley said "there's no need for dueling charts."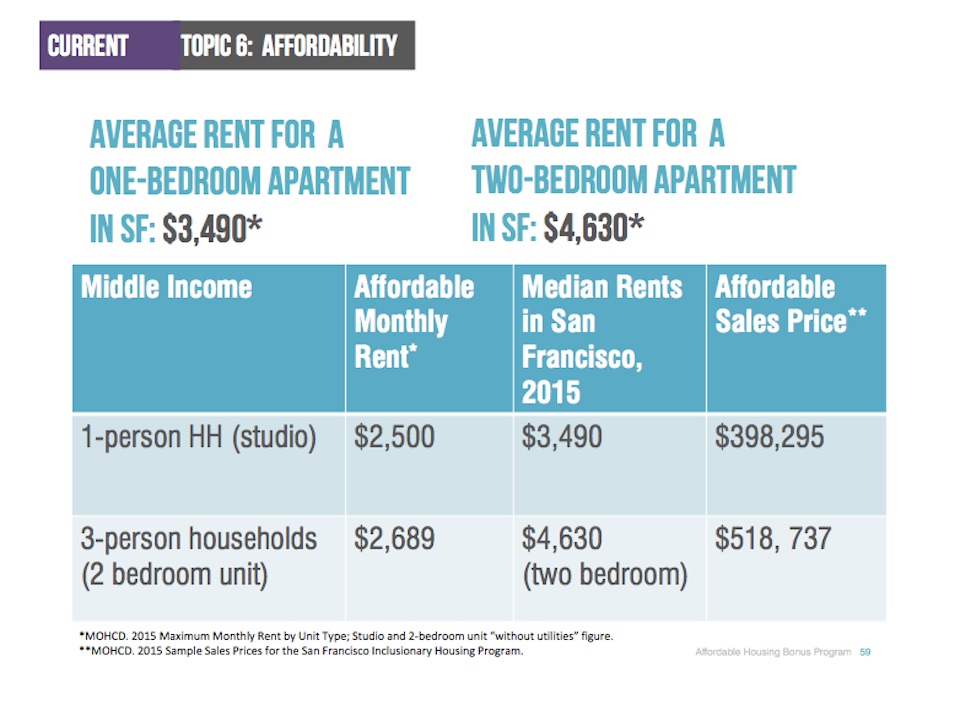 Average rents in San Francisco, 2015. (via SF Planning)
How Did Planning Commissioners Vote?

Program Eligibility: Passed, 4-2
Remove parcels with residential units, take a phased approach to implementation: certifying parcels for eligibility starting with soft sites that can expand, study an evaluation of value recapture for AMI limits, as well as small business and historic preservation, enact a community planning process.
Design Guidelines: Passed, 4-2
Recommend to the Board of Supervisors that they prohibit lot mergers until Planning Commission creates new guidelines. Refine design reviews as related to light and air requirements, Planning staff to prepare case reports that analyze each project's conformity to design guidelines.
Public Review and Commission Approvals: Passed, 4-2
Retain conditional use review for all AHBP projects.
Small Business Retention: No vote taken
Require that existing businesses be offered the first right of refusal for commercial space in new buildings, ask the Board of Supervisors to create a small business relocation fee to be paid by developers, and mandate that commercial tenants receive at least 18 months' advance notice.
"I can't support any of it," said Moore. "There are those who do not recognize that the DNA of San Francisco is indeed small business and the buildings, and how it survives and makes itself successful in that particular ambience." Moore drew a sharp contrast between legacy small business storefronts and "most new retail spaces actually staying empty for weeks and months on end."
Regulating Commercial Use Sizes: Passed, 4-2
Allow Planning Commission to reduce commercial use sizes or require commercial uses in AHBP projects to protect neighborhood-serving businesses. (This measure was initially part of Planning staff's small business retention amendments.)
Lowering Affordability Requirements: Passed, 4-2
Give staff and Supervisors ability to set neighborhood-specific rates and lower the AMI for some middle-income units.
General Plan amendment: Passed 4-2

Recommend that the Board of Supervisors adopt the General Plan amendment contingent on the AHBP being approved.
"To encourage greater levels of affordability on-site, the City may adopt affordable housingpolicies to permit heights that are several stories taller and building mass that is larger thandescribed here."
As a procedural matter, the Planning Commission also voted unanimously to pass forward the AHBP as a whole with no recommendation and only their consideration on individual amendments. Commissioners Moore and Cindy Wu were in the minority on every vote, with the exception of the proposal to lower affordability requirements, which was opposed by Moore and Richards.
What's Next For AHBP?
Before Thursday's hearing, The San Francisco Chronicle interviewed AHBP supporters and opponents: all parties were pessimistic about the program's chances of passing the Board of Supervisors. "It's in trouble," said Tim Colen of San Francisco Housing Action Coalition. "It's been nicked and cut to death."
In a January community meeting, Supervisor Aaron Peskin, who sits on the Land Use and Transportation Committee with Scott Weiner and Malia Cohen said he didn't see any urgent need for the City to create a density bonus program, since no developers have sued San Francisco for failing to comply.
Weiner, who recently sponsored legislation to fast-track 100% affordable housing projects supports AHBP, and lists it on his State Senate campaign web site with other housing initiatives. Although Cohen has proposed and supported affordable housing measures, it's not clear whether she'll vote to pass AHBP.
The Land Use Committee has yet to schedule a vote on the City's proposed density bonus program, but if AHBP fails to pass, Planning officials will need to look for new ways to assist moderate-income residents; San Francisco's inclusionary-housing program isn't open to renters who earn more than 55% AMI ($39,250).