If you're looking for a break from all of the football-centered hoopla this weekend, North Beach First Fridays could be right up your alley—or avenue, as the case may be.
The monthly art walk, which is mainly centered in the heart of North Beach along Columbus and Grant Avenues, usually takes place from 6–9pm on the first Friday of each month (with some exceptions, due to holidays).
"Basically, the galleries that were around five years ago got together and tried to create a community event to try to showcase all of the great original art from the neighborhood," said Kim Larson, who owns Modern Eden Gallery (801 Greenwich St.) with her husband, Bradley Platz.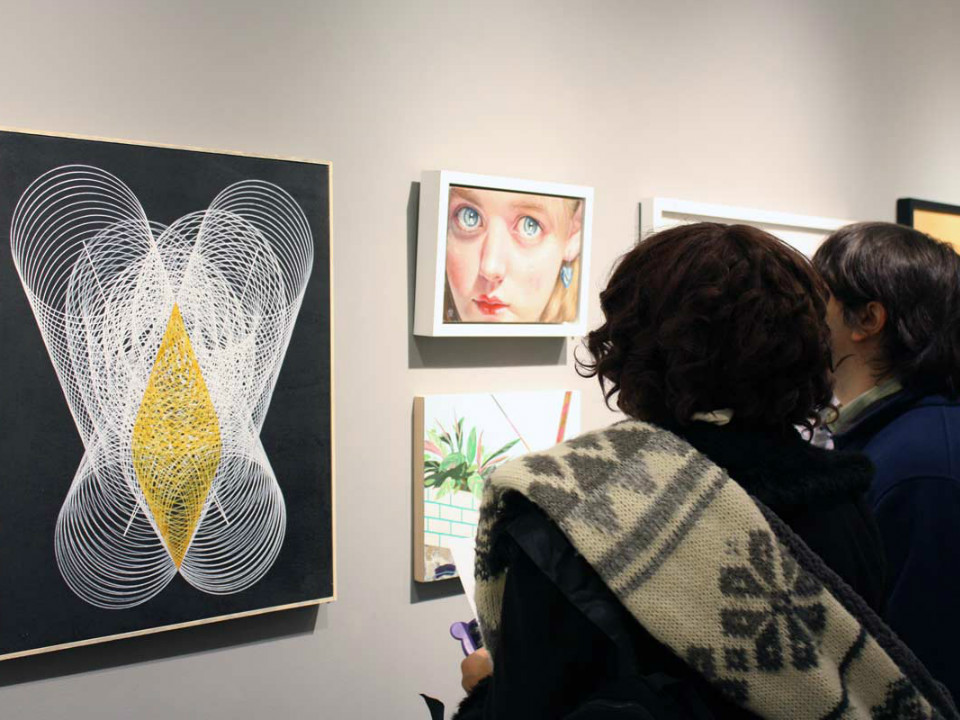 Photo: Modern Eden Gallery
At that time, Larson said, about eight galleries participated, but today, it's up to 18. Two new spots are participating this month: boutique Urban Sidewalk, which recently moved to a larger space at 241 Columbus Ave., and Mule Gallery, inside Mule Design Studio in the former Emerald Tablet space at 80 Fresno St.
An online map lists all of the participants, old and new. They include Live Worms Gallery, the North Beach Bauhaus, Canessa Gallery in Jackson Square, Ladybug House in Chinatown and Art Attack SF in Fisherman's Wharf.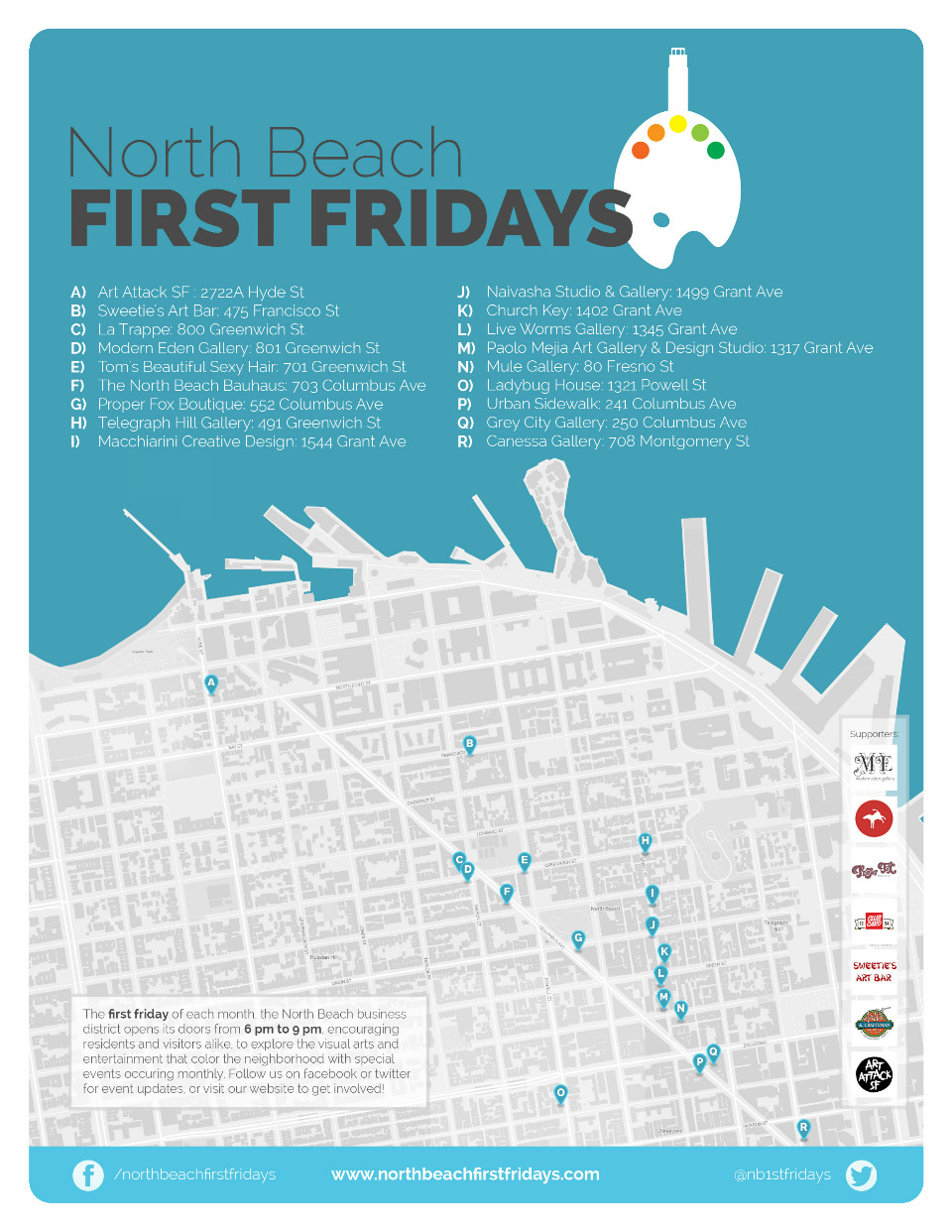 Map: North Beach First Fridays
Each gallery hosts an open house, offering something a bit different—wine, finger food, live music, and poetry readings are popular options. Attendance depends on the season and the event, Larson said, but on average, about 100–200 people stroll through.
First Fridays maps are given to hotel concierges and listed on the San Francisco Travel site, so with all of the hotels bursting with Super Bowl visitors, "I feel it's going to be pretty busy this weekend," Larson said.
Also new this weekend: Columbus Cafe (562 Green St.) is hosting a First Fridays dance party in its downstairs lounge from 8pm-1am. It'll feature two DJs spinning old-school disco, funk, soul and Motown sounds. There's no cover (though that may change in coming months) and a full bar.
Modern Eden exhibits about half local work and half from out of the area—this month's show, "Platinum Blend 2," is a mix of international artists—but most of the other galleries celebrate local talent.
Sharon Leong of Lower Nob Hill has an opening this month at Sweetie's Art Bar called "Through the Eyes of Innocents." It features paintings of animals including dogs, cats, cows, ravens and vultures, with a twist: "All except for one, I've painted tiny little vignettes of how they view humanity," Leong told us. "There's little paintings within their eyes. You have to look deep into their eyes to see the meaning behind it."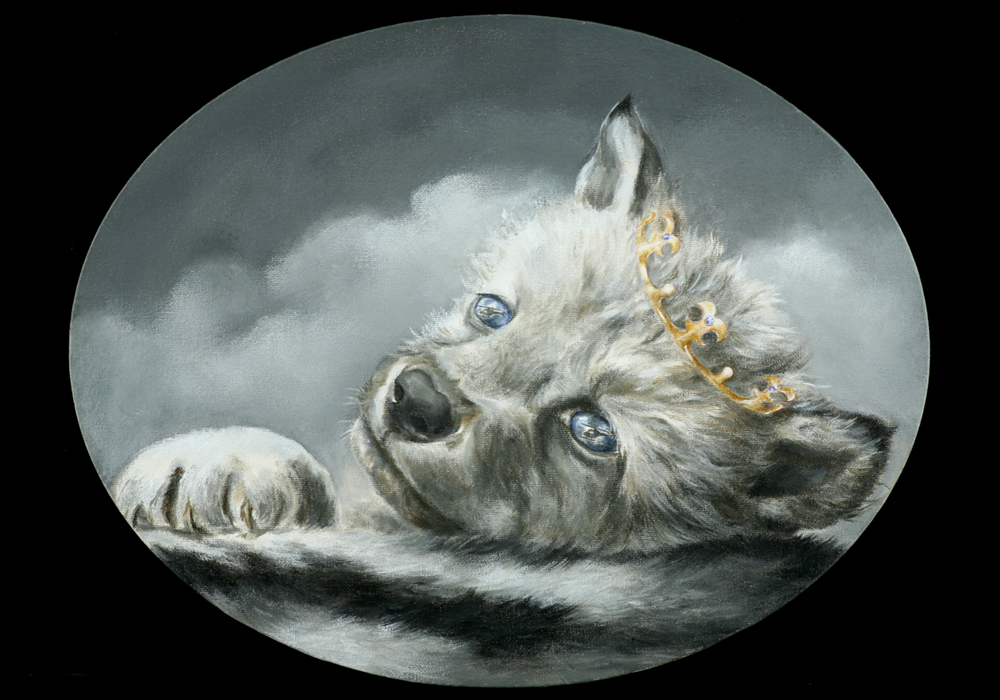 'Little Alaskan Prince' by Sharon Leong.
Leong said although she's influenced by the artist Francis Bacon's "honesty and his directness and his use of colors," her work doesn't resemble his. "I'm more influenced by writers than I am painters presently," she said, citing 19th-century Russian novelist Fyodor Dostoevsky as a favorite. One of his famous quotes: "People speak sometimes about the 'bestial' cruelty of man, but that is terribly unjust and offensive to beasts; no animal could ever be so cruel as a man, so artfully, so artistically cruel."