Fundraising pages and events are beginning to pop up for the victims of Saturday night's 3-alarm fire on Fulton Street. Two homes were destroyed in the blaze, with 15-16 people displaced. 
One of the houses affected was the Sunshine Castle at 1571 Fulton St, a communal house that was home to eight of the displaced. The house and community space was founded as such six years ago, and has since been home to the Wigg Party, Bibliobicicleta, the Urban Eating League and innumerable parties. 
A GoFundMe page has been set up by the residents of the house to assist them in their time of need. "We lost all of our possessions and our sweet home, the Sunshine Castle!" the description read. "Most of us don't have renter's insurance, so we are in trouble."
As of 9:55am this morning, $5,322 had been raised through the page.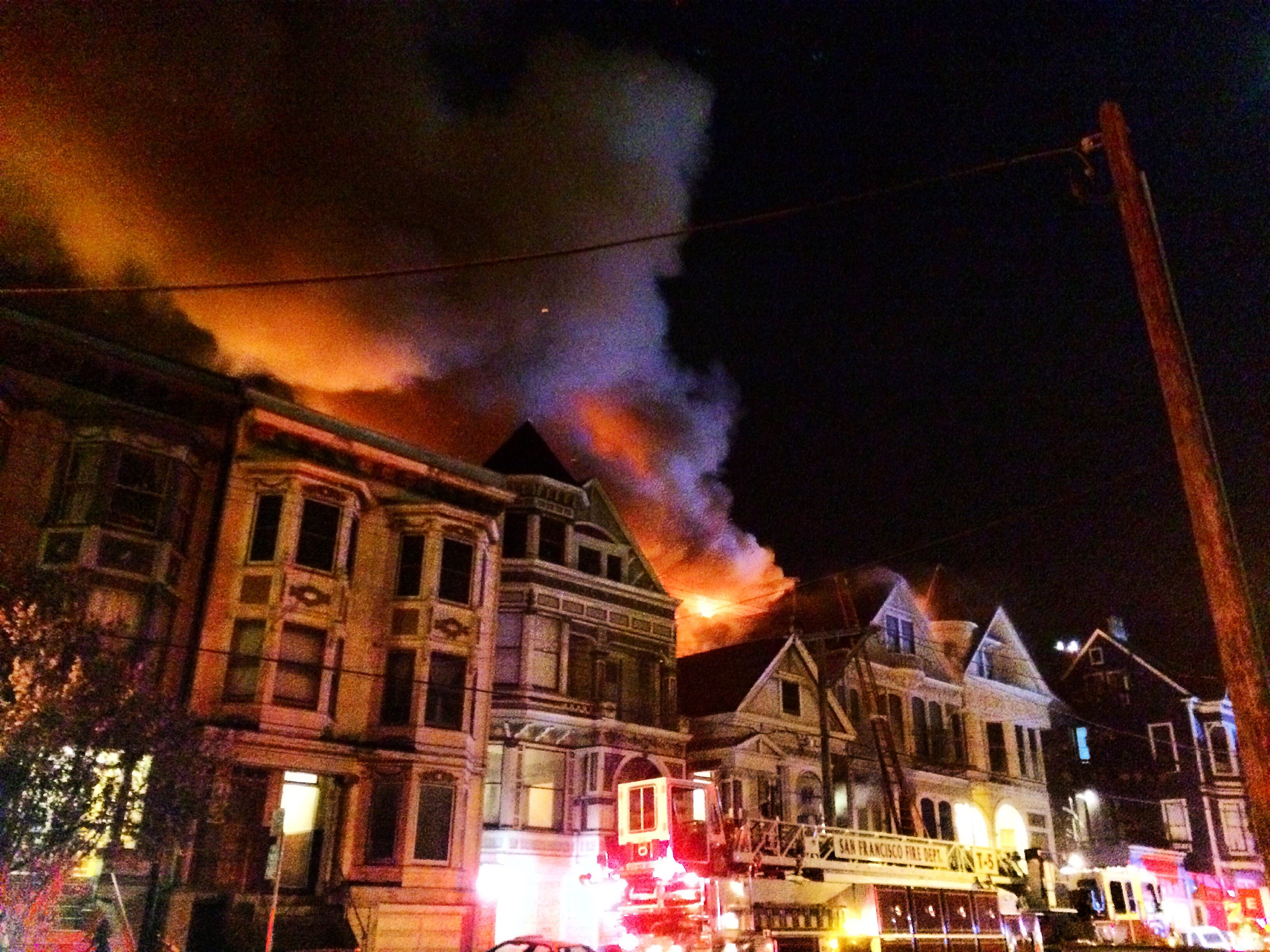 Photo: Tipster Madeline B.
In addition to crowdfunding efforts, a fundraising event is being organized for Wednesday night at Gray Area Art + Technology in the Mission. "Several artists and creatives lost their home and belongings in a 3-alarm fire," the event description reads. "Please bring cash to donate at the door and bar, or nice physical items that someone might need, clothes, food, toiletries. This group of people lost nearly everything and need our support." 
But the Sunshine Castle wasn't the only home affected by the fire. The building next-door (spanning 1563, 1565 and 1567 Fulton) was also badly damaged. The North of the Panhandle Neighborhood Association (NOPNA) will donate all funds sent to them through their Paypal account to all of the victims of the fire. 
"All donations received by NOPNA through February will be used as direct relief to the displaced victims of last night's fire on the 1500 block of Fulton Street," said NOPNA member Kandace Kaylor. "NOPNA is a 501(c)3 and donations are tax deductible (tax id - 94-3131083)."
We'll keep you updated on fundraisers, news of the residents and ways that you can help.  
Update, 2/16: A crowdfunding campaign has also been established for the four residents and one dog who lived 1567 Fulton. The good news is that their dog Kaya, who was home at the time, managed to get out of the house and is safe and sound.