Inner Sunset residents gathered in the former La Boulange de Sunset on 9th Avenue on Thursday night to learn about Lemonade, a popular Southern California restaurant chain that plans to open up in the currently vacant space.
Approximately two dozen neighbors gathered to hear Alan Jackson, Lemonade's chef and co-founder, describe the restaurant chain and its history, and also to hear about his vision for how Lemonade would be a good fit for the Inner Sunset.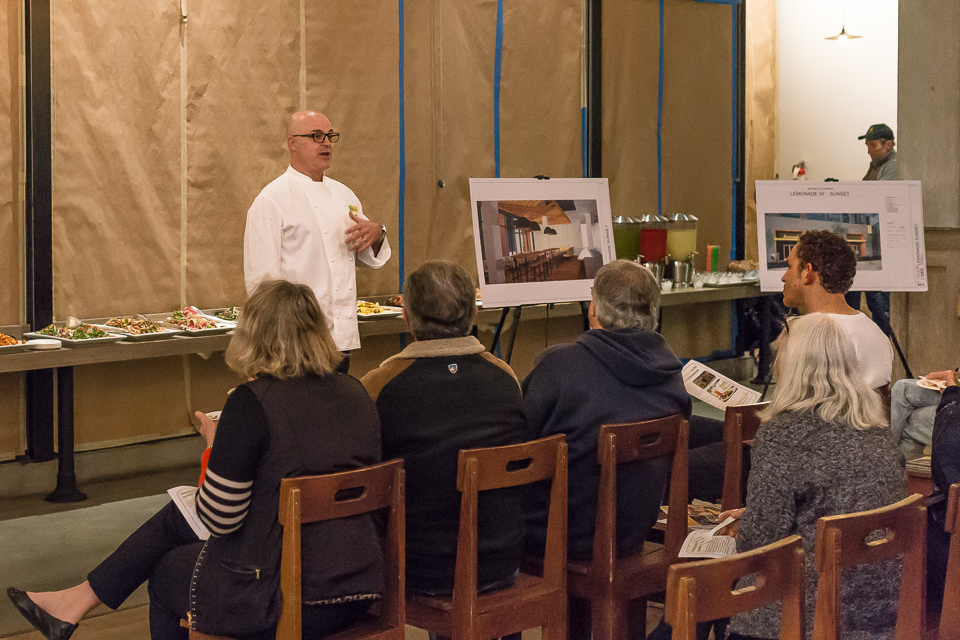 Chef Jackson tells his story.
Chef Jackson and his wife, Heidi, opened the first Lemonade in West Hollywood in 2008. Since then, almost two dozen locations have opened up in Los Angeles and, recently, in San Diego; moving into the Bay Area is the next phase of their expansion plan.
Last year's closure by parent company Starbucks of the all of the La Boulange locations, including 15 in San Francisco, gave Lemonade an opportunity to do just that. The Lemonade Group has inked deals to secure six of the Bay Area locations, with four of them (Yerba Buena Center in SF, Walnut Creek, Burlingame, Palo Alto) already in the process of being converted. Two San Francisco locations, including the Inner Sunset and West Portal spaces, still require approval from the city due to zoning restrictions on formula retail before they can get underway. Thursday's meeting was part of that process—a pre-application meeting that gives the neighborhood and the applicant a casual way to get to know each other and identify any issues before the formal application process, including public hearings, begins.
Lemonade's story is a pretty simple one. Chef Jackson left behind a career in fine dining to open up Lemonade so that he could focus on the aspect of the culinary world that he cared most about, the food, without being distracted by the pomp and circumstance of fancy restaurants. The menu is seasonal, and features colorful and sometimes exotic produce, but is served cafeteria-style, and at a lower price point than it would command in a full-service restaurant environment.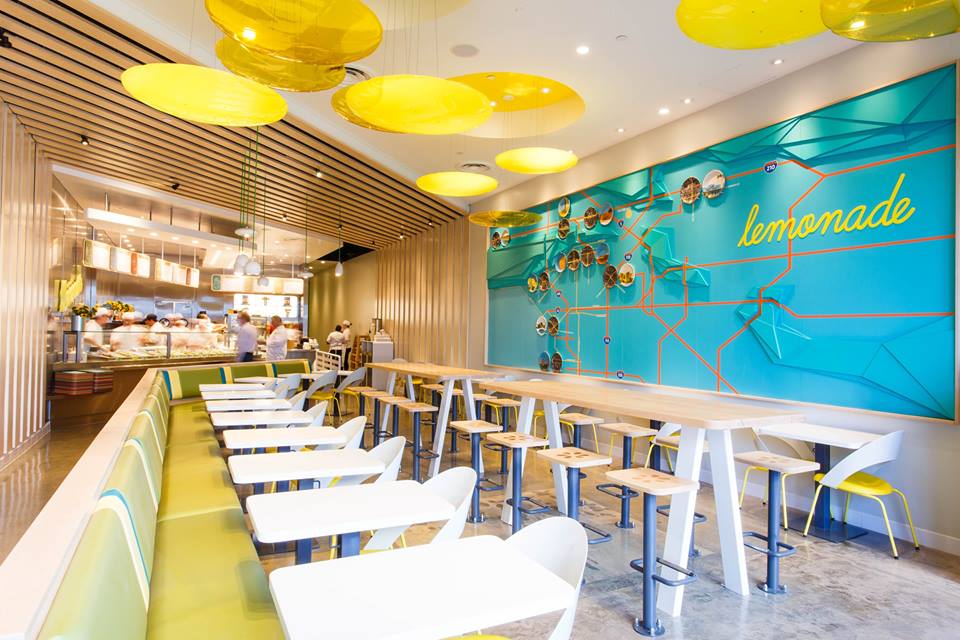 Lemonade's Glendale location. (Photo: Lemonade/Facebook)
Huntley Castner, Lemonade's CFO, who came along on the trip to help with the presentation, explained that the chain served "food you would expect to find in a restaurant with white tablecloths, but for people looking for a faster and less expensive meal." The menu is foodie-buzzword compliant, with salads featuring kale, quinoa, and watermelon radishes, but also hits some comfort food notes with mac n' cheese and braised stews. Food is priced by the scoop, bowl, or piece, depending on which section it's served from, with individual portions of a particular item as low as $3 and a complete meal for an adult averaging closer to $10-12.
After the crowd had a chance to eat their way through the menu and hear his pitch, Chef Jackson turned the meeting over to the Inner Sunset folks for questions and comments.
One of the first questions was how the chain thought they could possibly make any money selling fancy food at relatively inexpensive prices with the high cost of SF rents and labor. Noting that he was glad he had brought his CFO along, Jackson and Castner explained that they had crunched the numbers very carefully, and that they were confident that they could make it work.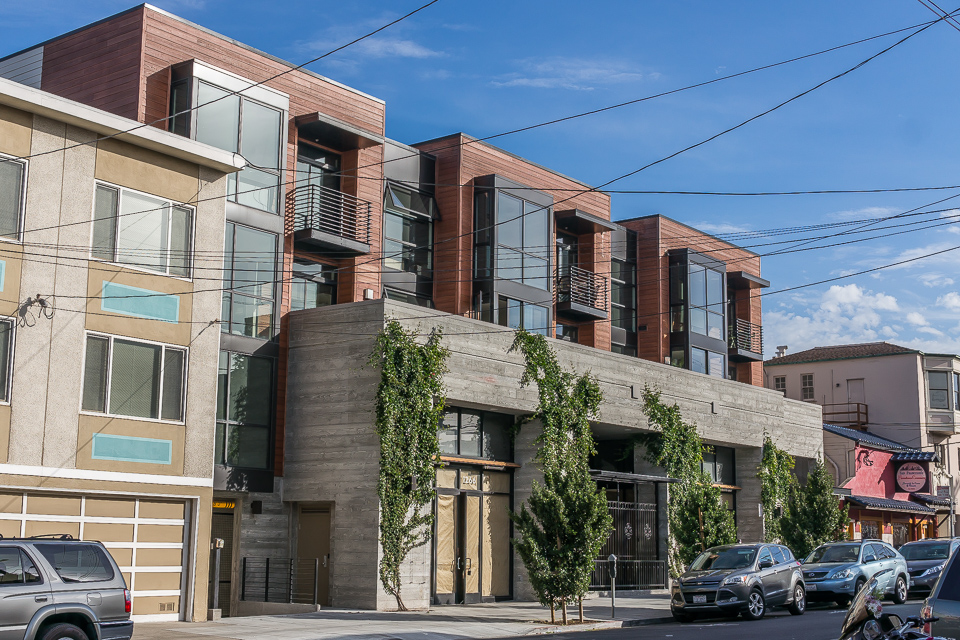 The space has been vacant since last September.
Larry Rosenfeld, a neighbor who lives walking-distance from the location, told a cautionary tale of previous attempts by other chains to make a go of it in the Inner Sunset, ending with the question, "Why will you succeed when Beautifull and Pasta Pomodoro couldn't make it work here?" The chef and his CFO responded with a request, "Please, tell us what would make it work for you," which launched a discussion that ranged from dogs on the patio, to different types of diets, to making the ordering process as easy as possible.

Neighbors also had a lot of concerns about waste and litter, and the restaurant said that while they were still working out some of the details, "The last thing we want is for there to be trash in Golden Gate Park with our logo on it."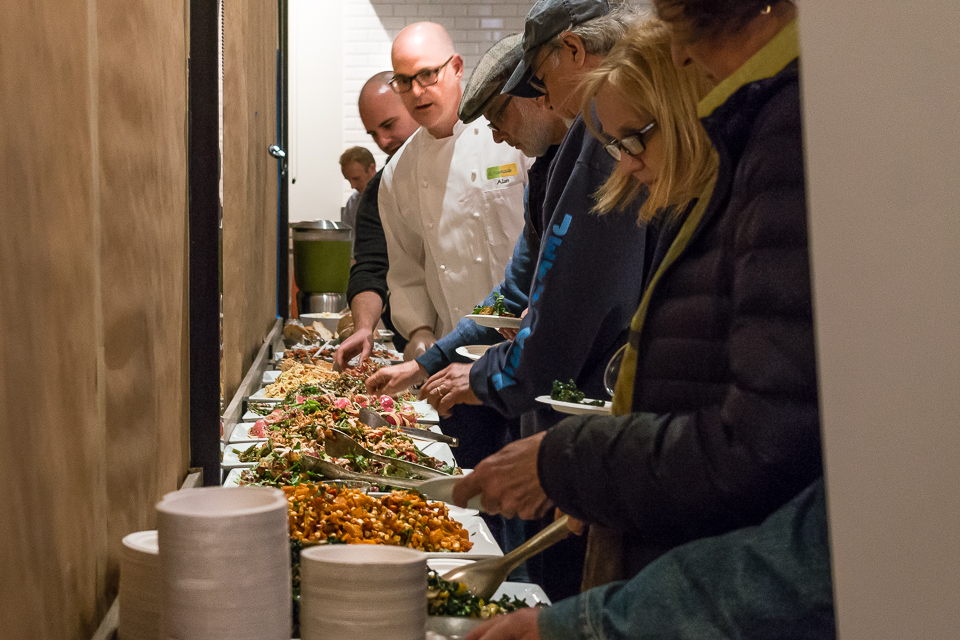 Sampling the menu.
Responding to concerns that Lemonade, as a chain, would not fit in with the neighborhood feel of the Inner Sunset, the team took pains to distance themselves from cookie-cutter eateries that are typically found in shopping malls. "Our locations in LA are in neighborhoods just like this one, and our customers tend to live very close by. We intentionally try to blend into the neighborhoods and become a part of them." Perhaps not realizing that there had once been a controversial home of the Whopper just a block away, Jackson quipped, "All of our locations have a different style and are decorated to match their surroundings. We're not like Burger King where they all look the same."

Though the meeting was friendly and constructive, it was clear that many neighbors were skeptical that Lemonade, or any chain (especially from Los Angeles!), was the best choice for the neighborhood. After hearing about a proposed morning coffee service to fill the void left by La Boulange, one resident remarked to the person sitting next to her, "We're more likely to have our morning coffee at a local spot, not a big chain like this."
Still, the food was well-received, and it seemed like Lemonade made a decent first impression on the crowd. The next steps from here include the formal process of applying for a Conditional Use permit from the city's Planning Department, which is not a quick process, and after that construction and remodeling would still need to take place. "Our hope is that if all goes well," said Lemonade's representatives, "we are able to open up towards the end of the year."