Starting today at 3pm, "traditionally irreverent" Bayview brewery Laughing Monk will open its doors to the public for the first time, in honor of St. Patrick's Day. Owner Andrew Casteel welcomed his first son, Francis, on February 6th, and says he's now excited to introduce neighbors to his "second-born": the new brewery. 
"I can't believe we're finally opening today," Casteel said. "I've been dreaming of this day ever since I started homebrewing, over a decade ago."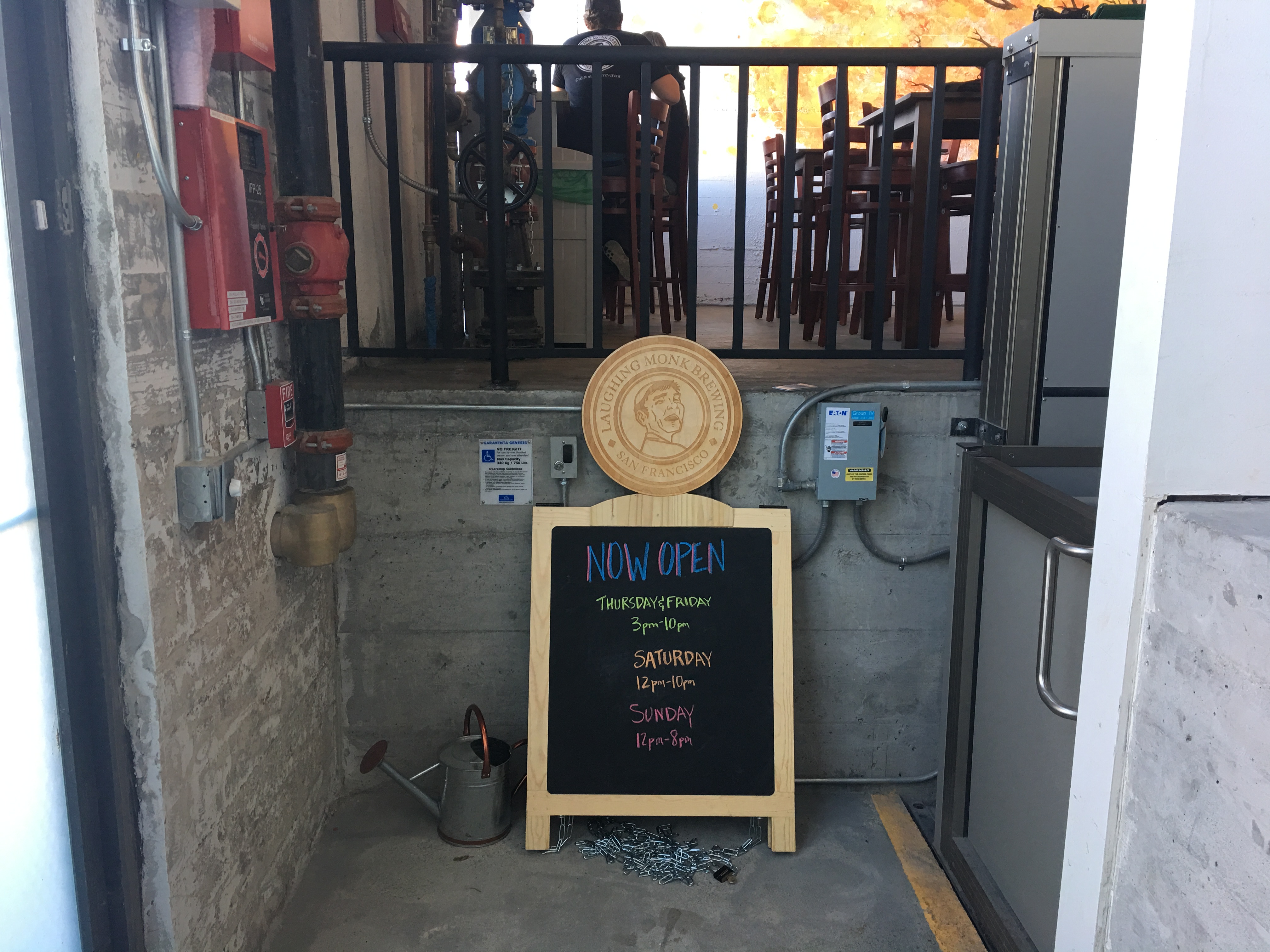 We profiled Laughing Monk earlier this year, but to recap, it's the brainchild of Casteel, a longtime nonprofit worker who's aiming to specialize in Belgian-style brews made with California ingredients. He's also gotten deeply involved with the Bayview community, supporting public mural projects and advocating for a street art festival. 
To start, Laughing Monk will offer three brews: a pale ale, a golden ale with chamomile, and a coffee stout. Brewmaster Jeff Moakler says that more beers are on the way. "We have an IPA coming out in about two weeks or so, and our Belgian dubbel will be out in three weeks," he said.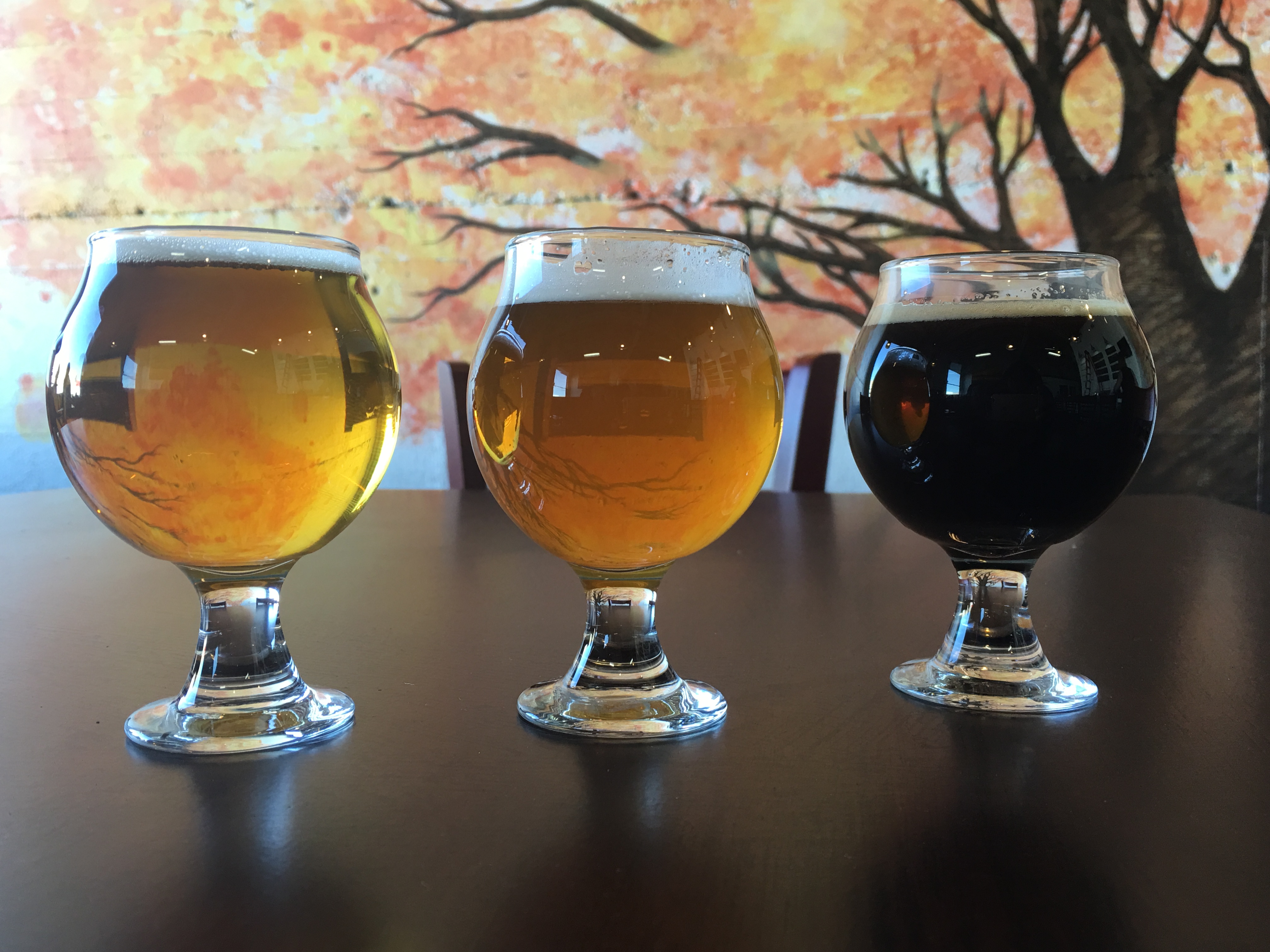 Today's featured beers, from left: golden ale, pale ale, and coffee stout.
The brewery seats 32, but has lots of standing space. Azalina's Malaysian, which has its commissary kitchen nearby, will deliver food, and the bar will also have a flat-screen for all you sports fanatics.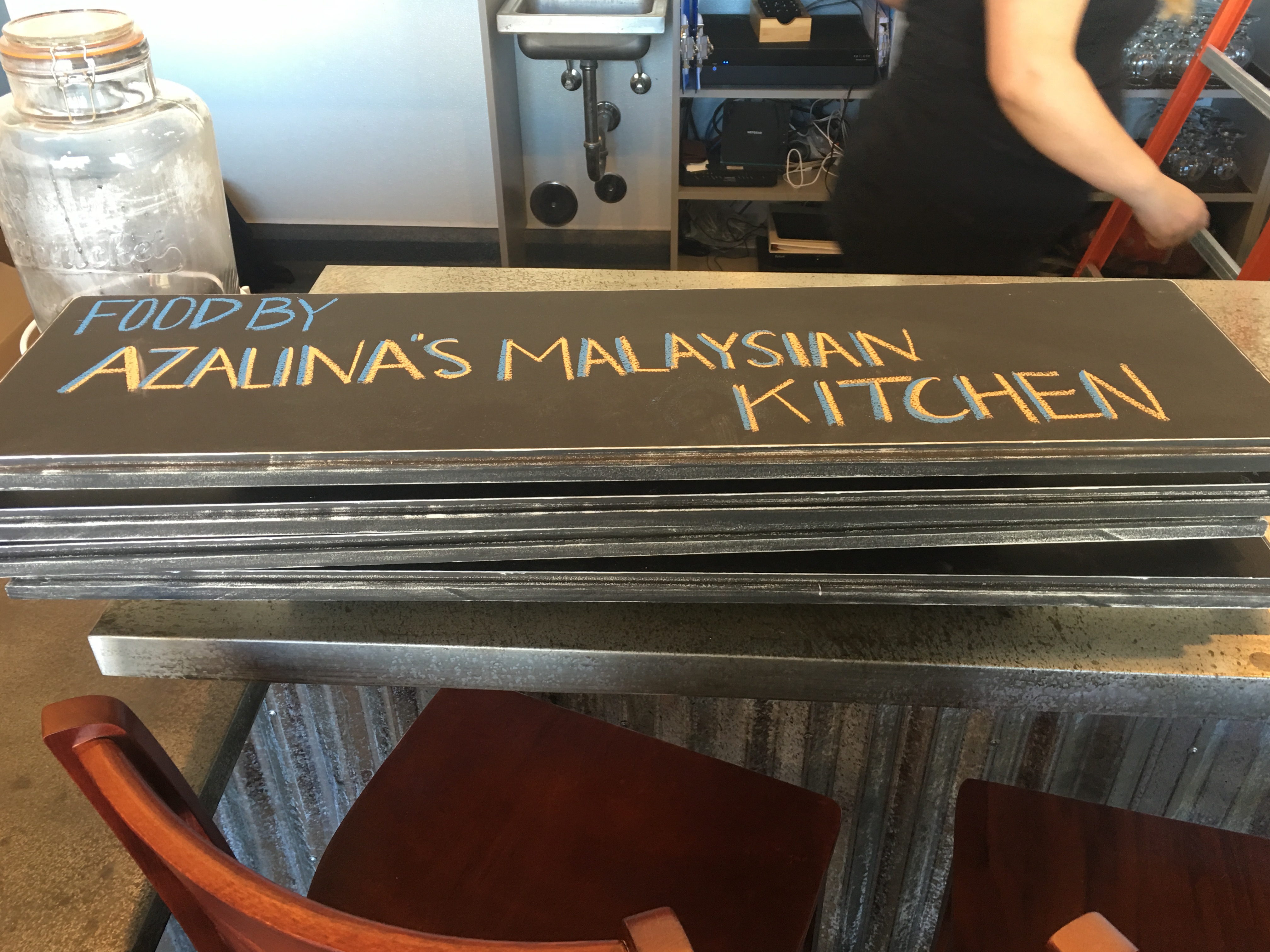 While Laughing Monk anticipates a big crowd for St. Patrick's Day, the festivities will for the most part stay mellow, with no big ribbon-cutting ceremony or live band. However, Bayview's Old Skool Cafe will feature a special menu of Irish-inspired food, including corned beef sliders and pub nachos. 
"I'm just ready," said front-of-house manager Robin Knight as she hung beer description signs. "I feel relieved. It's going to be killer. All this hard work, and now we can reap the benefits of our labor. It was really exciting to taste the first batch of beer. That felt really monumental."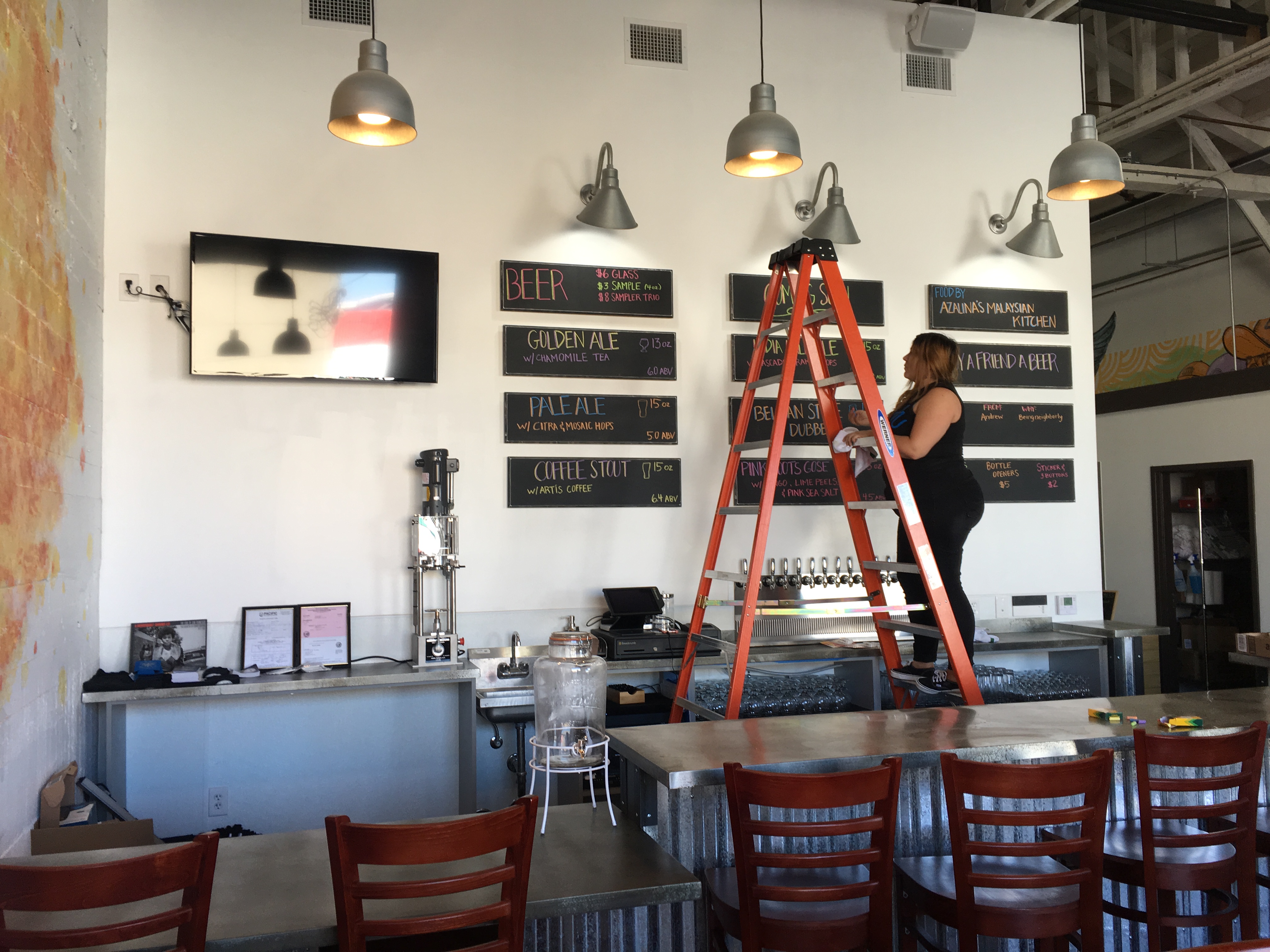 Robin Knight hangs signs.
Laughing Monk will eventually feature 16 beers on tap, including an upcoming beer that Knight helped brew with an all-female crew. 
"This year, I became a part of the Pink Boots Society, which is an organization that was created to empower women beer professionals to advance in their careers," Knight explained. "Each year, they pick a type of beer to brew. This year it was a gose, and all these ladies get together from all over the Bay and we brew! It's still brewing, but it will be available here, and we'll have a release party for it on April 1st."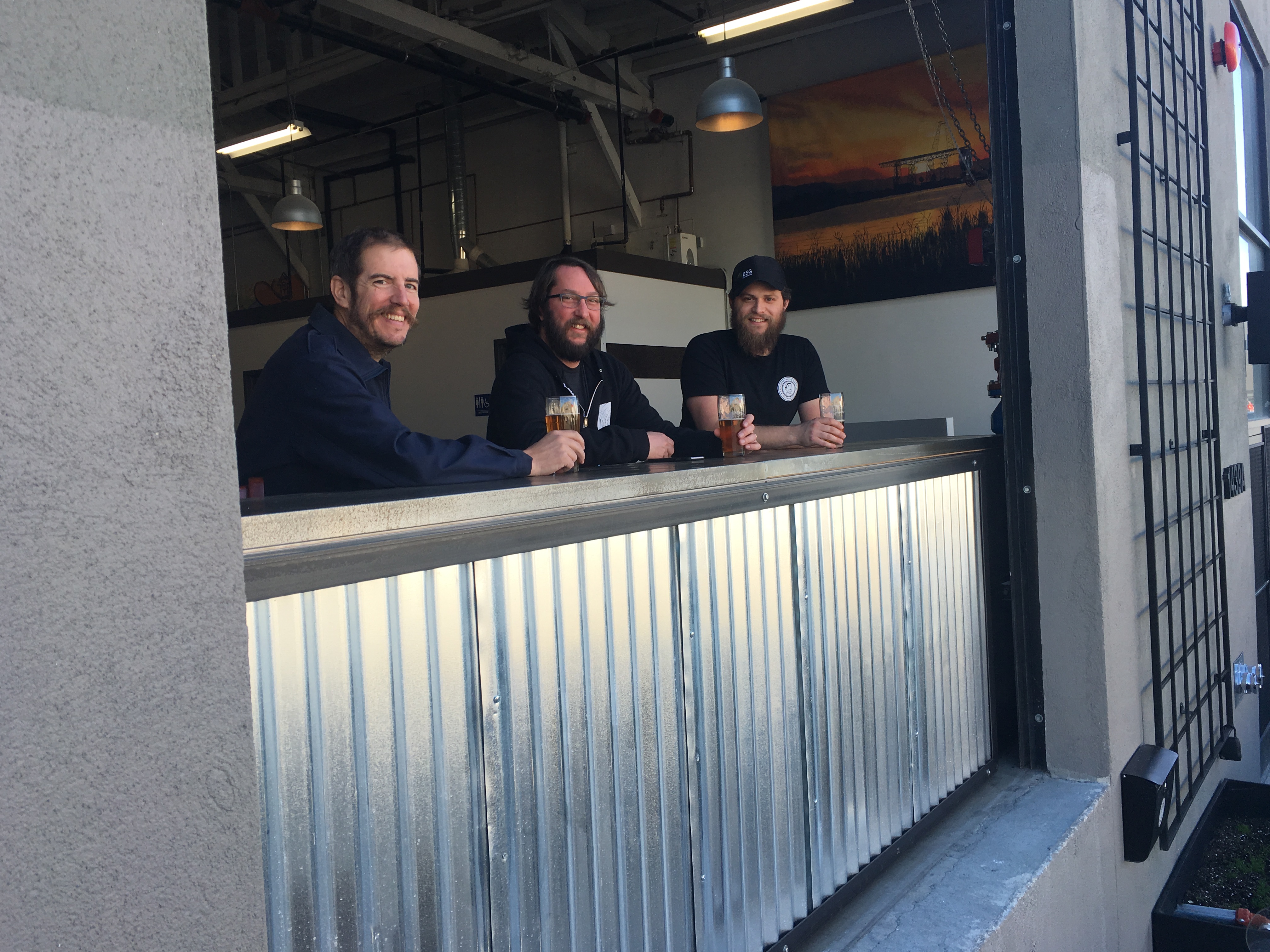 Carl Sutton of Sutton Cellars, brewer Ben Spencer and brewmaster Jeff Moakler.
"You know, what's exciting is just being here and having fun in the brewery, making new, fun things," said Moakler. "We are just going to produce a bunch of different stuff until the market tells us what to make. When you come here and try a beer, it's always going to be new. Not one beer will ever taste the same ... unless we want it to."
For more information about today's grand opening, including detailed beer and menu descriptions, check out Laughing Monk's Facebook event page.