Pete's Union 76 gas station, at the corner of 44th Avenue and Noriega, may be demolished to make way for a $4.6 million development, with 12 residential units and a ground-floor grocery store. Although some residents are leery of the changes construction might bring, others are welcoming the additional units, as the Outer Sunset has created the least new housing of any San Francisco neighborhood in the last decade.
Under the current proposal, Pete's Union 76 will be replaced with a 45-foot, four-story building with 12 units above a street-level, 9,635-square-foot grocery store. The plans also include two levels of underground parking, with space for 42 cars. The neighborhood is zoned to limit buildings to 40 feet, but because the project includes ground-floor retail, five additional feet of height are allowed.
If the new development is approved, a source has told Hoodline that Noriega Produce (3821 Noriega) will be the grocery store on the ground floor. The popular store, which is surrounded by a PG&E substation, currently has no room to expand.
But before the project can proceed, property owner 3701 Noriega LLC must obtain a conditional use permit from the Planning Commission. In this case, a CU is required because the parcel is larger than 5,000 square feet, involves the conversion of an auto service station and includes a non-residential use. A public hearing will be held on Thursday, April 28th at 12pm, in Room 400 of City Hall.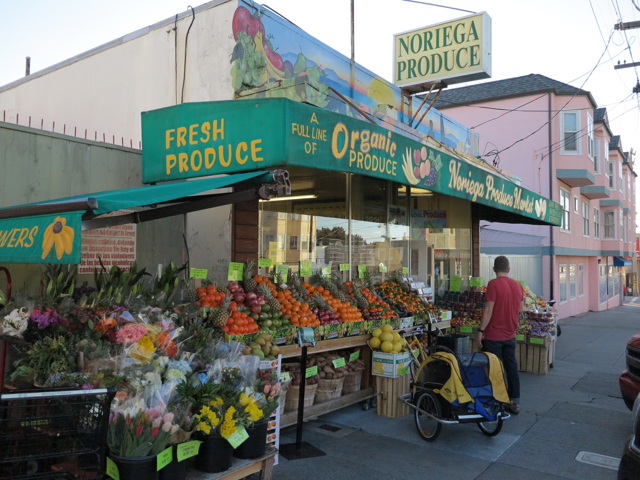 Noriega Produce. (Photo: Stephen Jackson/Hoodline)
Minh Ta has operated the 76 station for several years, employing several workers who repair vehicles and service customers. We weren't able to reach him for comment, but his odds of relocating in San Francisco are likely slim, as soaring real estate prices have seen many gas stations transformed into new housing. The trend extends to the Inner Sunset, where a 76 station at 19th & Judah is on the market for $6.3 million.
If Pete's Union 76 closes, five stations will remain to serve drivers who live west of 19th Avenue. Although more than 31 percent of San Franciscans don't own a car, ownership rates remain relatively high in western neighborhoods.
In online discussions, neighbors opposed to the project objected to the building's height, its potential for casting shadows, increased traffic, and the potential alteration of the area's character. Proponents have countered that new housing is sorely needed, and that the building's underground parking should dispel worries about new congestion.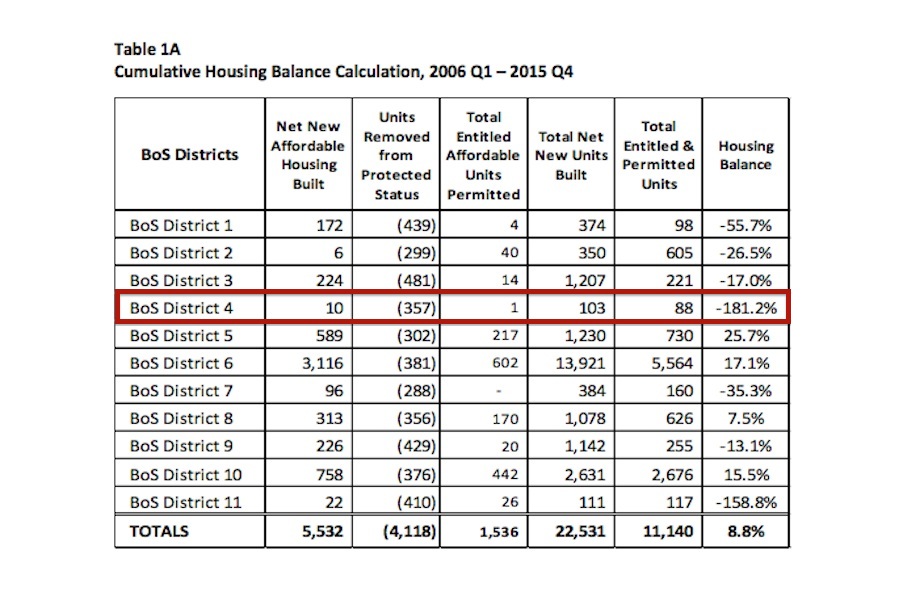 Affordable housing balance by Supervisor district, 2016. (Image: SF Planning)
According to the Planning Department's 2016 Housing Balance Report, District 4, which encompasses the Outer Sunset, has created a net total of only 10 new affordable housing units in the last decade. While only one new affordable unit was permitted, 357 units were removed from "protected status," usually apartments vacated due to owner move-in, condo conversion or demolition.
A total of 103 net new units were created in the Outer Sunset between 2006 and 2015, which means the neighborhood has the city's worst housing balance, Planning reported.