Published on April 07, 2016
Standing room only and 81 degrees Fahrenheit – that was the scene at last night's debate between District 6 Supervisor Jane Kim and District 8 Supervisor Scott Wiener, which saw people packed into pews fanning themselves as the two candidates clashed over some issues and found common ground on others. 
Supervisors Kim and Wiener are the two Democratic candidates vying for the District 11 California State Senate seat soon to be vacated by termed-out senator Mark Leno. This was Kim and Wiener's first public debate, which was hosted at Congregation Sha'ar Zahav, on Dolores and 16th.
The debate, which was co-hosted by the Alice B. Toklas LGBT Democratic Club, Harvey Milk Democratic Club, and the Bay Area Reporter, boasted a notable list of moderators, including BAR's Cynthia Laird, comedian Marga Gomez, and First Lady of the Castro Donna Sachet.
Even though an app-generated coin toss started off the proceedings and a friendly handshake followed, it didn't take long for the two candidates to turn up the heat on the already sweating, yet equally split, audience members.
Read on for some highlights from last night's debate below; however, for those of you who aren't in the right state of mind to think about a June 7th election (and November general election), fear not—simply know that there was no clear winner, or loser, in last night's debate.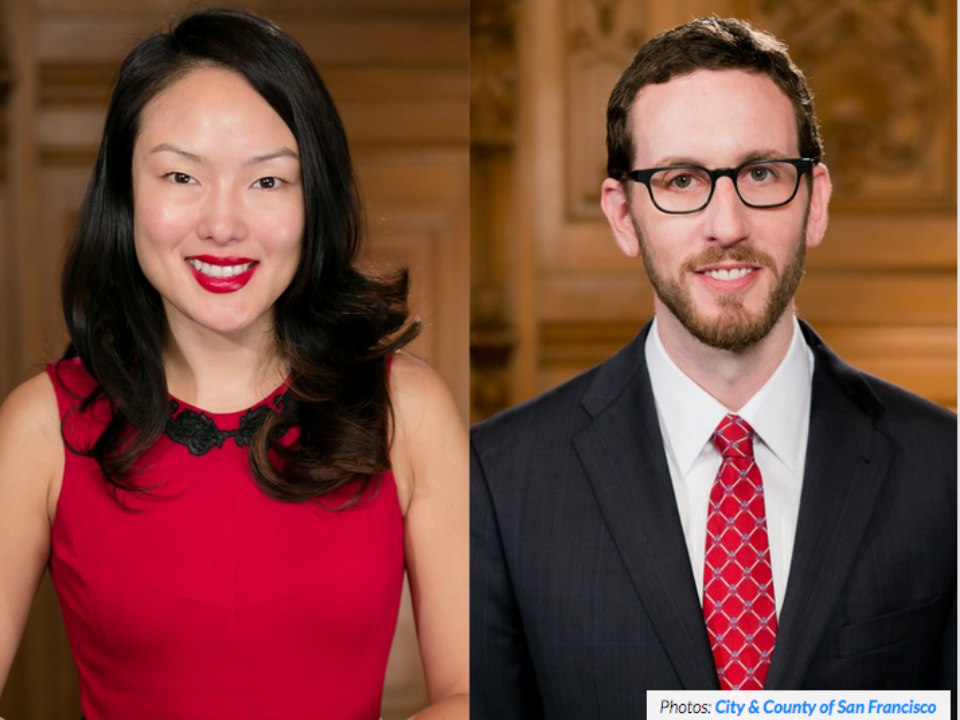 Housing is the Big Issue
No surprises here. Housing—and specifically affordable housing—was brought up in the candidates' responses to nearly every question. The candidates strategically found ways to loop back to San Francisco's housing woes while answering targeted questions about transportation, homelessness, climate change, education, and prison reform.
Kim was quick to point out that 54 percent of affordable housing being built in San Francisco is happening in her district.
Wiener commended Senator Leno on his work with Ellis Act reform, and said that he would continue to fight for Ellis Act reform, making evictions a statewide issue. Kim is also in support of Ellis Act reform and is the self-identified tenant advocate of the Board of Supervisors.
"Housing is about health, it's about security, it's absolutely a right, and not a privilege," said Kim, before saying that her opponent had accepted two maxed out checks from a donor who had proposed to ban rent control in the State of California.
Wiener countered by saying that two-thirds of Kim's funding had come from outside of District 11, and that her funding was primarily out-of-state real estate money.
Wiener said that addressing the housing crisis is not just a San Francisco problem, but a regional crisis. He pointed out how the Peninsula also needs to build housing, especially around Caltrain stations, stating that the state legislature can do more to provide incentives.
Kim agreed, saying that San Francisco was left trying to solve the housing crisis for the entire region. She mentioned a Bay Area housing trust fund that would provide additional funding to get housing projects that have already been given the go-ahead over the last financial obstacles and get off the ground.
We'll be looking to see what particular solutions these two candidates propose in regards to Bay Area housing going forward.
Shuttle Buses a Point of Contention
In terms of tearing down the San Francisco portion of the I-280, Kim said that she doesn't support it as the proposal stands. "We need alternatives first," she said, before stating that tearing down the I-280 would slow down progress on bringing the high-speed train to the city.
Wiener said that we "need to get our act together to shore up these [public transportation] systems," not just in San Francisco, but also in Los Angeles. He said that he is waiting to see the analysis of the proposed 280 tear down before taking a stance, acknowledging similar overpass tear-downs that reshaped the Embarcadero and Hayes Valley.
Both candidates agreed that Caltrain, Muni, and BART are running at capacity, and talked about expanding the city's BART and Muni lines.
"San Francisco has been growing since the early 1980s," said Wiener. "[There are] over 200,000 more people than in 1980 and we haven't opened one additional inch of subway system." He is in support of extending subway service in San Francisco, something he labeled as a high priority for him should he make it to Sacramento.
Kim agreed that additional subway service is needed; however, she pointed out that those projects are expensive and take a long time to build. In the meantime, she talked about the short-term need to address traffic congestion by getting people out of cars and onto bikes. She also emphasized strengthening initiatives like Vision Zero, which aims to address pedestrian fatalities, an issue that's top-of-mind in Kim's district. 
Where the two candidates really differed was when asked about private companies' use of public bus stops for shuttle bus transportation.
Kim is in favor of a hub system, which would have a centralized location(s) where commuters could catch their coach buses for their commutes southward. "If we are a transit-first city, private transportation can't block the way for publicly funded transit," she said, to heavy applause. "We don't need to bend over backwards [for these companies]. They can take Muni like everyone else to these hubs to get to work."

Kim was quick to point out that she supports commuter shuttle buses, but that these shuttle services should be done in a way that is respectful to San Francisco's streets and neighborhoods.
Wiener followed up by asking who in the congregation wanted a shuttle hub in their neighborhood—few hands were raised. "When we're talking about having a few hubs," he said, "we're talking about making it harder for San Francisco residents to get to work. If we are serious about being a transit first city, we have to give people as many options as possible—shuttles are part of that system," said Wiener, also to heavy applause.
Homeless Debate Gets Big Applause 
Wiener missed out on his first chance to talk about homelessness when he was put on the defensive after Kim criticized his decision to create a "permanent moratorium" by pushing for a permanent open space in his district. He later came back by saying that even though he wasn't a fan of President Reagan, "we've had nearly 40 years" as a city and state to address the issues left behind in the wake of the then-governor's budget slashes and allocations.
He responded to a question from the audience about Right to Rest legislation. Wiener does not support this legislation, as "it would wipe away all of our local control of our local and sidewalk spaces. [It] would make it 100 percent legal to pitch a tent on a sidewalk. We need to transition people out of tents and into housing," said Wiener. "We will have no power to get people off the streets," he said, "we do not need the state to manage our local, public spaces."
Kim says she supports a uniform, statewide shelter system so that cities like San Francisco and Los Angeles aren't carrying the homeless burden. "The new face of homelessness is single-mothers with children and with jobs. We must do everything we can to address family homelessness," said Kim.
She is in support of the Right to Rest Act, saying that sweeping tents away when the people living in them have nowhere else to go is inhumane. This remark received arguably the loudest applause of the night. "Let's actually build more navigation centers and housing and shelters," Kim said. "Sending SFPD to sweep our tents is not addressing homelessness."
Prisons and Schools are Two Sides of the Same Coin
Kim said that to combat racism we must address suspensions and expulsions from San Francisco's public schools, which primarily target African-Americans. Kim also noted that building jails is not the solution to criminal justice reform, stating that we need to build a behavioral health clinic so that the city can serve those who struggle with substance abuse and mental health.
Wiener supports strong, transparent, civilian oversight of law enforcement. He said we need to stop demonizing all police officers, but that people need to be held accountable when bad things happen. He is open to police using tasers as an alternative to lethal force, adding that additional training and resources need to be explored.  
Kim referred to reforming the prison system as the civil rights issue of our time. She does not condone the use of tasers by police, saying that the city has not provided adequate resources and training to SFPD to address crimes in our neighborhoods. "We have decided that this is an unfortunate outcome of keeping our neighborhoods safer," she said. "Let's invest in the things that we know what prevent crime: youth programs, public education, smaller classroom sizes, mental health counseling."
She received heavy applause when she said that "we need to hire more local officers who grew up here, who know our neighborhoods, who went to our high schools—who care because they grew up here. We should fund these trainings so they do not pull the trigger when they view a situation that is potentially dangerous."
Wiener agreed, saying that he has been a strong supporter of criminal justice and prison reform. "It saves money and it is healthy for communities," he said. Referencing the recent violence in Duboce Triangle, Wiener stated that although "we need to move away from mass incarceration, we shouldn't go to the other extreme" and not get dangerous people off the streets.
Both candidates agreed that the state needs to reinvest in higher education in California, and that over-sentencing criminals is not making our state safer.
Common Ground Over LGBT Rights
Wiener took questions regarding LGBT civil rights very personally, especially when asked about recent events in Mississippi and North Carolina. Wiener, who went to school in North Carolina, said that he "understands what it means when you foster an environment of hate. Yes, we won marriage equality, but this fight has just begun." Wiener stated that he has already started to draft legislation to protect rights of LGBT individuals in California.
Supervisor Wiener is also in support of prison care reform for transgender inmates, as is Supervisor Kim, who called for the same curricular and programmatic support for transgender inmates as other inmates receive.