Starbucks has pulled the plug on its idea to expand its Starbucks Evenings concept in the city, which offers beer, wine and small plates in addition to the usual repertoire of coffee drinks.
The company withdrew beer and wine license applications for its stores at 565 Clay St. in the FiDi, 685 Beach St. in Fisherman's Wharf and 280 King St., one block from AT&T Park. None of the three locations had zoning restrictions that would require special permits, and the applications didn't get much formal opposition: California Department of Alcohol Beverage Control (ABC) spokesperson John Carr said the agency received formal protests from SFPD on all three locations, and one local resident also protested the 280 King St. location.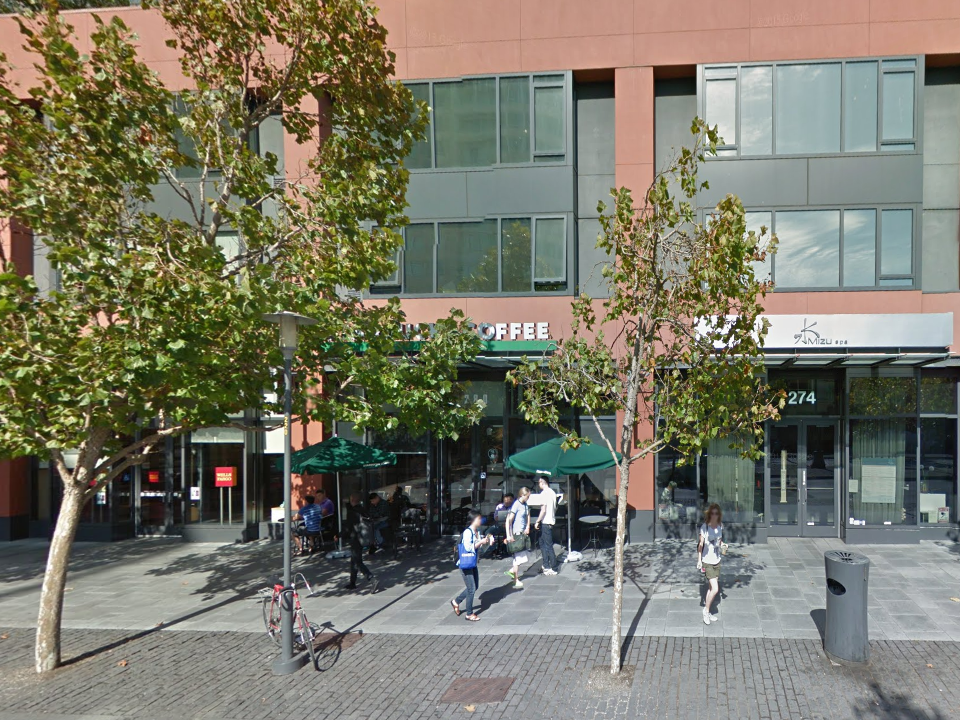 Starbucks at 280 King St. (Photo:  Photo: Google Street View)
The move comes just after the Board of Supervisors unanimously passed a resolution on Tuesday asking the ABC to not issue licenses to businesses that traditionally have not sold alcohol as part of their model. (Starbucks announced the "Evenings" program in March 2014 and now has 40 "Evenings" concepts in northern California and more than 300 nationwide, but none in the city.) 
We asked a Starbucks spokesperson if the resolution had anything to do with the decision, and we received this statement: 

We're excited about bringing the Evenings experience to more customers and being diligent about when and where to expand the program in new and existing markets. At this time, we have reconsidered the timing of our plans to launch Evenings in San Francisco and will stay focused on our existing store experience. San Francisco is as an important market for Starbucks, with a rich heritage dating back more than 20 years. We will continue to thoughtfully assess the opportunity to expand the menu in the future while working in partnership with the city. 
"They didn't prepare they didn't do their homework, they didn't do their outreach, and in the end, I think they underestimated the passion of our city," said the SFPD's Lt. Dave Falzon, Officer-in-Charge of the ABC Liaison Unit (ALU). "There's serious opposition to their business model on many levels."
Lt. Falzon said there's a coalition of interested parties concerned about alcohol density in the city and county, which has 4,600 licenses in 47 square miles. It includes public health agencies, academics, youth groups and police departments. He questioned why the ABC continues to recommend approval of more licenses, despite community concerns. "There is a trend at the state level to do what they want when they want, when we're the ones tasked with dealing with all of these places," he said.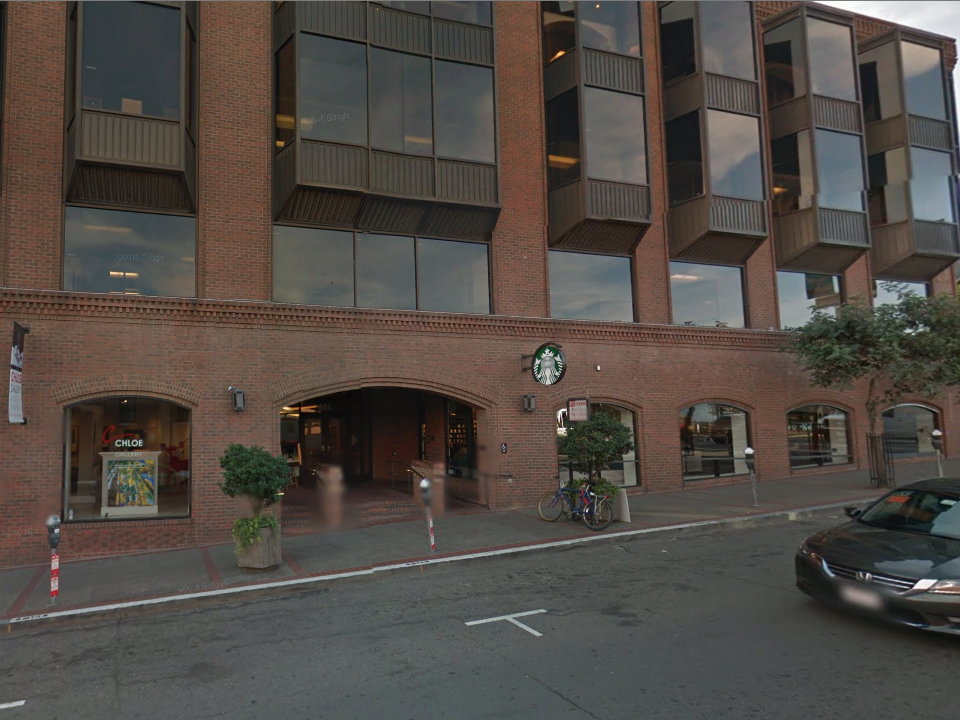 Starbucks at 685 Beach St. (Photo: Google Street View)
Lt. Falzon clarified that it's fine to add more liquor sales if businesses are "responsibly licensed up front," after input from the community and an eye toward license density and the specifics of the business. He questioned, however, whether Starbucks is needed in neighborhoods already heavily populated with places to buy booze. "Starbucks and alcohol may serve a public necessity in Modesto," he said. "That market's covered here." 
Another concern: "When places like Starbucks start getting licenses, they create a copycat phenomena in that industry," Lt. Falzon said, adding that places like Peet's and Philz might apply. "Is it serving a public convenience or necessity?" he asked. "We are taking the position that it will not."
Lt. Falzon also mentioned that Starbucks is a "hangout" for youths. "I think it is a welcoming place, and that [alcohol] could become a game changer," he said. He added that when ordering at a bar or restaurant, most places keep an eye on who's drinking and where. Starbucks baristas could hand over a beer and might not be aware if someone shares it with an underage drinker or takes it outside, he said. He also noted that ABC has only three investigators for San Francisco, San Mateo and the East Bay.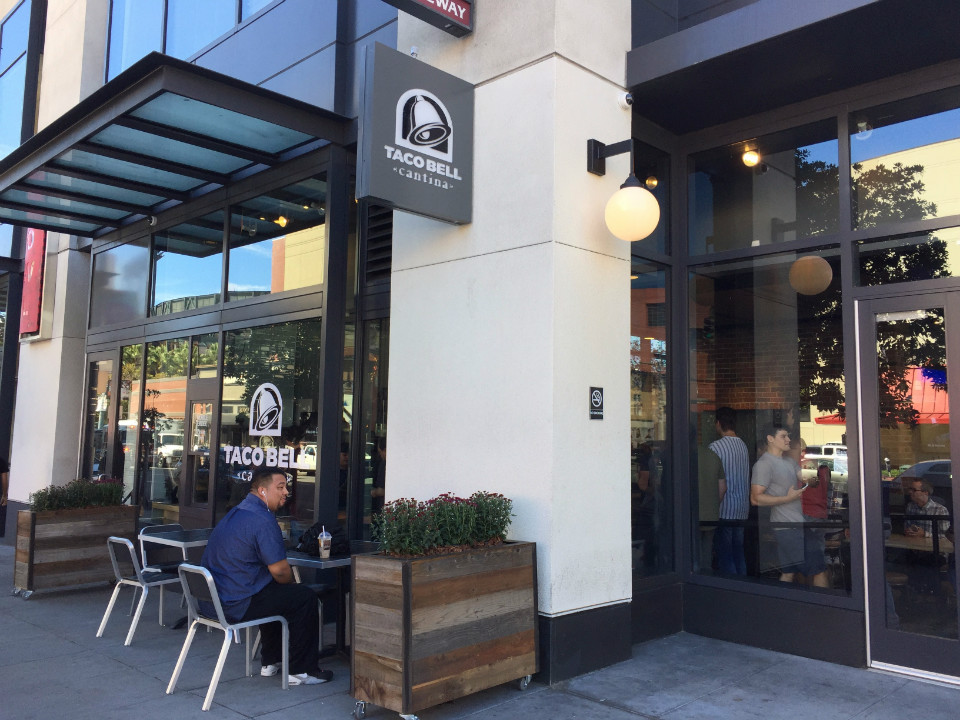 Taco Bell Cantina. (Photo: Geri Koeppel/Hoodline)
On a related note, the community continues to fight a beer and wine license application by Taco Bell's upscale spinoff Taco Bell Cantina, which opened in September at 710 Third St., also near AT&T Park.
Lt. Falzon said in that case, 200 verified letters of protest were filed within the 30-day initial application period, which was unheard of. Normally, a business might get 12–20 letters, but 200 "is a very strong message that the neighborhood doesn't want that," he said. The restaurant is scheduled for a hearing next month.