North Beach lost yet another legacy personality this week with the passing of June A. Osterberg, a reporter, grassroots activist, community leader and 63-year participant in all major San Francisco counterculture movements since the Beats. She was 87.
June was born on June 8th, 1929, in LaMoure, a small town in southeastern North Dakota. Her Norwegian family lived above the Osterberg General Store, which they owned and operated. Back then, they all called her "Jonnie"—they'd expected a boy, and June took this as an early opportunity to develop the rebellious spirit for which she would become famous in North Beach.
Active in her hometown and high school newspapers, June studied journalism at the University of North Dakota, after which she was offered a writing job at Life magazine in 1953. She decided to see a bit more of the country before settling into her dream career in journalism. On her way from North Dakota to New York City, she stopped in San Francisco, and—in very June form—made up her mind then and there to stay put.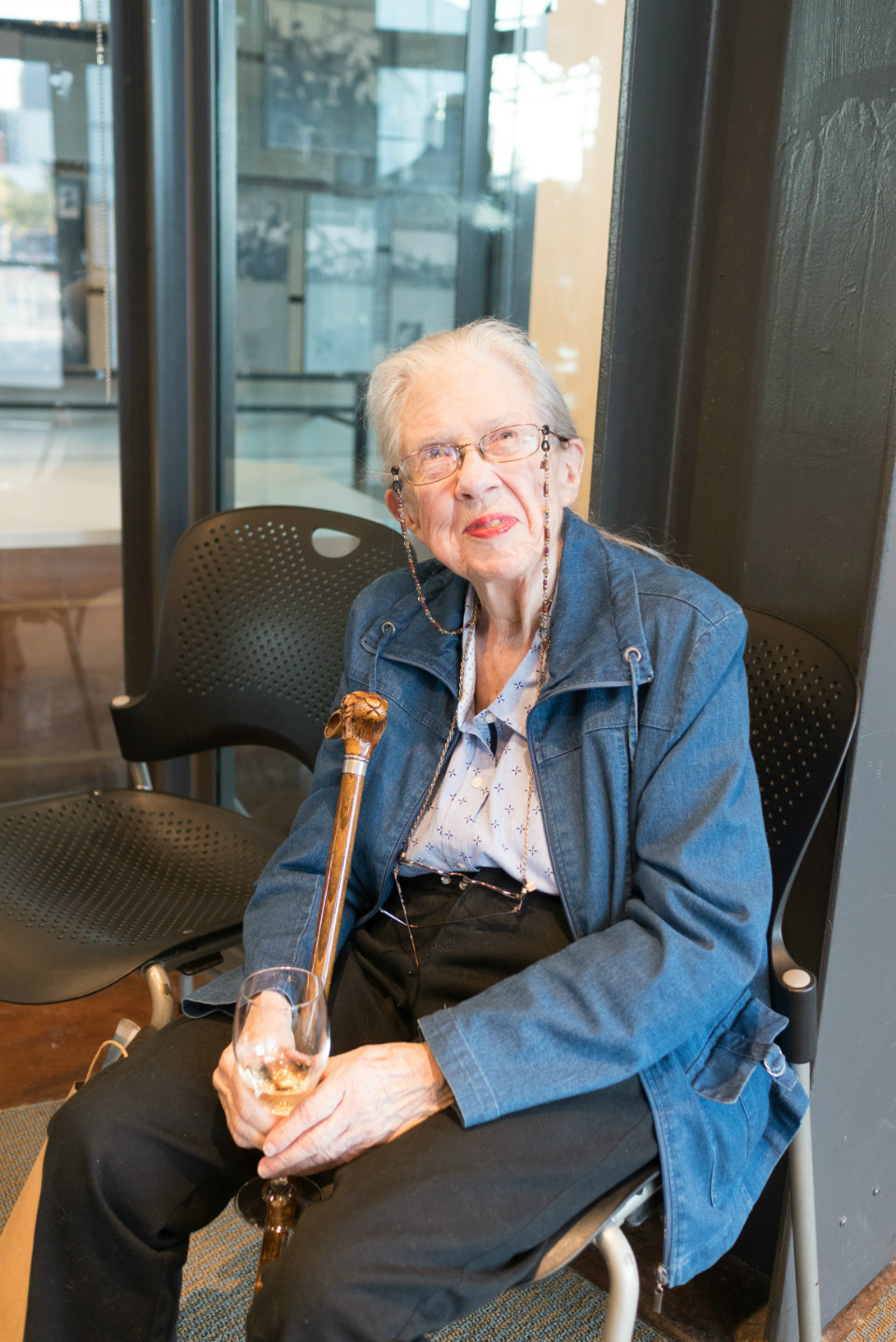 June was drawn at once to the wild, comparatively free-wheeling and intellectual San Francisco lifestyle. From 1954 to the present, she rented an apartment on the corner of Columbus Avenue and Filbert Street, with views of Washington Square Park.
"She even lived in 'The Compound,'" recalled District 3 Supervisor Aaron Peskin, who, along with his wife Nancy Shanahan, spent many of June's final days with her at her care facility. "It was a pre-hippie Bohemian situation up on Union and Calhoun that was there before formula apartments, and she participated in every reincarnation of cool, fearlessly building a community, for almost three generations."
"It wasn't all hippie love, though," Peskin said. "There was something fiercely stubborn and unyielding in her—especially socially and politically—that probably came from her youth in the Dakotas."
June's commitment to her community never wavered. "She took care of the neighborhood," Shanahan said. "She went to every Planning and Zoning meeting for many years, and would always call you if she saw you looking a little depressed."
"Actually," Peskin added, "she called you no matter what. I've had her phone number memorized for over a decade."
Telegraph Hill filmmaker Judy Irving (The Wild Parrots of Telegraph Hill) shared similar memories. "When there was a nice review of my films in the Chronicle, she brought over 10 copies of the Sunday paper so I'd have plenty. And she had a great sense of humor. At the assisted living place where she spent her last days, I remember she pushed the little button to call a nurse. 'When will the nurse come?' I asked. 'Today or tomorrow,' said June, with a little twinkle in her eye."
Though June may have given up her post at Life to come to San Francisco, she remained a journalist, amassing an array of freelance and regular column gigs so numerous they're difficult to map, including a longtime gig with the Examiner.
One publication that became synonymous with her name was the Barbary Coast Neighborhood Association's newsletter, the Record. She reported hard, political news consistently until just last year, always building on her reputation for mischievous relentlessness.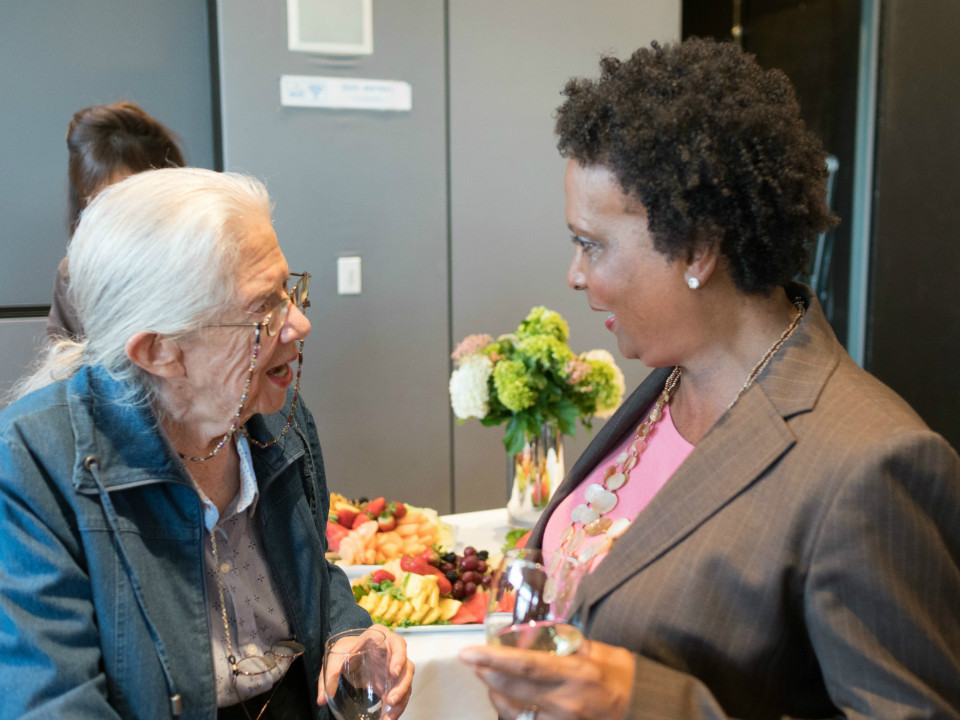 One of her closest North Beach friends, Jan Blum, refers to her as 'The 5'1" Institution."
"She was deeply steeped in the maritime history of San Francisco, and of its Port," Blum said. "During the long battle of 8 Washington and the most recent 'Wall on the Waterfront' conflict, June published a series of articles that could be considered the 'Osterberg Cliffs Notes' on the history of the Port, the Public Trust, and what could and could not happen on the Port under the Public Trust."
June was also involved in numerous other neighborhood associations, particularly the Telegraph Hill Dwellers, with whom she was a consistent active member since 1960.
For all her public and political flamboyance, close friends say June was both a private and a modest person in her personal life. Though she was only married very briefly, she was involved in a passionate long-term affair in the '70s with the 'love of her life,' a wealthy shipyard owner named Robert Chamberlain who respected her independence. 
One of her closest confidantes, Kathleen Dooley of the North Beach Business Association, believes that June "lived her life as she wanted, with whom she wanted, without the slightest compromise."
Last year, June was honored by her alma mater, the University of North Dakota's School of Journalism, for professional accomplishments and commitment to public service. Despite her failing health, she made the long trip back home. But she swore her North Beach friends to secrecy about the honor, reminding them that she far preferred doing the reporting to being reported about.
However, she never lost her zeal for her Midwest roots. As she put it in an email to Blum: "I grew up on the prairie and remember my childhood with much affection and nostalgia (considering the overdevelopment that's going on here). Wide open space dotted by trees, a sky full of stars, and Northern Lights: Heaven!"
After 63 years of sleuthing and raking the sandy muck of North Beach, the 5'1" Institution is at rest, but her legacy lives on. As Peskin puts it: "I asked her once how she wanted to be remembered, and she said firmly that her tombstone should read, 'June Osterberg, Reporter.'"
June Osterberg is preceded in death by her beloved sister, Bonnie, and is survived by a large extended Midwestern family, including her niece Laurel Kapsambers, and her nephews, Tom and Bruce. Please check in for updates regarding services, including a traditional North Beach-style memorial to be held after Labor Day.