Three years ago, college friends Tim Obert and Clint Potter started an experiment in the concept of making whiskey from craft beer. The idea quickly grew into a business, and this July, Seven Stills opened its doors in a 4,400-square-foot brewery/distillery space at UrbanPoint SF, which provides Bayview industrial space to manufacturers and makers.
But the enticing location quickly developed some troubling legal implications. Seven Stills is licensed by the state as a type 74 craft distiller, which means it's permitted to serve up to 1.5 ounces of distilled spirits to a customer in a given day as part of a tasting, and to sell bottles of liquor for off-premises consumption.
However, those accommodations are in direct conflict with the city's Planning Code, which prohibits Seven Stills from serving hard alcohol—based entirely on its Bayview location.
Under the Planning Code, Seven Stills falls under the Third Street Restricted Use District (RUD), which aims to preserve the "residential character" of Bayview by limiting the number of alcoholic establishments in the neighborhood.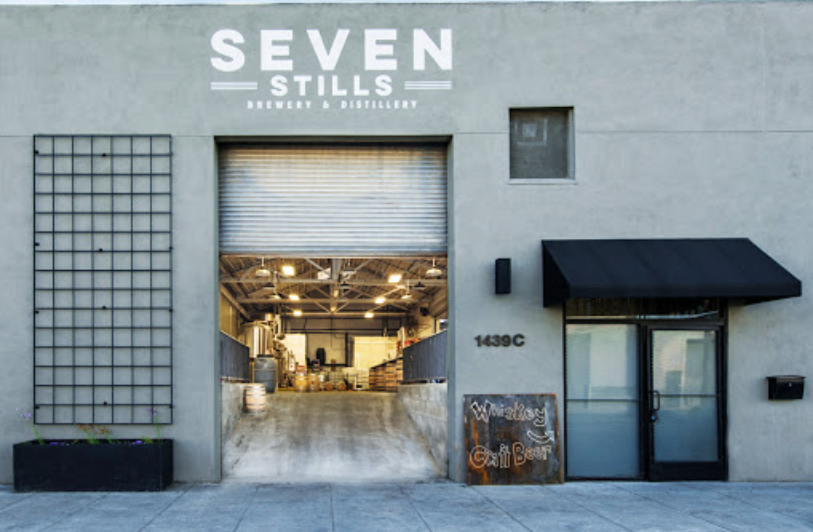 The RUD was enacted to cut down on quality-of-life issues associated with alcohol-serving businesses in the Bayview, including "loitering, littering, drug trafficking, prostitution, public drunkenness, defacement and damaging of structures, pedestrian obstructions, as well as traffic circulation, parking and noise problems on public streets and neighborhood lots."
But for Seven Stills, it presents a conundrum: the distillery is legally barred from allowing visitors to sample the vodka and whiskey it distills. 
"A lot of people don't understand how this type of distillation works," said Potter. "We want to pull together a demographic of craft beer and whiskey lovers and offer tours that include a flight sample, [but] the law doesn't work in our favor."
Potter and Obert argue that their products attract connoisseurs looking to sample something new, not heavy drinkers who might cause trouble. "We are neither a bar nor a liquor store. We are a tasting room," Potter said. "We have people coming from the East Coast who want to buy bottles. It's a very niche 'devoted' market, and we have a respected following. People don't just walk in from off the street, buy a bottle, and sit on the corner and drink it. That's the big thing that we are trying to get across."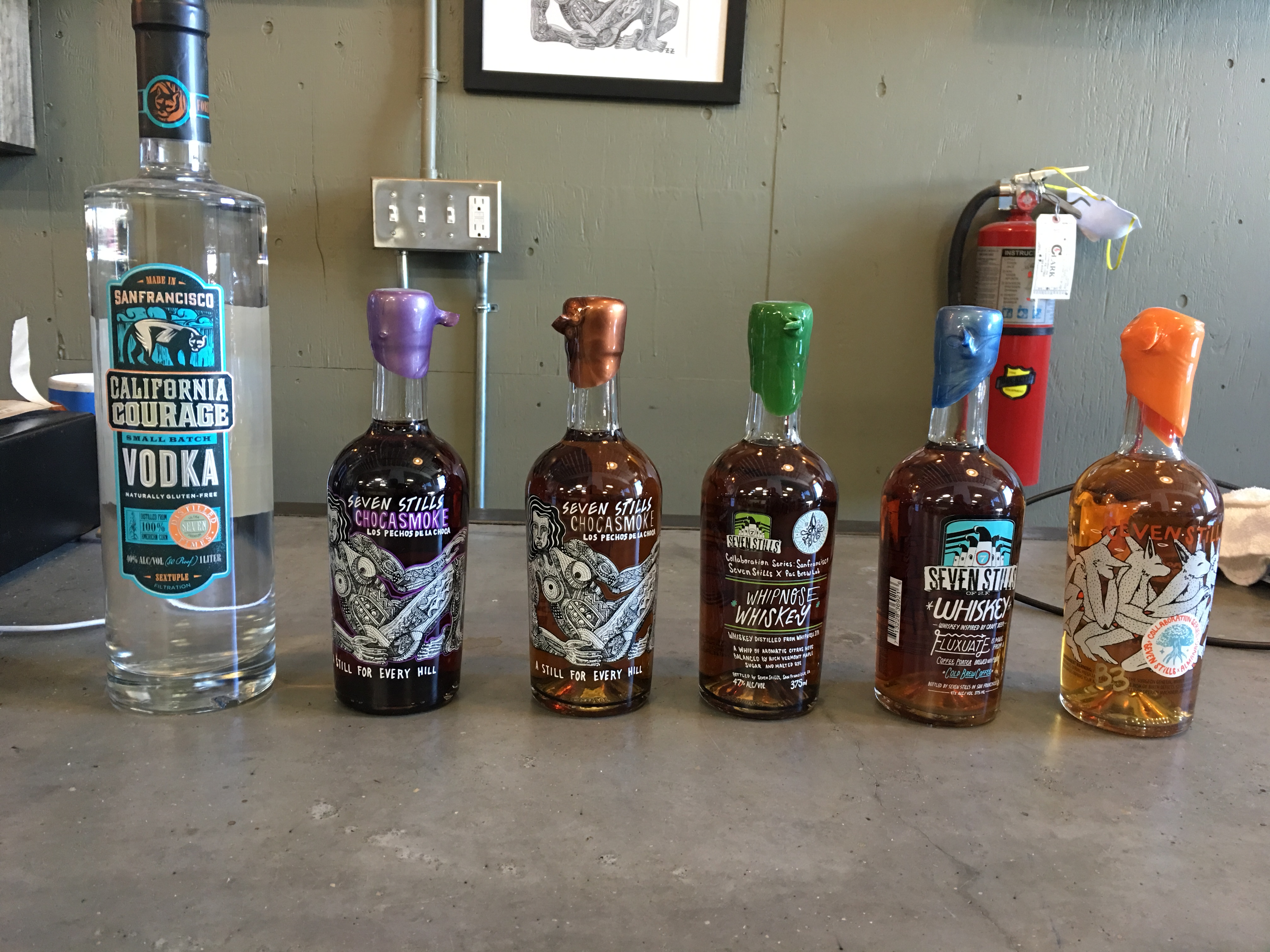 Despite being unable to sell what it distills on-premises, Seven Stills is still able to serve another type of alcohol: craft beer, the main component of its whiskey. In addition to its craft distilling license, the distillery also holds a Type 23 craft brewing license, which allows it to sell the craft beer it brews on-site.
Thanks to Seven Stills' neighbor Laughing Monk Brewing, which lobbied for an amendment to the RUD in 2014, Type 23 craft breweries are allowed to serve beer in Bayview. Potter and Obert are hoping that the city will amend the RUD once again—this time, to include Type 74 craft distillers like Seven Stills.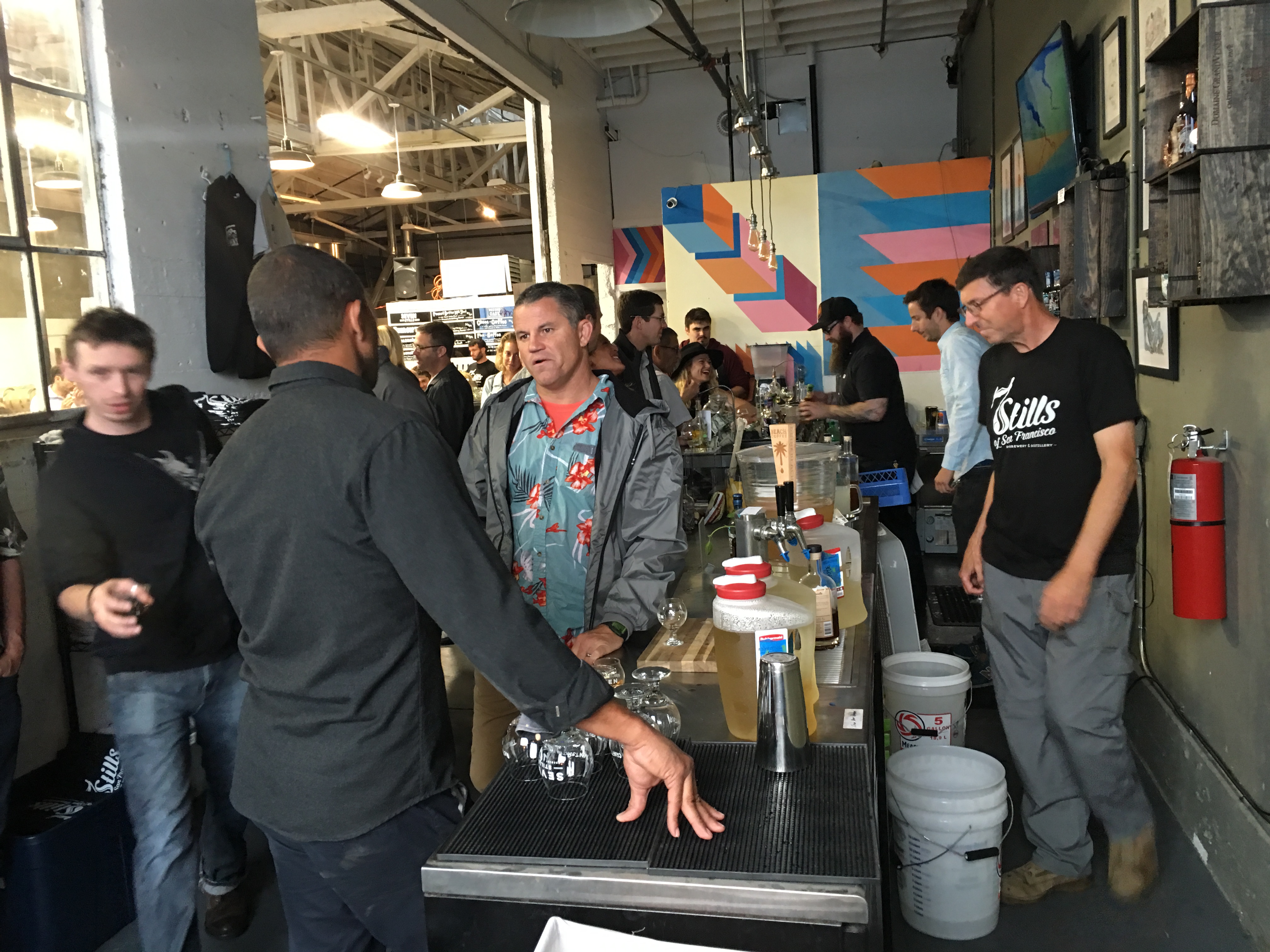 So far, Obert and Potter have secured over 20 letters of support for amending the RUD from community supporters and neighboring businesses, and are hoping to gather more from the surrounding community. They plan to present the letters to District 10 Supervisor Malia Cohen's office, in hopes of gaining her support. (Cohen declined to comment, telling us she's waiting until she receives the letters.)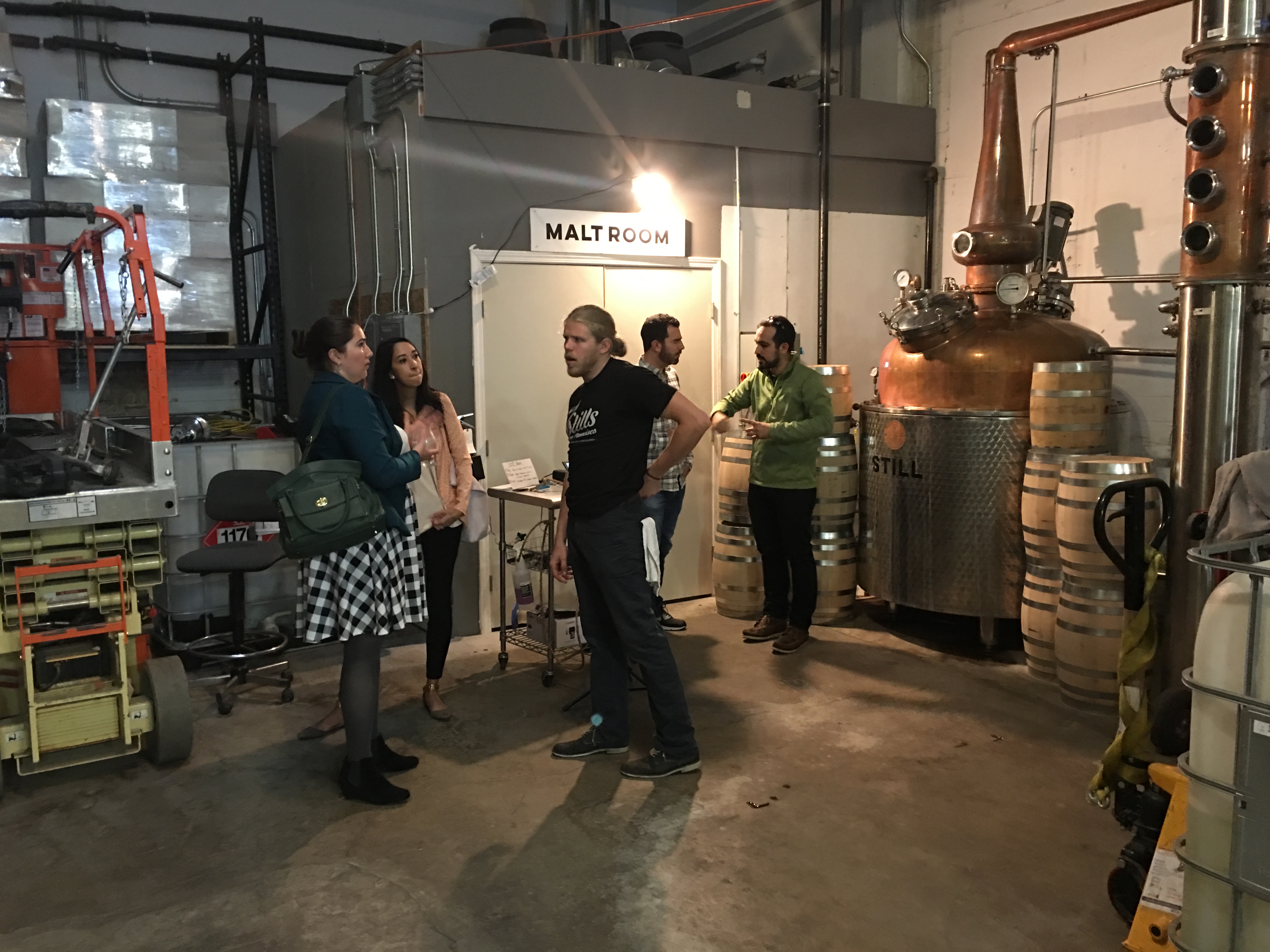 While they wait to get approval, the duo are continuing to serve craft beer, as well as host collaborative events with Laughing Monk and pop-ups from Bayview restaurants.
But as Obert explains, being able to offer on-site tastings is key to expanding Seven Stills' business—and hiring more Bayview locals to work there. Amending the RUD "will allow us to hire more people ... We are working with OEWD's JobsNow program, so we can hire people to work the retail counter and train future distillers. We are very much invested in this community."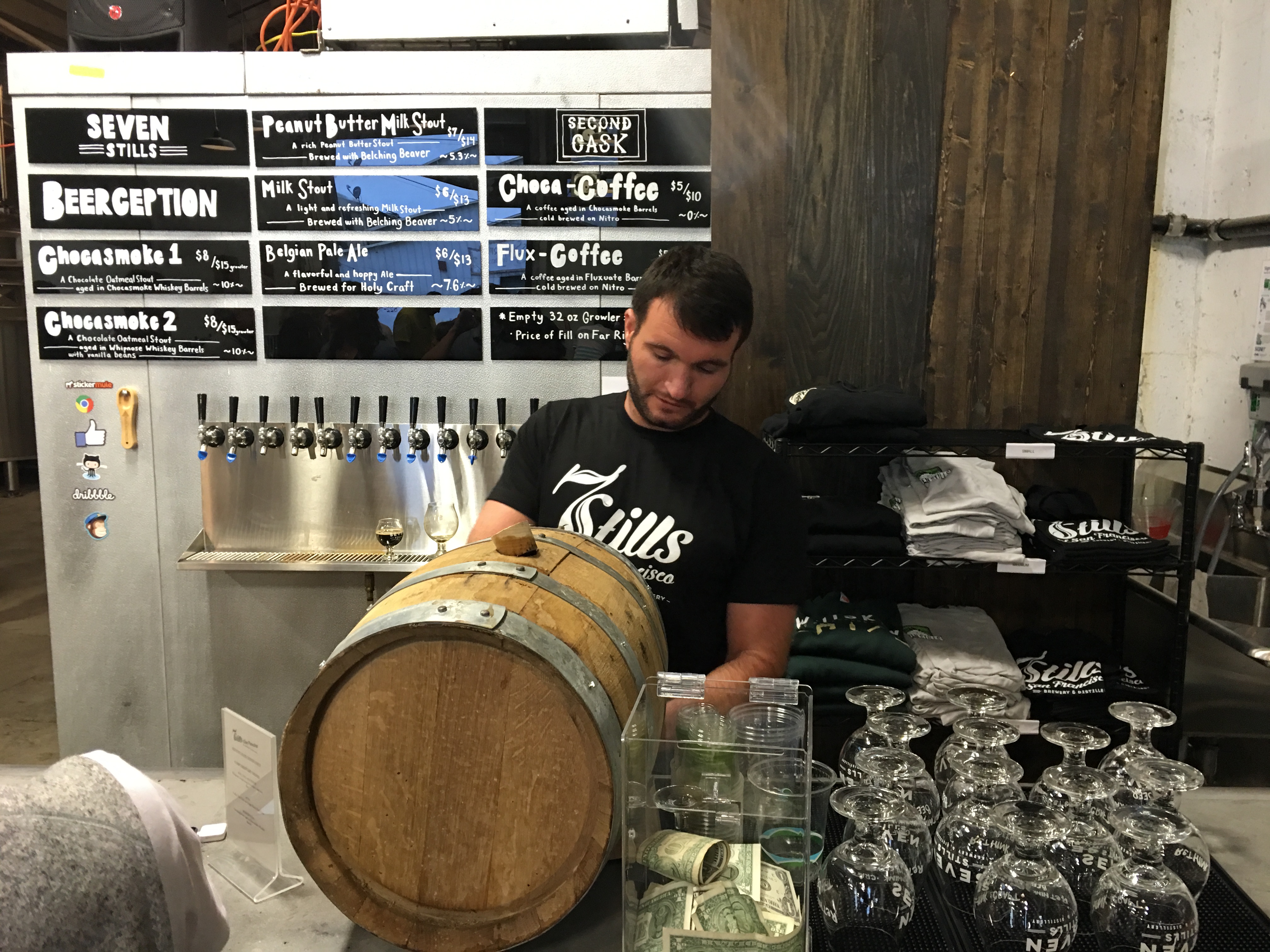 Obert believes that allowing Seven Stills to serve liquor tastings will have a positive impact on the surrounding business community as well. "Operating fully will keep the doors open by driving traffic to this part of the neighborhood," he said. "Nobody really had a reason to come this way before any of these businesses opened, and there is a lot of potential to create a thriving commercial corridor."
Those interested in writing a letter of support for Seven Stills to the city are encouraged to email Obert at [email protected]. Statements in opposition can be sent to Sup. Cohen at [email protected].