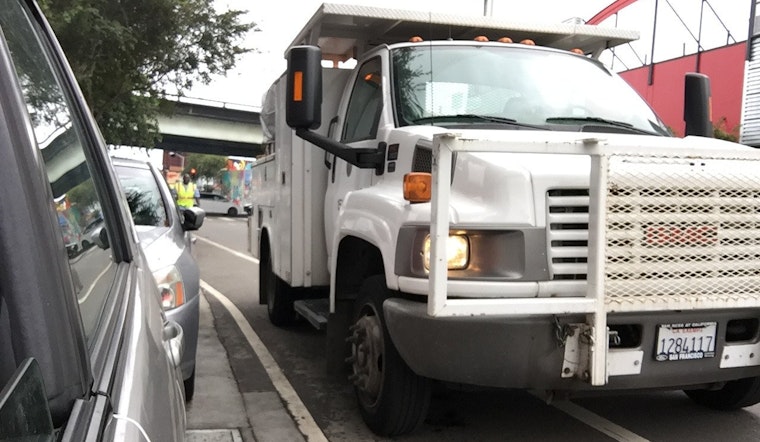 Published on October 27, 2016
The safety vigilante group SF Transformation (SFMTrA) has been hard at work around the city in recent weeks, installing unpermitted soft-hit posts at intersections around the city in an effort to help protect pedestrians and cyclists from drivers.
But with one exception, the real SFMTA has been equally dedicated to removing the posts, arguing that they pose a risk to cyclists if they become dislodged. 
On Tuesday at 10:45am, tipster D.S. captured two photos showing an SFMTA worker busy removing SFMTrA posts that had been installed at Folsom and Division streets in SoMa a week prior. The catch? The worker was also double-parking in the bike lane as he went about his task—precisely the type of behavior that the soft-hit posts were intended to prevent.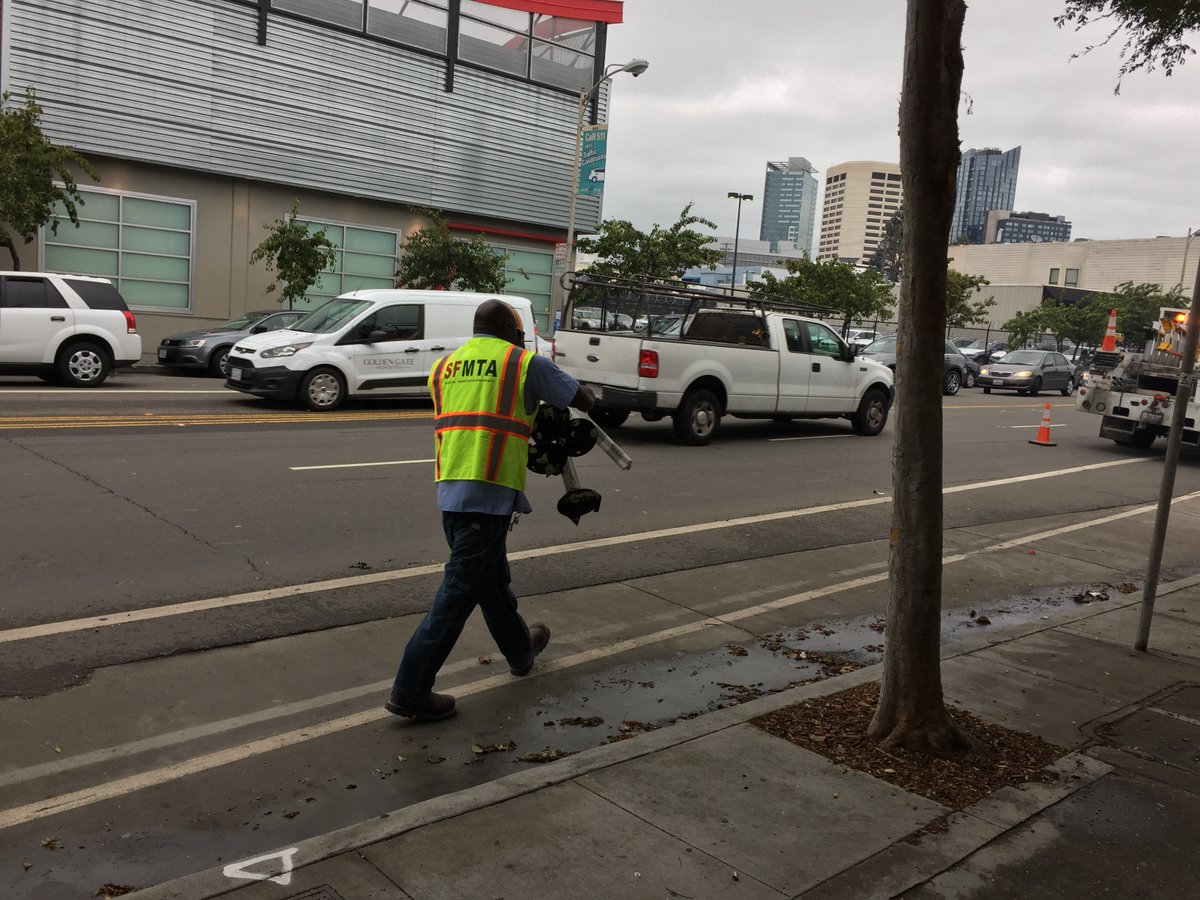 "I am stridently against double-parking," says D.S. "I don't see any city attention on it, even when it is consistently in front of one business, or from ride-share drivers who should have some kind of training/guidance that they should be following."
Unsurprisingly, the SFMTrA was not thrilled with the photo. "This picture of a massive SFMTA truck parked in the bike lane is a microcosm for the car-first mindset that permeates the entire SFMTA, and is directly responsible for the growing number of pedestrian and bicyclist deaths and injuries in San Francisco," says an SFMTrA representative who goes by the pseudonym "Copenhagen." "It is disgusting."
This your city at work, San Francisco. #DemandMore from @sfmta_muni. This is ridiculous. https://t.co/oD72dAvpoS

— SF Transformation (@SFMTrA) October 25, 2016
We reached out to SFMTA representatives to determine whether or not an agency employee was indeed depicted in the photo, and if so, whether the employee would be reprimanded for parking in the bike lane. After 24 hours, the agency has yet to respond. 
Despite the city's efforts under Vision Zero, pedestrian and cyclist fatalities in the city were up year-over-year as of late March, and the high-profile hit-and-run deaths of two cyclists on the same day in June—one of them just a few blocks from the Folsom and Division bike lane—have further galvanized cycling advocates. 
Copenhagen says that his group and the SFMTA have "exchanged emails" about that and other issues, but nothing more. He says the group is fed up with the glacial pace of safety improvements in the city. "[In the past], many of us have been active participants in their endless planning meetings and entirely unaccountable infrastructure timelines," he said.  
"I think the best thing [SFMTA] could do to communicate their resolve to us is to be building more of this lightweight safety infrastructure themselves. If they want to fix something we've installed—go ahead! Just make it as good or better than what SFMTrA provided.  But when they tear out safety infrastructure that their citizens are demanding, they lose credibility."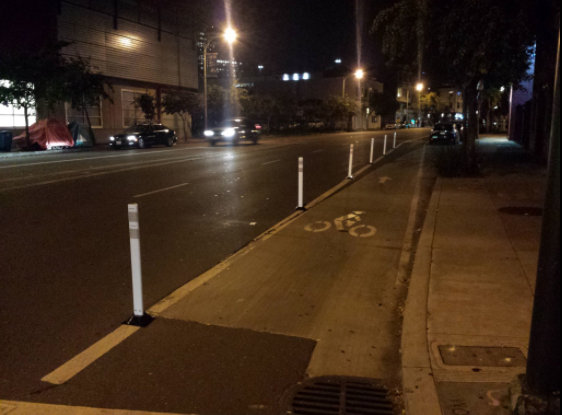 Despite the fact that the agency continues to remove SFMTrA's soft-hit posts at a rapid pace, Copenhagen says that the group is not giving up on installing new posts at intersections it considers dangerous, and will continue to push the city to install temporary solutions like soft-hit posts while it works on making more permanent changes. (We asked the SFMTA whether it plans to offer any temporary or permanent solutions for the bike lane at Folsom and Division, but the agency did not respond.)
"Our growing number of volunteers and donors won't let us stop—this work is too important," Copenhagen said. "Strategies may change. The SFMTA may change (a huge hope of ours). We'd love for the people that get paid to do this work to do it. But if they don't, we simply have to. The moral burden for our families & friends is simply too high."
In the meantime, Copenhagen encourages locals who are concerned about cyclist and pedestrian safety to donate to SFMTrA, or email the mayor, SFMTA chief Ed Reiskin, and/or their Supervisor. (SFMTrA has a list of email addresses and a template here.) We'll update this post if and when we hear back from the SFMTA. 
Update, 9:33am: SFMTA representative Ben Jose confirmed with us that the worker double-parked in the bike lane was indeed an SFMTA employee. However, he asserts that such behavior is legal under California vehicle codes 22512 and 21211.
"When doing work on the city's public right-of-way, city crews and public utility vehicles may need to occupy a travel lane, and are legally allowed to do so," Jose writes. "We take street safety seriously, and our employees are required to take driver safety courses before they drive SFMTA vehicles."
While he said no plans are currently in the works for this specific stretch of Folsom, Jose pointed to the upcoming protected intersection at 9th and Division and the new parking-protected bikeway on Division and 13th streets as examples of the agency's work on improving cyclist safety in the area. 
"We understand that people are passionate about safety. We are too," he said. "In 2010, there were 0 miles of protected and buffered bike lanes in San Francisco. Today, we have 27 miles of protected and buffered bikeways."