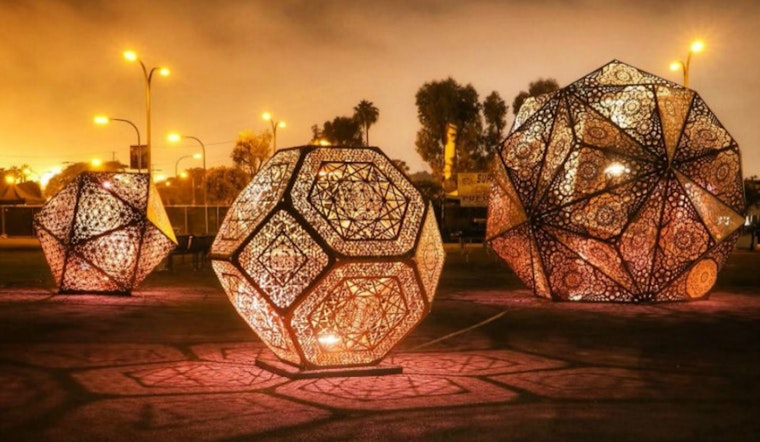 Published on October 18, 2016
Patricia's Green has been bereft of public art since June, when David Best's wooden temple installation was removed after gracing Hayes Valley's central park for a year. 
But more art is on the way. Yesterday, the Examiner brought word that the San Francisco Recreation and Parks Commission will review a proposal tomorrow that would bring two geometric sculptures to the park for a year, starting next month.
The proposed sculptures come from Yelena Filipchuk & Serge Beaulieu, the artists behind HYBYCOZO, which brings large-scale installations to Burning Man and beyond. Here's how they describe the inspiration behind their projects:
Hoping to capture some of the wonder and curiosity that sparked their love of geometric patterns and art, Yelena and Serge began to study everything from ancient Islamic tiles to the patterns created by particle physicists when modeling the unified field theory.

The constant theme that arose was that the appearance of beauty within naturally occurring harmonic relationships and patterns in the natural world.
The two pieces, which respectively weigh 1,000 and 700 pounds, include "unique laser-cut patterned panels and LED lights that can change colors," casting intricate patterns when lit up at night. 
If approved by Rec and Park and the Arts Commission, the sculptures could appear as soon as the second week of November.
While you wait, check out HYBYCOZO's work on their website, and let us know what you think of the potential new additions.