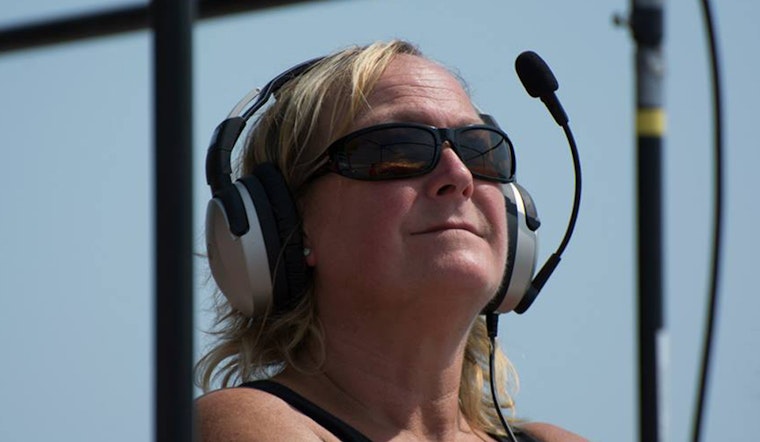 Published on October 08, 2016
When it comes to Fleet Week, Donna Flynn is the "Air Boss."
Almost every year for the past 12 years, Flynn has flown in to work behind the scenes to ensure the safety of both the pilots and the crowd during the San Francisco's annual airshow above the waterfront—which returns this weekend.

Being an air boss feels "almost like [being] the director of a play," Flynn says. She conducts all the briefing, debriefing and the coordination of the aircraft during the event. "We get everybody on the same page," she said.
Flynn obtained her private pilot license in the winter of 1987. "My father passed away and we had a small single engine aircraft. My brother and I decided that we should keep the airplane and get our licenses," Flynn said.
She ended up going even further, earning her commercial license in 1989. While working on her licenses, Flynn kept herself busy by volunteering at the Vanderhoof International Airshow. That's when she first "caught the airshow bug," she said.
Flynn and her husband Ray Firkus, who's also an air boss, reside in Chilliwack, British Columbia, near Vancouver. Her company, Showline Airshows, directed its first show back in 1992.
During a typical show season, Flynn works 10-12 events. Throughout her 25 years of experience, she's completed over 350 shows and media days at over 36 sites in Northern America. 
Flynn is also one of the stars of Airshows, a documentary TV show that first aired in 2015 on the Discovery Channel in Canada. It follows the daily adventures of airshow pilots and performers.
San Francisco's Fleet Week is a very large event, Flynn says. The aircraft come from many different places, like San Francisco, Oakland, or sometimes as far as Nevada. They all have their own operating procedures and rules; Flynn is there to make sure they follow those guidelines and that the air space is safe for everyone who participates.
While Flynn mentions all of the local landmarks that make San Francisco's show so special, like the Golden Gate Bridge or Alcatraz, she's unintimidated by the fog: "That's just weather. Some days we have good weather, some days we don't."
If she wasn't working as an air boss right now, Flynn said she'd probably be an air traffic controller. "To run on time and make sure everyone is safe" is what Flynn enjoys doing, she says.
Another thing she appreciates about her job is that she's able to display "beautiful airplanes," even though she admits that at times they are noisy. "It's very nice to see the Blue Angels in a navy town," Flynn said.