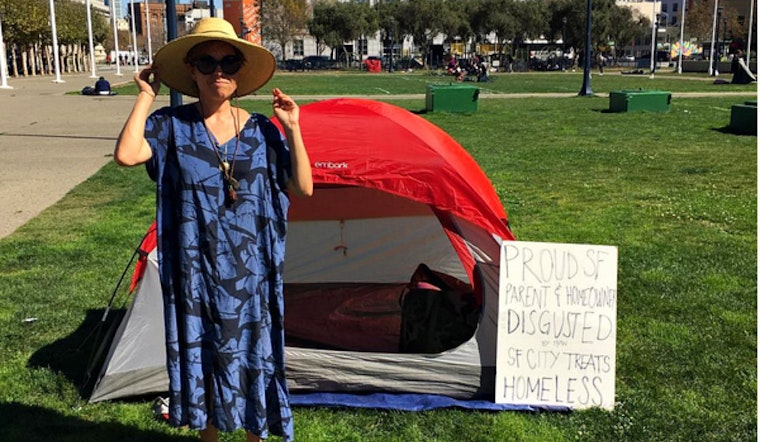 Published on October 15, 2016
Jennine Jacob doesn't consider herself an activist—but the Bay Area native and Potrero Avenue homeowner is quickly becoming one. Frustrated with how the city is handling its resident homeless population, specifically those living in tents, Jacob is planning a demonstration at City Hall on Monday, which she's calling a "tent-in."
It all started last Saturday morning. While she was driving home, Jacob witnessed a familiar sight: a tent encampment under the overpass along Cesar Chavez. She then saw a man "who was clearly out of it" surrounded by five cop cars.
"This is how we're dealing with the homeless situation—and it has to stop," she said. 
After arriving home, she told her husband that she was "so pissed off" at what she saw that she could sit out in a tent at City Hall. And that's just what she did. "I packed up a tent, brought it down to City Hall, made a sign, and sat there all afternoon. It was eye-opening how many people felt the same way as me."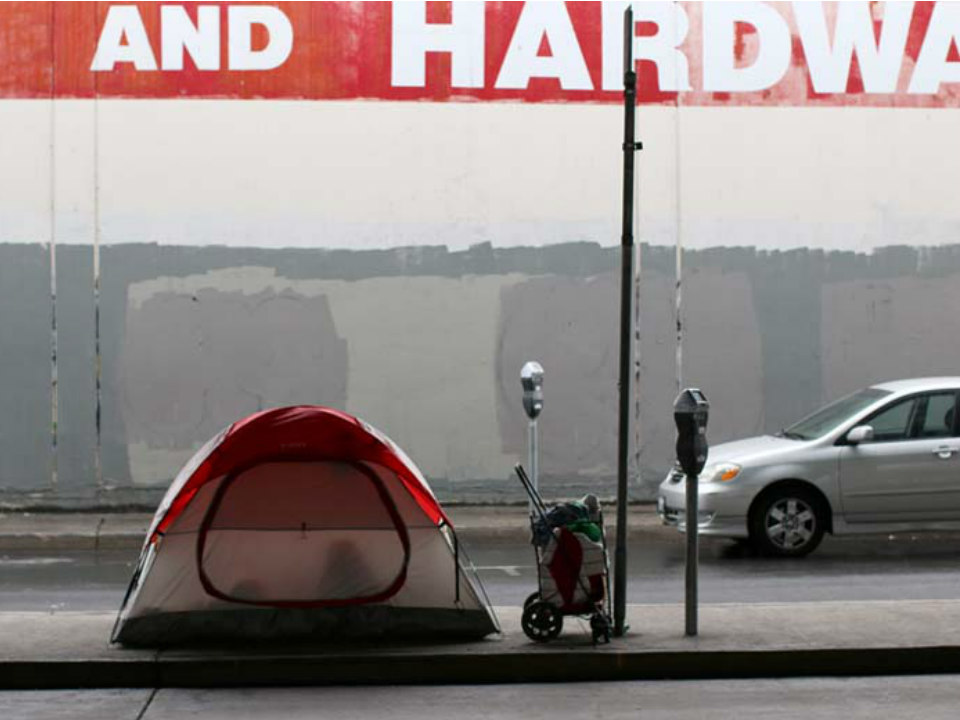 However, Jacob's solo tent-in proved frustrating. She told us that police officers told her to come back in two weeks for a Board of Supervisors meeting, and encouraged her to go home and call 311.
"I'm positive that I'm not the first person to go down to City Hall to complain about the tents," said Jacob, "and I'm done with calling 311." She went home feeling powerless.
But Jacob received so much encouragement from people who reached out to her via social media that she decided to go back to City Hall with her tent—this time, accompanied by others.
Although she admits that she's not expecting thousands of protesters to turn out with tents at 8am on Monday morning, Jacob said that she has a committed group who plan on showing up. She doesn't know how long they'll stay.

We're doing this. #civicdisgrace #endhomelessness #homesnottents pic.twitter.com/n6bkWIIjzn

— #CivicDisgrace (@civicdisgrace) October 12, 2016
Don't be mistaken: this is not a pro-Prop Q rally. "I'd like to promote declaring a state of emergency that would allocate more funds to get more emergency shelters set up, with caseworkers to get individuals into some sort of permanent housing," said Jacob. "If there was a disaster that suddenly left 7,000 people on the streets, we would not just leave them there, so why are we doing it now?"
Jacob said she has a lot of compassion for people who find themselves homeless, as her father spent almost five years homeless himself. "I understand that there are a lot of different reasons why people end up on the streets," she said. "But it's not good for the people living on the streets, and it's not good for people living in the neighborhood."
"I want to go to the park with my three-year-old son without passing tents on the street. I want San Francisco to be a place that he can be proud of."