A few days ago, a tipster alerted us to a fight that resulted in a broken window at George's Market on 14th and Market, destroying a mural a local artist has been hand-painting since July. The incident occurred at 6pm last Monday night at a bus stop in front of the store.
"Right when we walked out there, we saw the window shatter," said owner George Dahdah, describing a physical altercation between a man and a woman where "[she] grabbed a bottle and threw it at the guy, and of all places, it hit the window," he said. "It was like a bomb."

"People dialed 911, but at first, the cops didn't show up," Dahdah said. "When they finally arrived, everyone outside told them who did it, and then they found the girl, who supposedly had a knife on her, but all of a sudden the cops disappeared."
According to the store owner, "a rookie cop told us that we didn't have witnesses, but so many people were here and they gave me their names and numbers and everything."
Dahdah said it was "a big mess," that required him to get the hole covered right away to secure the store. He and his uncle, Adam Nazzal, have been dealing with the ruined mural, which cost them $3,000 to commission, on top of the cost of replacing the window, totaling around $5,000.
Months ago, Dahdah approached local artist "Etienne" about creating the mural on the front window, asking him to make something "old school and retro." He requested something that combined images of the Golden Gate Bridge, the Painted Ladies, and other San Francisco landmarks.
Part of the mural that was ruined included a 1960 Chevrolet Impala convertible, Dahdah's dream car. He said he wanted the mural to represent the store and their connection to the city because he feels that they're one of the last-standing neighborhood liquor stores.
George's Market has been on the block for almost 25 years. Dahdah's father bought the store in 1992; he's been working there full-time since 2000 until taking it over in 2004.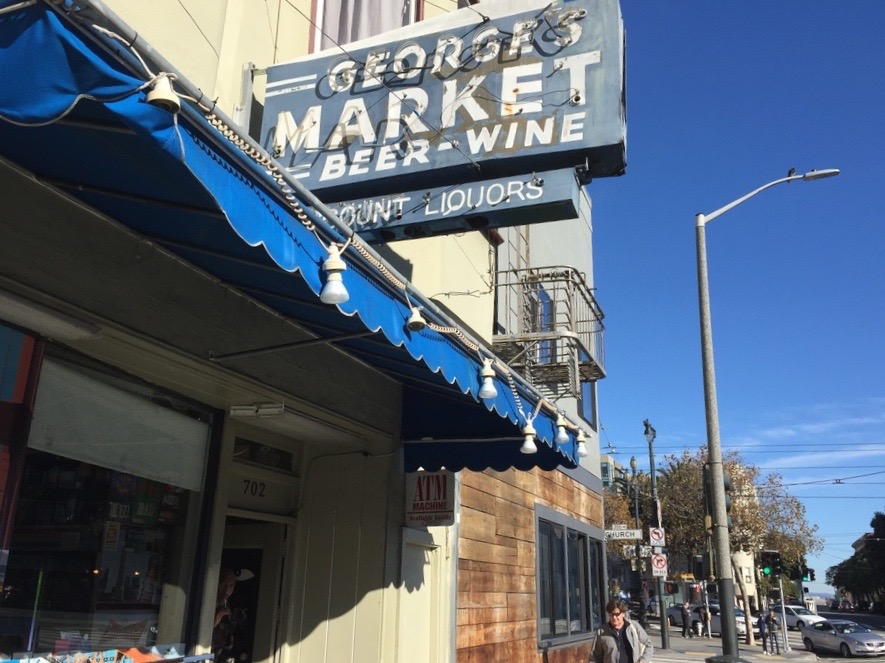 "It's a nice neighborhood and we try our best, but you always get one or two knuckleheads who cuss you out or bother customers," said Nazzal. "In this business, you have to make the customer feel safe."
"But when people stand right in front of the store loitering and begging for money, it's a problem," he added, noting that "we have a rule that people can't panhandle within 25 feet of the store and if we see them doing it, we won't sell liquor to them because they've broken the law."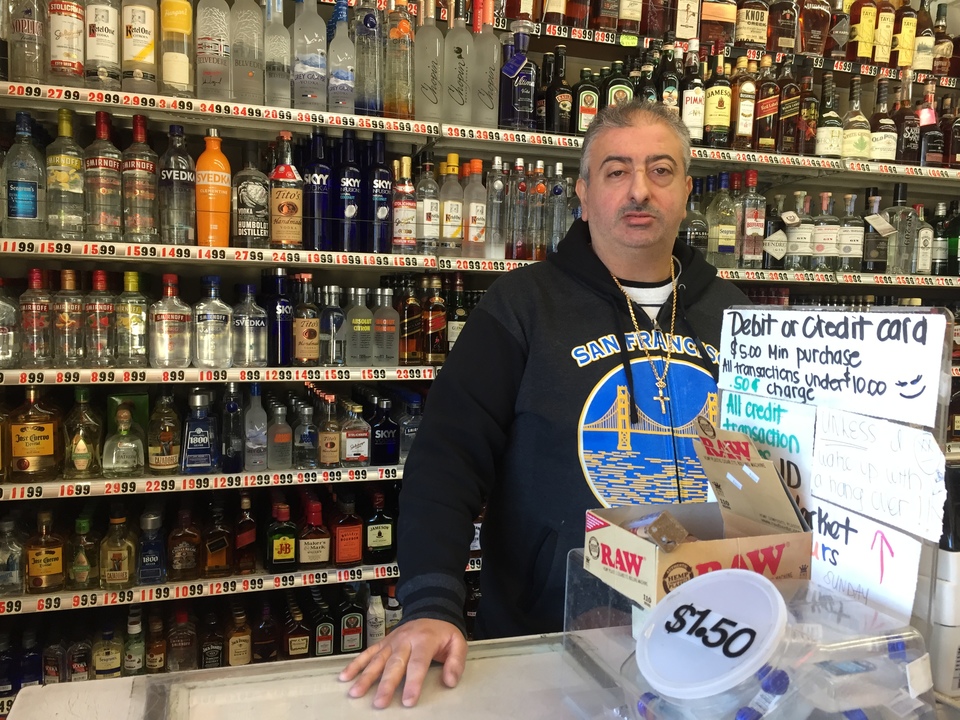 As far as the broken glass and ruined artwork, the owner and his uncle are at a loss, but grateful for the outpouring of support from neighbors.
Tipster Carine, the block captain for the neighborhood watch of the 700 block of 14th street, started a GoFundMe last night to raise $5,000 for damages.
"This is one of those scenarios where everyone in the neighborhood needs to take care of each other. [Dahdah] just spent all this money and all this time and thoughtful creativity to do this kind of thing," she said. "A laundromat window was broken down the street last week. People are defacing the neighborhood."
Dahdah said the mural can't be salvaged. They were getting ready to put a piece of Plexiglass in front of the recently completed mural to protect it, but it was destroyed before they had a chance to install it.
Currently, there's a temporary piece of glass glued over the hole, but they will have to replace the entire window.
"We are trying to figure out how to get the painting back up," said Dahdah. "The artist suggested that we print one up instead of painting it by hand and get it done in one swoop, but it won't be original paint like we have now, which kind of sucks."