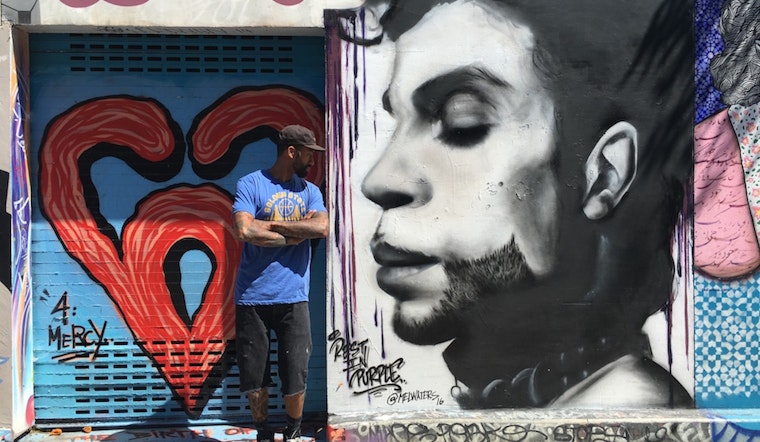 Published on December 28, 2016
To close out 2016, we've asked our local neighborhood writers to choose their favorite stories from the past year, and to explain why they loved them so.
Today, we hear from neighborhood editor Alisa Scerrato:
My favorite story from 2016 is my profile on Mel Waters. For a few years, I'd been admiring Mel's murals around the city of icons such as Billie Holiday and Carlos Santana, but the moment I'd spotted his Prince portrait in Clarion Alley around the time of Prince's death, I reached out to him.

About a week after Hoodline published that story, I was lugging some groceries home from Haight Street Market, and by chance I bumped into Mel again—he was spray painting a rendition of Jerry Garcia on Cole and Haight, which I also had the pleasure of writing up. What I love about Mel is not only the subject matter of his artwork or his talent, but the fact that he took a chance on himself. Up until his late 20s, Mel had been working as a transporter, pushing people on their deathbeds at the California Pacific Medical Center. To him, it was a reminder that people should be happy doing what they do and not sitting around in a deathbed wishing they gave it a shot. 
Below is an excerpt from the original story, published on June 2nd, 2016.

---
If you've recently taken a stroll down Clarion Alley in the Mission, you'll notice a new portrait of music legend Prince, who passed away in April. The artwork comes from street artist Mel Waters, who uses spray cans to pay homage to significant figures around the city.
Originally from the Fillmore area, Waters is a San Francisco native. He and his wife recently moved to Pacifica because they're expecting a son and they needed more living space. "I lived here all my life, went to high school here, and now my son will be born here in the Bay Area," he told us. 
Waters is now a full-time tattoo artist and muralist, but he didn't start pursuing a career as an artist until his late twenties, after spending eight years working at the California Pacific Medical Center ...
Continue reading Alisa's favorite story of 2016, "Muralist Mel Waters Pays Tribute To Prince, Gandhi, And Other Iconic Figures."