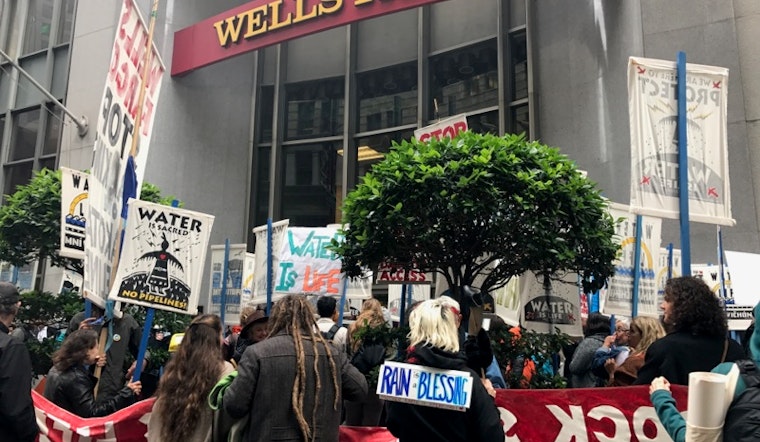 Published on December 03, 2016
Thanksgiving's finally over and the holidays are in full swing. With the Dogpatch Holiday Sale coming up and neighborhoods like the Outer Sunset, North Beach and the Upper Haight already filling their calendars with seasonal events, Hoodline's got you covered.
Before you dive into holiday shopping, here's some news we've received from readers via our SMS-powered tip line at (415) 200-3233 and at [email protected].
In SoMa, tipster Jer sent the photo below yesterday about police activity near 1300 Market St. at 5:30pm. He told us the suspect cooperated with the police and was later arrested.
We left a message with the SFPD and will update the story when and if we get more information.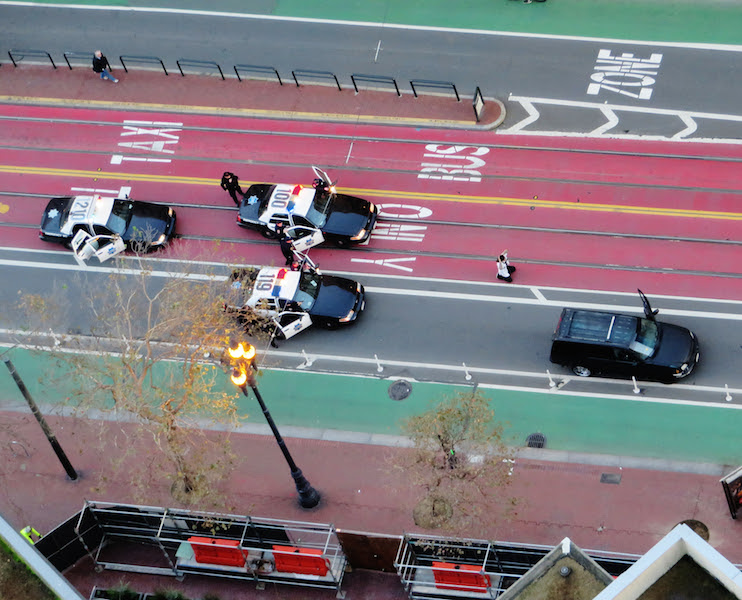 In Hayes Valley, tipster Christopher S. is asking for the public's help in identifying the vehicle that struck his car on November 30th. He told Hoodline the hit-and-run happened sometime after 10pm and there was no note or witnesses to help locate the offender.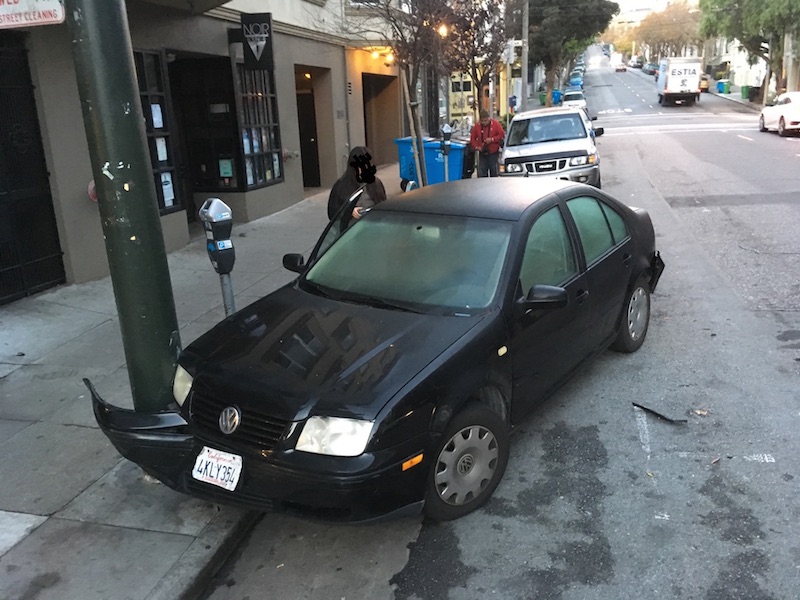 Over in Duboce Triangle, a plant vandal struck again on November 15th, as tipster Andrew K. sent us the photo below. This is the second report we received, after tipster Kristopher G. sent in a photo two months ago of plants that had been torn up and tossed on the street and cars.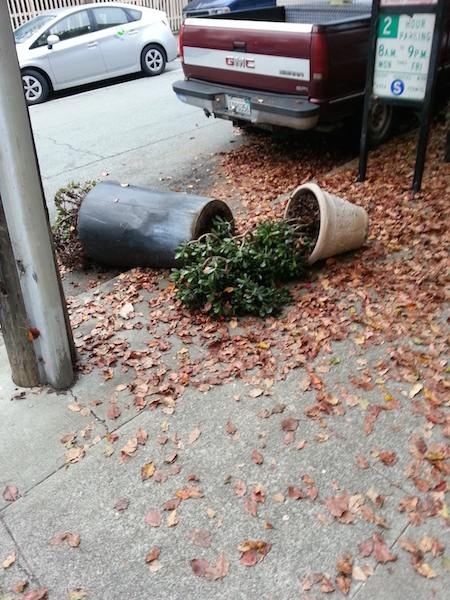 Also in the area, Rachel H. reported that at around 6am on November 29th, she saw "police with flashlights inside Healthy Spirits on Castro/15th." We reached out to SFPD regarding this incident, but haven't heard back yet. We'll update the story when and if we get a response.
Over in the Financial District, tipster John N. told us about a break-in at boutique fitness studio bodyFi (735 Montgomery St.) on Tuesday morning.
"We had a break-in on Tuesday morning @ 2:43am. Some of our clients noticed the broken door and told us there is someone going around stealing notebooks around the neighborhood (and they have had similar break-ins and stolen laptops)."
The business was able to capture it on video, and hopes people can help them catch the culprit.
In the Inner Sunset, tipster Victoria N. woke up to someone breaking into her building's mailboxes.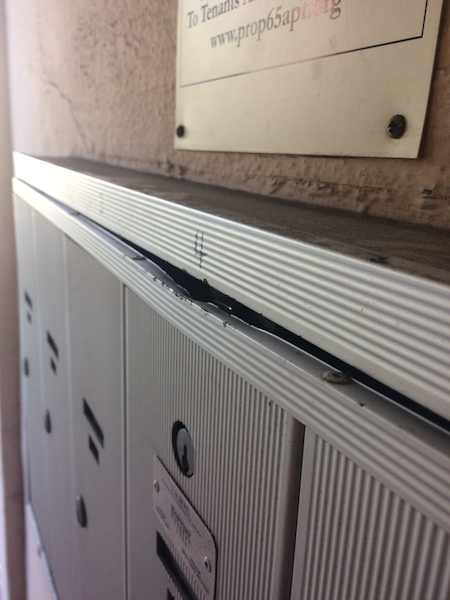 "Around 3am today, someone was trying to break into the mailbox at 1450 7th Ave. I was awoken by 15-20 minutes of loud scraping/prying against the entrance wall. I didn't go out to investigate in case the person was armed."
Mail theft has been an issue in the city for several months now, with Corona Heights residents being the latest victims. Concerned residents can either file a report online with the US Postal Inspection Service, or call 1-800-ASK-USPS (1-800-275-8777).
Swinging a bit south to Mission Terrace, tipster Chris C. sent in a tip that thrift store Jhec of All Trades at 4182 Mission St. was raided on November 29th. He said that there were lots of cops and arrests being made. The SFPD has not gotten back to us yet regarding this incident, but once we get more information, we'll update this story.
Moving away from crime, tipster Iris L. sent in a few photos on November 30th of the "peaceful NADPL protest at Wells Fargo on California between Montgomery and Sansome."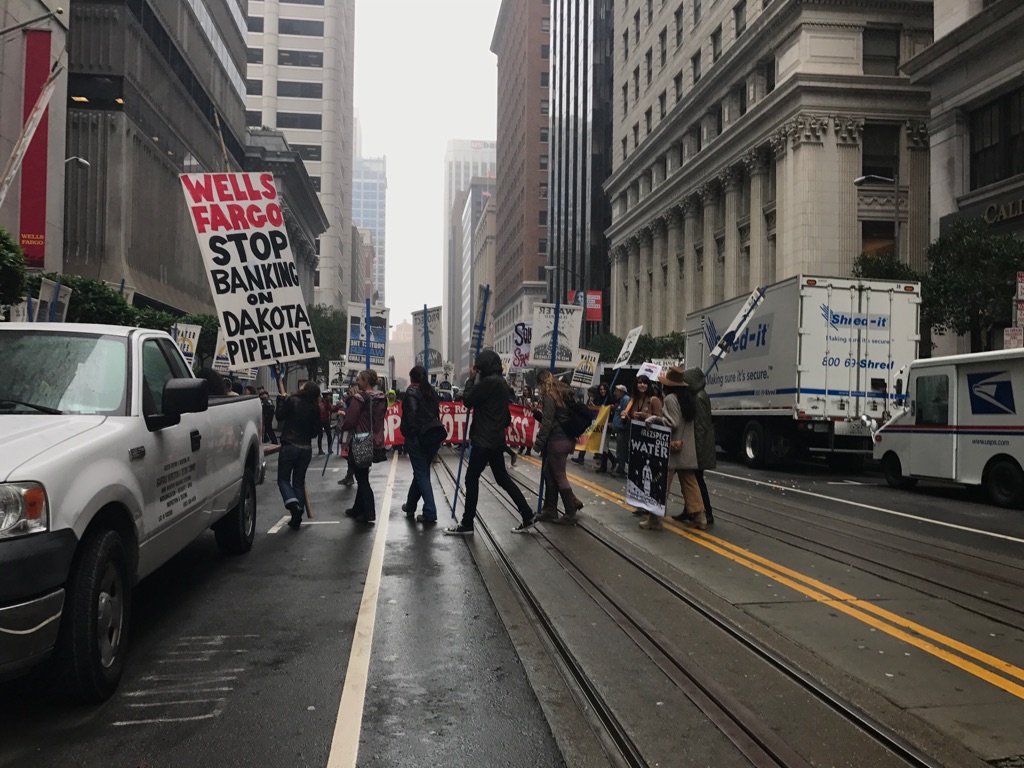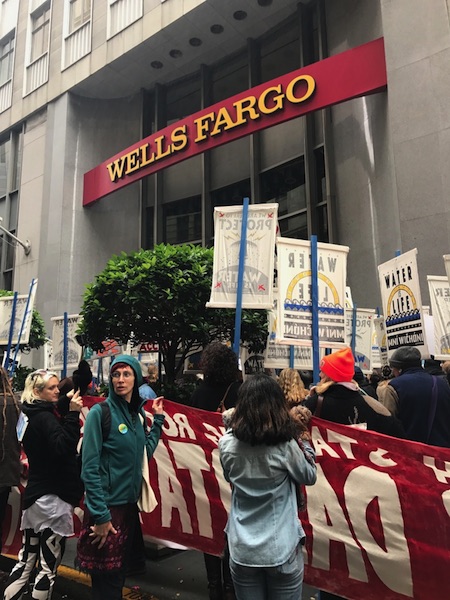 And finally, over in Telegraph Hill, tipster Julie H. sent in this photo asking us if we could look into why the lights at Coit Tower had been out for two days.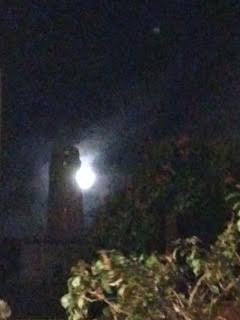 Our North Beach neighborhood editor, Nathan Falstreau, got in contact with officials at Rec and Park and PG&E, and learned that a power outage in the area had affected 1000 customers, including the tower, that weekend.
Have any questions about your neighborhood you need answered? See something interesting while you're out and about? Text Hoodline and we'll see what we can find: (415) 200-3233 (powered by Muxgram).