Before you head out to one of the city's best cozy bars to get out of the rain with your favorite cocktail, here are the latest tips we've received via our SMS tipline at (415) 200-3233, our Twitter account, @hoodline, and our email, [email protected]. 
---
Tipster Desiree P. sent in the photo above. "Someone wrote 'Fuck Mexicans' on the sign for the Mexican Museum on their mural for the build site in Yerba Buena," she writes.

The racist graffiti comes in the wake of a couple of notable hate crimes in the city since the election, including a woman who was assaulted at Fort Mason for being Latina and an episode of racist graffiti in Bayview that led to the creation of a citywide hate crime hotline. 
Hoodline reached out to the Mexican Museum to see if they had taken any steps to erase the graffiti, but we haven't heard back yet.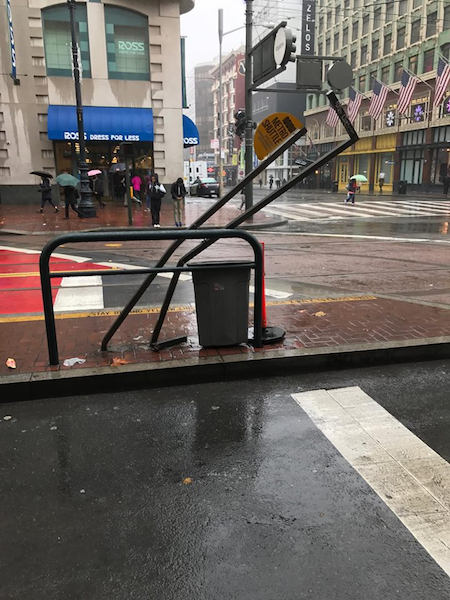 Also in SoMa, tipster Derek H. sent us a photo last week of a bent Muni signpost at the intersection of Fourth and Market, which may have been caused by the ongoing rainstorms in the city. We reported over the weekend on some other damage caused by the heavy rain and wind. 
With more rainy days ahead, if you see something like this in your neighborhood, take a horizontal photo and text it to us at (415) 200-3233.
To wrap up our tour of SoMa, we have some restaurant news. "Looks like K-OZ Restaurant and Brewery (located at the Best Western on Seventh Street, in the former Custom Burger spot) is now open for business," wrote tipster Kelsey B. "Any tips on the menu, how it is so far?"
Indeed, K-OZ, which was originally slated to open in the summer, finally opened its doors earlier this month. The restaurant's Facebook page doesn't have a link to its a website or menu, but its Yelp page indicates that the restaurant will be serving up items like breakfast sandwiches, French toast and burgers. And as the owners told us earlier this year, they'll also be brewing their own beer—and community members can participate. 
Swinging east to Hayes Valley, tipster Patrick C. asked for an update about the New Seasons supermarket planned for 555 Fulton in Hayes Valley, noting that New Seasons' website does not list SF among its coming locations. 
One of our neighborhood editors, Stephen Jackson, checked in with New Seasons, whose representative had no updates. When asked if the supermarket was still hoping to move into the space, the representative said that they were still hopeful, and continue to work to that end. 
Over in the Lower Haight, tipster Tammi witnessed a collision:
At approximately 12:45am on 12/8/16, a dark-coloured black car (I think it was a black sedan, but didn't get a good look or catch the details) sideswiped parked cars parked on Pierce Street, cose to the corner of Page. It left a large dent in the left-hand rear of one of the parked vehicles, a small white car, The driver didn't stop at all, continuing though the four-way stop intersection. I wasn't able to get a photo at the time, sorry.
Moving a bit down south to the Castro, tipster Sarah B. texted in a snapshot of a fire truck in action at 9pm on December 5th, near the intersection of 14th and Belcher.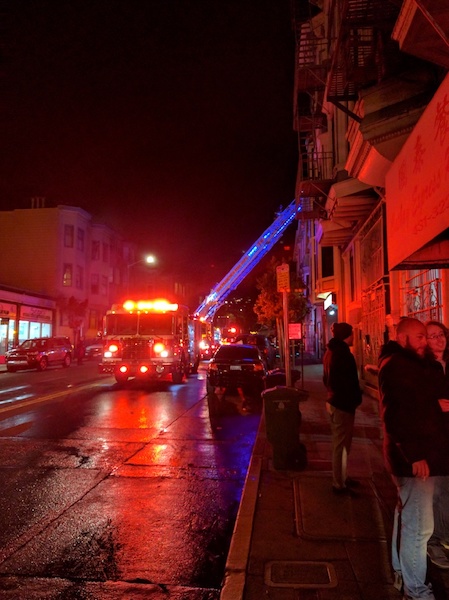 SFFD sent out a tweet about the fire that evening:
#1205WF2 Small fire behind a heater 736 14th street please AVOID AREA due to our apparatus. This fire is CONTAINED w/ no INJ or DISPLACED pic.twitter.com/1tzYK5HZMp

— San Francisco Fire (@sffdpio) December 6, 2016
Mailbox theft continues to plague the city, and tipster Jasmine B. sent in a note about another mailbox break-in at 85 Henry St. She told us she wasn't sure what time this happened, but that it was likely in the middle of the night.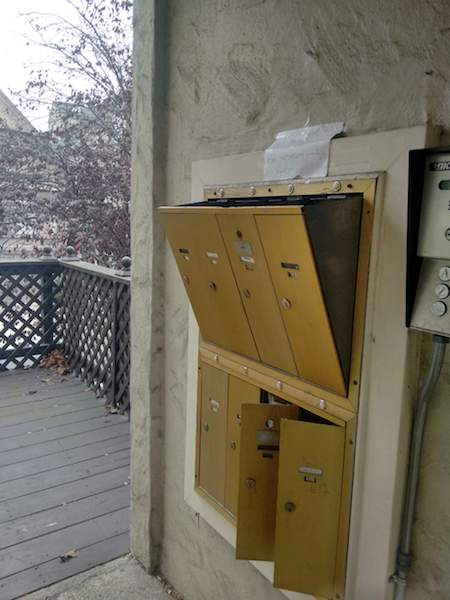 Last week, another tipster, Victoria N., also woke up to someone breaking into the mailboxes in her building in the Inner Sunset. 
If you see mail theft happening in your building, you can file a report online with the U.S. Postal Inspection Service, or call 1-800-ASK-USPS (1-800-275-8777).
Also in the Castro, tipster Michael C. sent in some information about harassment at the bus stop on 14th Street.
Over the past week, there have been a group of 5-8 men harassing passerby at the bus stop on 14th Street near Church. They're usually there after 10pm, and don't stop until the morning.

Not only have they been harassing people that pass by, they have been blocking the sidewalk and breaking into the electricity at the Muni stop to play their music so loud that it shakes the neighbors' windows. Non-emergency police have been called, yet nothing happens. In one instance, starting at 11pm on Wednesday, November 30th, the police were called every hour for three hours, to no response.
We received this tip two days after our story about a street fight that caused the destruction of the mural window at George's Market, which is right nearby. Neighborhood editor Alisa Scerrato inquired with Carine, the block captain for the neighborhood watch of the 700 block of 14th Street. Here's what she has to say:
"I called [the police] on Wednesday morning, and my husband has called twice since then. A neighbor told me he has called 2 to 3 times. I watched a Safeway security guard walk across the street and yell at one of them. They walk into Safeway and take what they like. As long as it's under $950, it's not an arrestable offense.

The group that has been there since Wednesday is aggressive. I have not seen the police turn up. So many calls. No presence. Today there is a clinch in the bus stop. You couldn't sit there even if you wanted to."
We reached out to Capt. Perea of SFPD Mission Station to find out what actions, if any, the station is taking, but we have not heard back yet.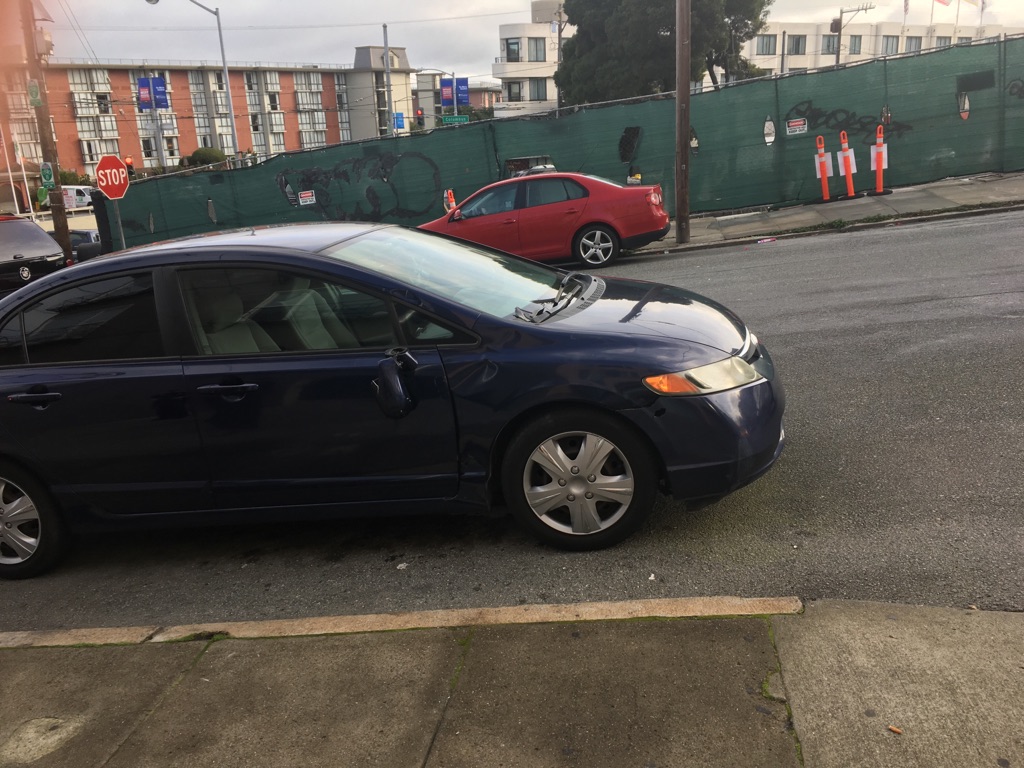 Moving up to North Beach, tipster Abigail R. sent us the photo above, of a collision between a bicyclist and a motor vehicle at the intersection of North Point and Columbus on December 5th.
The SFPD confirmed that there was a collision, but there was no report of anyone being transported to the hospital.
Have any questions about your neighborhood you need answered? See something interesting while you're out and about? Text Hoodline and we'll see what we can find: (415) 200-3233.