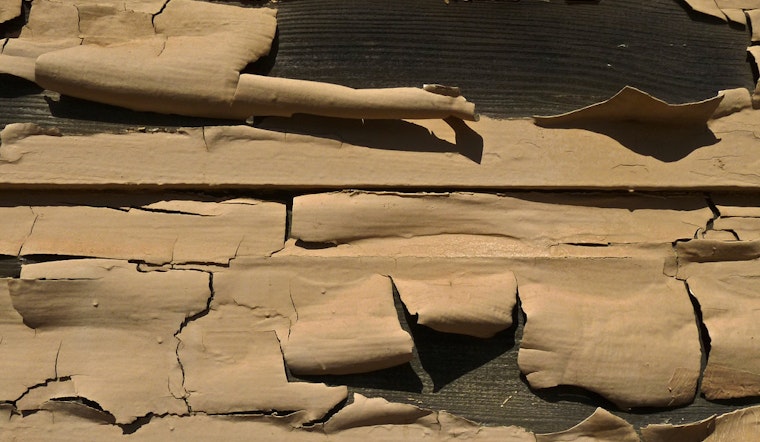 Published on January 15, 2017
Childhood lead poisoning rates in many San Francisco neighborhoods are two to four times the national average, according to a report from the San Francisco Department of Public Health.
San Francisco's overall rate of childhood lead poisoning was 4.6 percent, just shy of the 5 percent rate in Flint, Michigan. Unlike Flint, San Francisco's lead problem has nothing to do with the water supply; more than 80 percent of the city's housing was built before lead-based paints were banned for residential use.
Lead paint becomes a hazard when it peels, cracks, or flakes or gets disturbed by repairs or renovation projects. Building owners are responsible for remediating lead hazards, but some tenants may be afraid to report violations, or are unaware of the dangers.
Blood tests taken between 2008 and 2012 found that 6.6 to 11.8 percent of children in parts of Nob Hill, Chinatown, Castro, Mission, Bayview, Haight, North Beach, Tenderloin, Russian Hill, and Visitacion Valley had elevated blood lead levels comparable to the worst-hit neighborhoods in Flint at the height of its water crisis.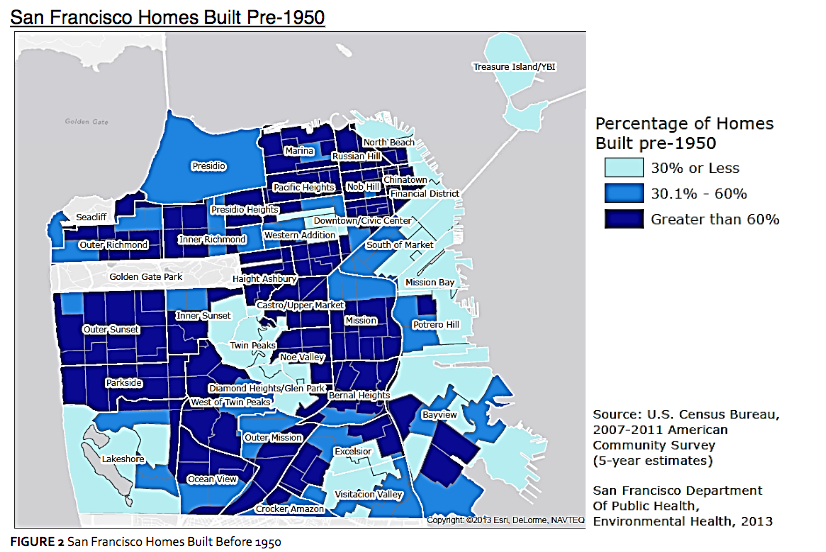 Lead is a potent neurotoxin that can disrupt childhood brain development and is linked to lower IQ scores, learning disabilities, behavioral problems, and hearing impairment. The Centers for Disease Control and Prevention does not recognize any safe level of lead in children's blood.

"Everything that was painted prior to 1979 was left to deteriorate and create a hazard in the future," said Haroon Ahmed, San Francisco's childhood lead prevention coordinator. "We consider all of San Francisco a risk area for young children."

A Reuters report analyzing nationwide data found lead levels higher than Flint's in thousands of communities.

High Lead Levels Found In Every Neighborhood; "Water Is Not An Issue"
In the 1990s, San Francisco began gathering data to better understand the scope of the city's lead poisoning problem. Research determined that children living in homes built before 1950 were almost nine times more likely than other children to have extremely high blood lead levels. In many neighborhoods, most homes were built before 1950.

Citywide, the vast majority of housing was built prior to 1979, before the federal residential ban on lead paint went into effect. 

Children have tested positive for elevated blood lead levels in every census tract in San Francisco, but the full extent of childhood lead poisoning in the city is unknown, because testing is not universal.
Besides old paint, lead is in stained glass doors and cabinet windows that can transfer to skin, and is mixed into the soil in many areas of the city, something urban gardeners and families with backyards have to take into account.
Health officials have ruled out drinking water as a cause of lead poisoning in the city, but "people are calling me to say they want their water tested," Ahmed said. "There has been more concern about water [since Flint], and I have to explain to them that we feel like water is not an issue here. "
In Flint, improperly treated water caused lead to leach out of pipes; people who drank and bathed with it were exposed to high lead levels. In San Francisco, Ahmed said the Public Utilities Commission "has been doing a great job" of  "implementing corrosion control practices, which was a failure in Flint."
According to Ahmed, SFPUC "discontinued the use of lead joints in the distribution system. And they regularly sample tap water from homes, and have been getting consistent low results."
San Francisco and several other California jurisdictions sued paint companies and won a $1.15 billion judgment in 2013 for continuing to market lead paint for residential use after the health risks were known. Those funds are held up pending appeal, but if the judgment stands, San Francisco will receive $80.5 million for lead abatement.
"Most commonly what we're talking about [in housing] is lead dust," said Eve Gartner, a litigator for Earthjustice.
"It could be in a gaseous form or just tiny little pieces of paint that are disintegrating," Gartner explained. "Kids crawl on the floor and get this light layer of dust on their hands and they put their hands in their mouths, or the dust gets on some object and they put the object in their mouth."
Earthjustice is suing the federal Environmental Protection Agency on grounds that the agency uses an outdated standard for assessing lead hazards.
"With this upcoming administration, who knows whether the EPA will ever update their standard," Gartner said.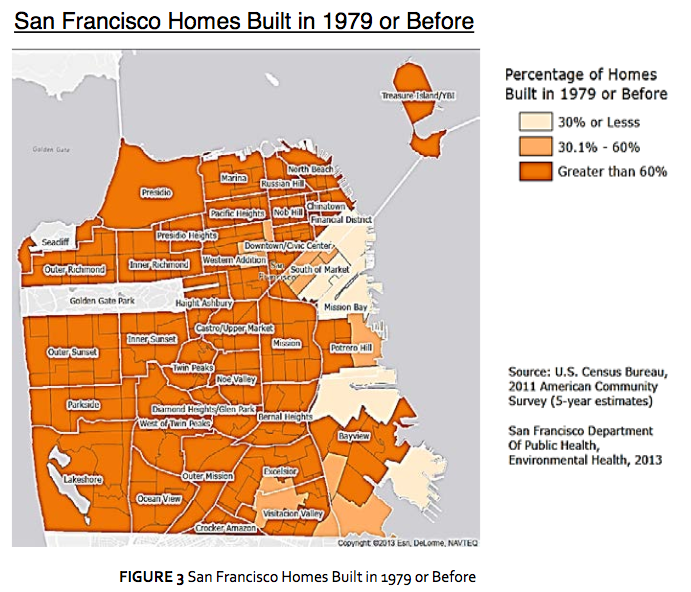 What To Do About Lead In Your Home

If you have children living in your home or frequently host children, you can call the city's childhood lead prevention program at (415) 252-3956 for a free inspection.

"Inspections are totally free and findings are totally free," Ahmed said. "The lab part is free. The only party who incurs any cost is the property owner who has to fix those hazards."
Homeowners may qualify for a grant from the Mayor's Office of Housing to fix lead hazards. If you're a tenant without kids, call the Department of Building Inspection about potential lead hazards at (415) 558-6088.
People who work in construction or home renovations, or another trade where they may come in contact with lead, should change clothes and shower before returning home, if possible.
If you must change at home, change and shower before interacting with young children, then lock away potentially contaminated work clothes in a designated area.
City residents who are concerned about the possibility of lead in their tap water can have their water tested by the SFPUC for a $25 fee.