Published on February 16, 2017
On Tuesday night, NoPa residents packed a room at the John Adams Campus of City College for Park Station's monthly community meeting. The session, led by Capt. John Sanford, Jr., was moved from the the station house in response to an uptick in violent crime in the area.
In recent weeks, several incidents escalated concerns about safety in the blocks along the Panhandle's northern edge. Three street robberies were perpetrated around NoPa in January, a dramatic increase from the nine similar incidents reported in all of 2016.
Most attendees were first-timers at the 2½-hour meeting, a recap of crime statistics and presentations by station staff and city officials, followed by a Q&A session. Frustrated attendees repeatedly asked Sanford to abandon the meeting's agenda, but he held firm.
Eventually, the discussion turned to the topics that drew most residents to the meeting, including a store that many identified as a magnet for drug sales.
Police, Residents Discuss Recent Shooting, Quality Of Life Issues
An altercation on January 23rd that left a 24-year-old man shot in the back was top of mind for many who spoke at Tuesday's meeting, as were several muggings, one of which involved an armed suspect.
Eunice Rhodes, whose grandson was shot on the front porch of her home on the 1700 block of Fell Street, said she's lived in NoPa since 1955. "Our neighborhood is a really good, safe neighborhood," she said. "The shootings are coming from people from other neighborhoods."
Rhodes said the shooting occurred in the evening, just after several family members had come inside. Her grandson saw someone on the sidewalk approaching with a gun, turned to run into the house "and as he ran, they got him right in his back."
Rhodes said she's sent her grandson out of state to stay with relatives while he recuperates. Despite the bullet holes, "I'm not afraid to be out on my porch," she said.
Police are following leads but have not made an arrest, said Sector Sgt. Gregory Stechschulte.
Sanford said police have only responded to two shooting calls in NoPa in the last 12 months, but one attendee said a store in the area was the site of "at least three shootings" in that time frame. Others claimed the shop is the site of open-air drug sales, use, and assaults. [Given that police have not opened a criminal investigation, Hoodline has chosen not to identify this business by name.]
"We would like for you to be very, very detailed and tell us why you believe these individuals are selling drugs," said Sanford, who added that residents may be receiving—and sharing—incorrect information via Nextdoor.
"We need reasonable suspicion to deal with the situation, or probable cause to make an arrest," said Sanford. "Other than that, officers are not allowed to violate anyone's constitutional rights."
"I can tell you the store now is on our radar," said Stechschulte.
Sanford encouraged residents to write detailed letters to City Attorney Dennis Herrera in the hopes of having the store declared a public nuisance. In 2015, Herrera used this tactic to convince the owners of the McDonald's at Haight and Stanyan streets to beef up its security.
Leela Gill, secretary of North of Panhandle Neighbors Association, said residents interested in forming a neighborhood watch should contact NOPNA directly.
January 2017 Park District Traffic/Crime Statistics
According to the crime statistics Sanford released, violent crime has risen in the district compared to the previous month and January 2016. But some other crimes, including robberies and car theft, decreased.
For violent crime, there were 12 assaults in Park District last month, compared to six the month before. In January 2016, only six assaults were reported.
Three robberies were investigated last month, a drop from the seven reported in December. Three burglaries were investigated in January, a decrease from seven the month before. The number of burglaries held relatively steady, with 36 reported in January and 33 in December.
Twenty-four vehicles were stolen in Park District last month, a 25 percent decrease from December 2016. In December, 147 cars were broken into, but that number fell to 135 in January.
Last month, Park Station officers wrote 648 traffic citations within the district, which includes NoPa, the eastern end of Golden Gate Park, Cole Valley, part of the Inner Sunset, Twin Peaks, the Haight, Alamo Square, Duboce Triangle and the Divisadero corridor.
Of that total, three people were cited for making illegal turns, 62 were ticketed for speeding, and 19 ran red lights in the presence of an officer. Thirty-three people were ticketed for failing to yield to pedestrians, while 35 were caught using a mobile device behind the wheel.
Three scofflaw cyclists felt the long arm of the law, and 362 drivers were nabbed for blowing through stop signs; the other 131 citations were for unclassified offenses.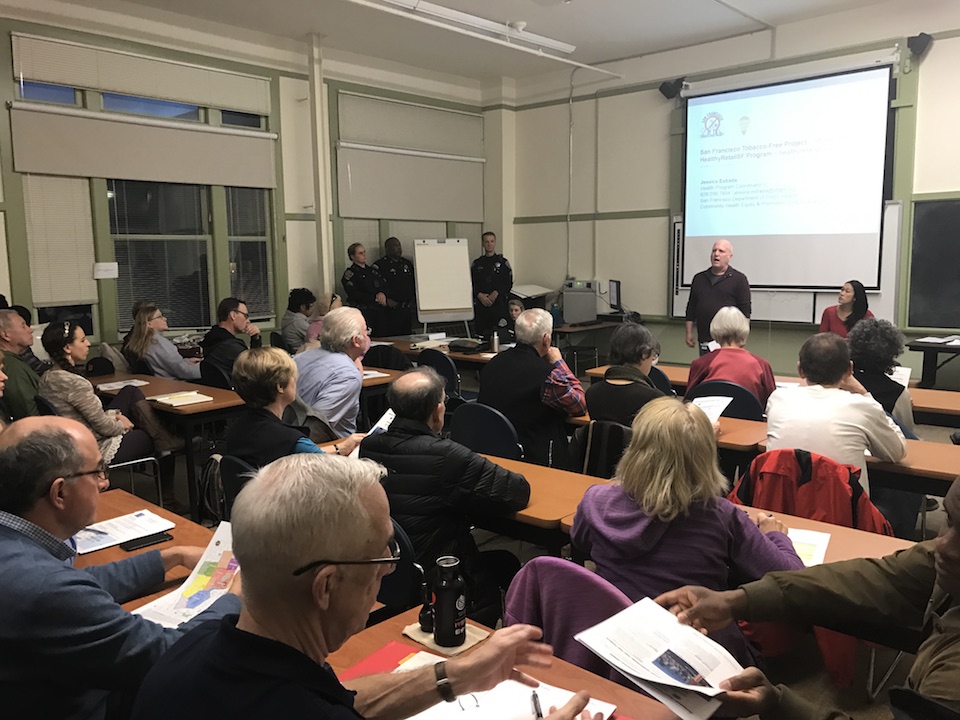 2016 NoPa Crime Statistics
Last year, there were six assaults in the area. Of that total, four were charged as aggravated assault and two as simple assault, where no injury was intended.
Fifty-eight burglaries were reported in NoPa; 46 from private homes, 10 hot prowls, and two from businesses. There were nine street robberies and two residential robberies last year; six were reported from nearby businesses.
Two sex offenses were reported in NoPa in 2016.
The station's next community meeting will be 5:30pm Feb. 21st at the station to discuss preparations, and concerns, for the upcoming 4/20 celebration in Golden Gate Park.