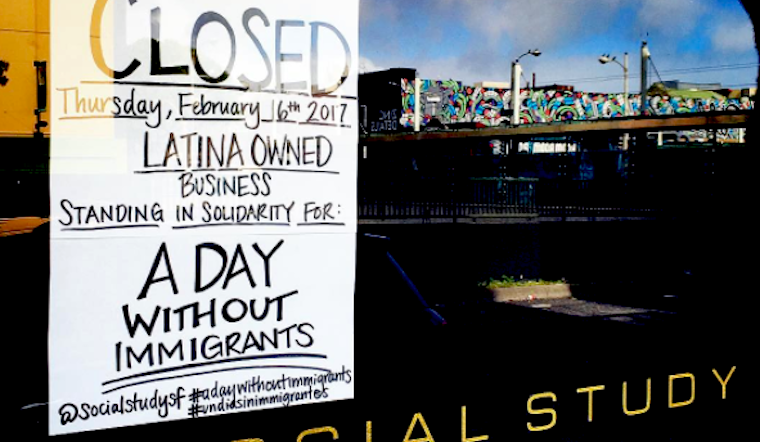 Published on February 16, 2017
Today, advocates against President Trump's immigration policies have called for "A Day Without Immigrants" across the U.S., and many San Francisco businesses, including restaurants, are showing solidarity by shutting down for the day.
The purpose of the boycott is to show the Trump administration how the American economy and culture would suffer without immigrants. The boycott urges immigrants to stay home from work and to not purchase items for the day.
Popular local taqueria Papalote is one of the businesses participating in the boycott. It's closing its locations in the Mission (3409 24th St.) and NoPa (1777 Fulton St.)
Co-owner Victor Escobedo told Hoodline that the boycott is intended as a tribute to his great aunt, Celia Lopez-Rodriguez, who decided to leave Mexico through the Bracero program in 1964 with her husband and siblings. She opened her first restaurant, Celia's, at 47th and Judah in the 1960s. 
Escobedo, his siblings, and his parents emigrated to the United States in the early '80s to join the family. After getting their start by working at Celia's, he and his brother Miguel have since opened two Papalote taquerias and created their own line of jarred salsas.

The boycott is intended to celebrate Celia's "venture, entrepreneurship, and search for a better way of life," Escobedo said. 

Here are social media posts from some other restaurant participants in the boycott:
Ananda Fuara will be closed tomorrow in support of our staff and customers for #DayWithoutImmigrants. We apologize for any inconvenience.

— Ananda Fuara (@AnandaFuara) February 15, 2017
PADRECITO WILL BE CLOSED ON THURSDAY 2/16 IN SUPPORT OF "A DAY WITHOUT IMMIGRANTS"

Thank you to all of our... https://t.co/QADXFLEF3w

— Padrecito (@PadrecitoSF) February 16, 2017
#adaywithoutimmigrants is happening here in #SanFrancisco pic.twitter.com/cC06pl8wyW

— aljerie castilla (@aljerie) February 16, 2017
Other local businesses have chosen not to close, but are supporting workers who choose to participate in the boycott and donating their profits. Tacolicious will donate all of today's proceeds at its five locations to the ACLU, as will Cole Valley's Cafe Reverie. 

For more information, Inside Scoop SF has a full list of Bay Area restaurants participating in the boycott today.