Decades ago, soon-to-be muralist Mona Caron relocated to San Francisco from Switzerland. Today, she lives around the corner from one of her first murals: Market Street Railway, located at Church and 15th streets.

Painted in 1998, the Duboce Bikeway Mural was actually her first. Market Street Railway, which debuted in June 2004, came next.
While Duboce Triangle and her interest in neighborhood character is where her unexpected career as a muralist began, Caron later developed an eye for urban botanicals, which led her to rooftops around the city and in countries across the world.
After completing your first murals, how did your work evolve?
I continued making murals by invitations of neighborhoods here in San Francisco. I didn't really look to be a muralist for a long time, I was working as an artist and illustrator, when people became enthusiastic about my murals.
I use my art as a playful way to freely brainstorm with the neighborhood about how we'd like it to be. I'm known for the humorous, participatory, future visions of the neighborhood. I take ideas suggested by neighbors, passersby and incorporate them in a vision of what we could do.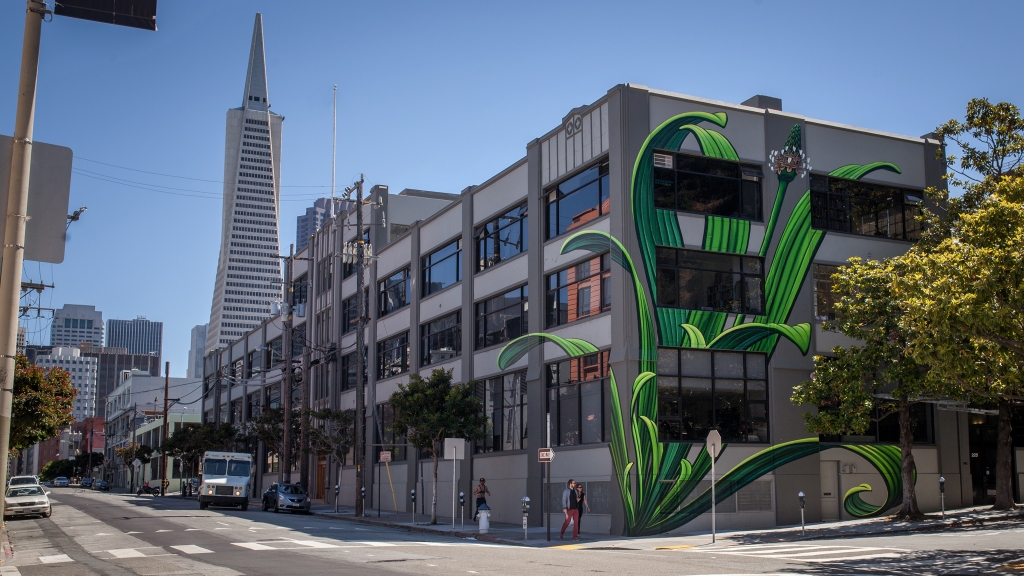 What about your botanical theme, the weeds?
After spending a decade doing these local and social interactive projects, I felt the need to do something quietly. 
In the Tenderloin I saw this dandelion that was growing at the bottom of my other mural. Regularly, there is a person who comes by to kick it. There is so much trash, but he was going out of his way to kill this one living organism because it's not supposed to be there. Yet, it keeps coming back.
That's what it takes! The patient persistence. That struck me as a metaphor, so I decided to do a tribute to the weeds.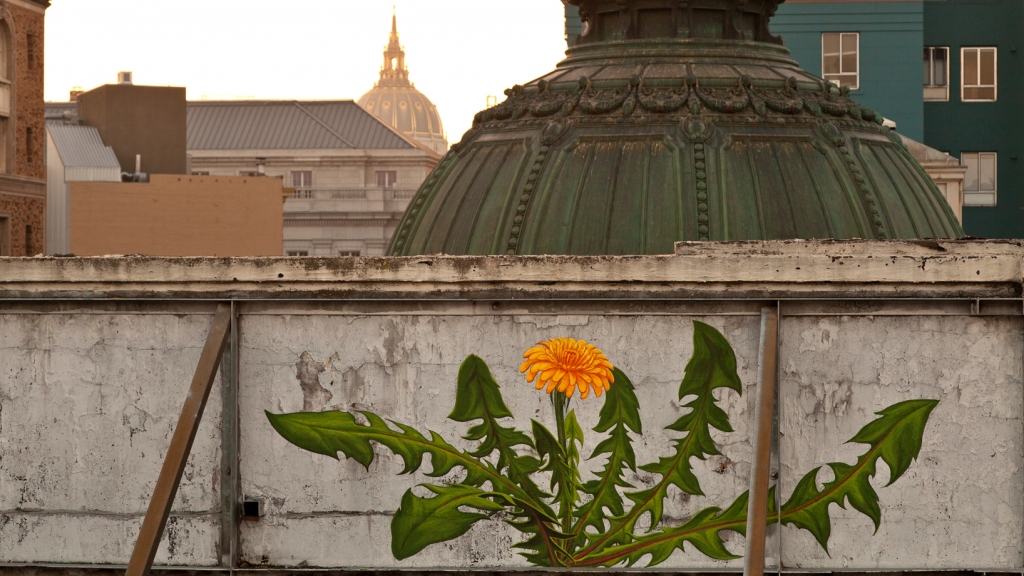 Where can we find these tributes?

I started painting weeds on rooftops in San Francisco.
I painted whatever small weeds I could find, and made a stop motion animation of them growing by themselves. Every once in a while I would also travel, and I'd paint something abroad.
That's when I made a little video about the weeds. I posted it on Youtube, where it had a moment of virality. Then I also got invited to paint in other places, like São Paulo.
What's it like to work on city streets?
I like working on the street. I never had major challenges. I'm not daunted by the craziness of the street. I worked on a mural in a very intense corner of the Tenderloin for a year and a half, it was one of the most amazing experiences of my life.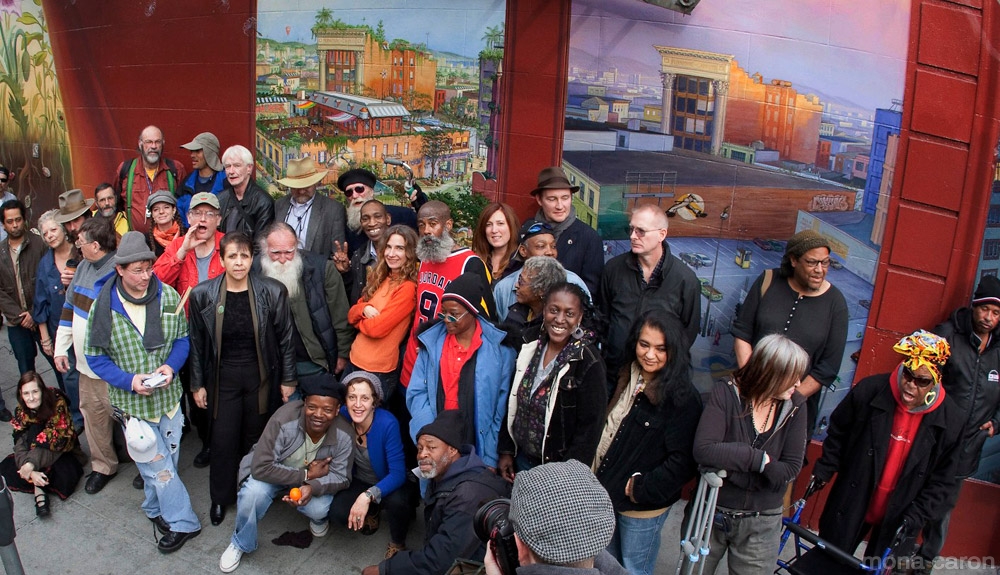 Can you tell us more about your Tenderloin mural?
The mural contains over 300 mini portraits of neighbors.
I was highly interactive. I asked people what they would wish to see in their neighborhood if the didn't have constraints. I showed the neighbors themselves actively doing what they would rather be doing in life, featuring their talents, passions.
What would it be like to have a better neighborhood by and for the people who live there?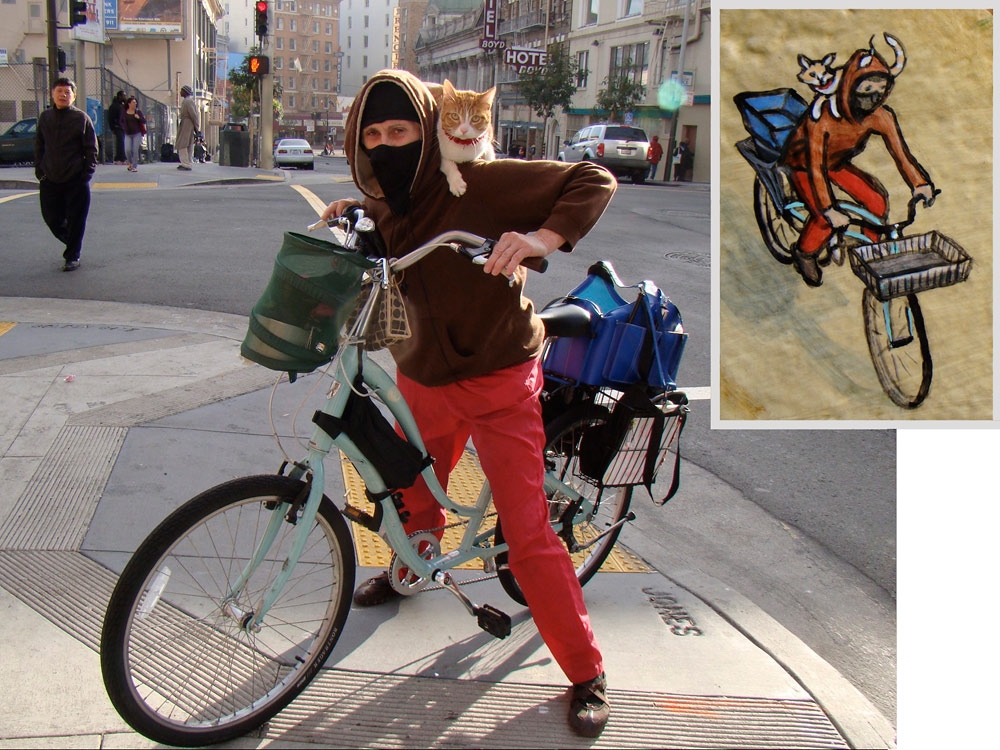 How do you interact with people on the street?
I know if I put in a scenery that is familiar, if I put in the house where we are, people will recognize that. People are immediately experts of it. They say "This is where I live, this is where I work, this is where I go by every day!"
Then they ask me to put them in there walking down the street with their friends and their dog.
How do you remember all of the requests?
I take pictures of the people.
Sometimes they say that they can come back dressed the way they want or with their guitar. I encourage them to pose as they want to be.
That way the social geography of the place is described directly by the people themselves. People come with funny ideas, like a skating party on the roof.
I can include that. It's art, not urban planning!
Caron's newest mural in San Francisco, completed at the beginning of this year, can be seen on the front of the bike shop Pedal Revolution in the Mission.