For the second year in a row, Castro Merchants and local artists are celebrating Harvey Milk's legacy by decorating storefront windows around the neighborhood in his honor.
Windows for Harvey officially begins tomorrow and will run through May 31; the exhibition spans Milk's birthday (May 22) and San Francisco Small Business Week (May 15-20).
"Windows for Harvey is a neighborhood-wide celebration of Milk's life," said designer Brian Springfield. He said he conceived the idea for a tribute last year a handful of weeks before Milk's birthday, which left only enough time to design a poster local merchants could hang in their windows.
"The response was overwhelmingly positive," Springfield said, "and we laid the groundwork for this year."
This year, Springfield, along with Angie Sticher (Spark Arts) and Masood Samereie (Aria Properties), started organizing Windows for Harvey in January, getting more than 25 local merchants and 14 local artists to participate in the window display celebration.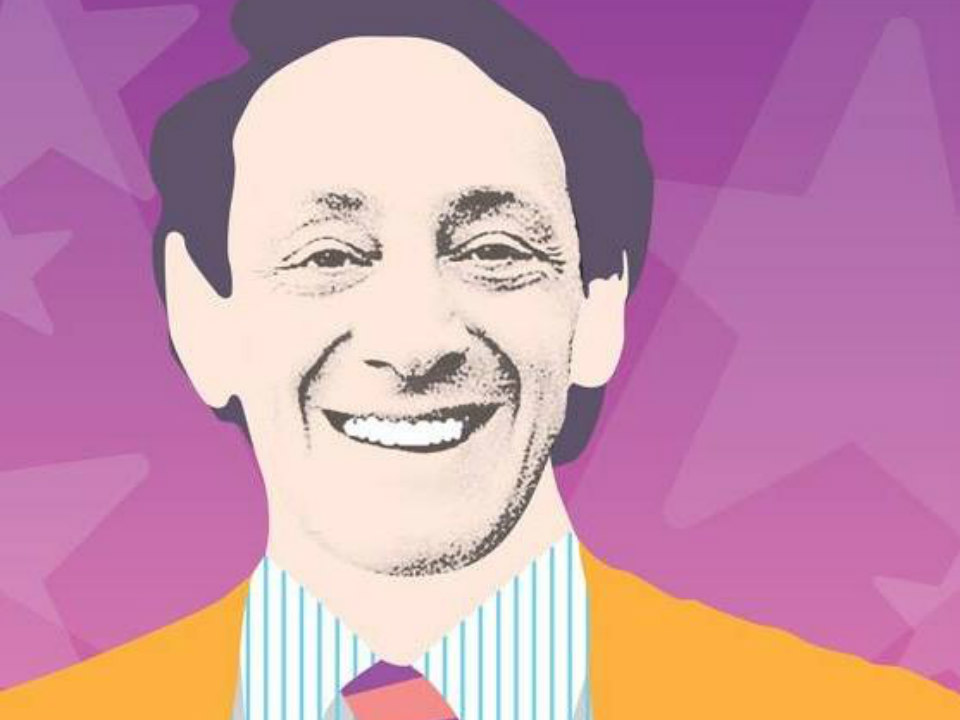 "We had the idea that we could pair merchants who have windows with local artists who want to display their work," Springfield said. In addition to the artwork on display, merchants will hang posters commemorating Milk in their windows.
Aviva Kanoff is the creative director at Spark Arts and a local artist. Her 30-by-40-inch Harvey-themed artwork will hang in the window at ZGO Perfumery on 19th and Castro streets.
For her piece, Kanoff was inspired by this year's Women's March. "It brought up feelings of what it must have been like during Harvey Milk's time," Kanoff said.
She made a rainbow-infused collage of different photos of Milk standing in a crowd carrying flags in front of Civic Center. A Milk quote, "you gotta give 'em hope," is written across the sky.
"I used a lot of glitter and rhinestones," laughed Kanoff.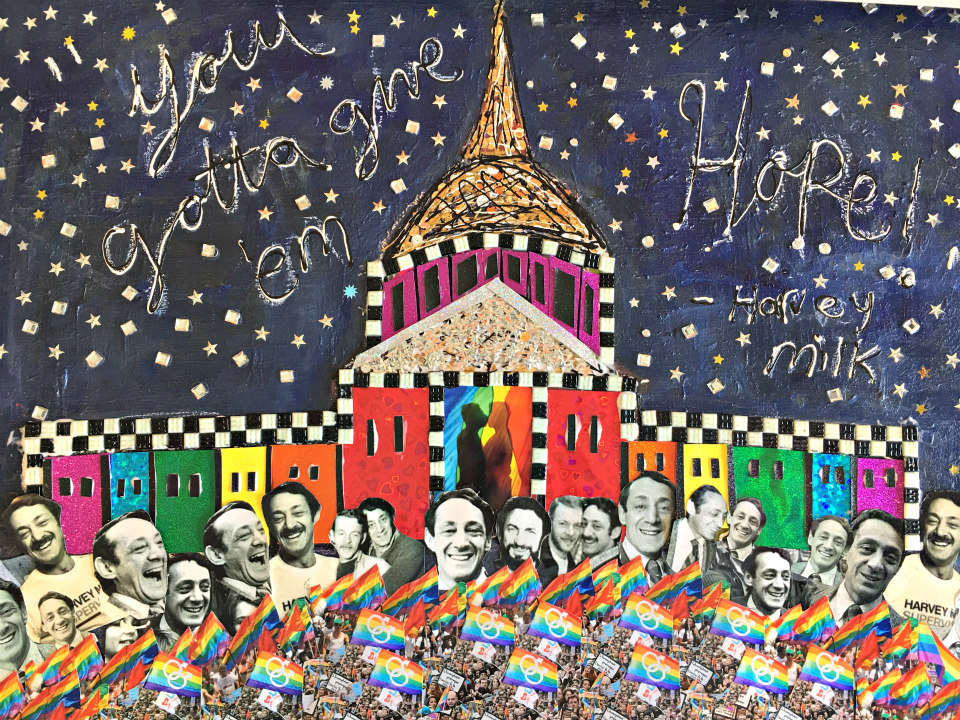 Joel King and Seth Shubin (aka Veruca Bathsalts) of Peaches Christ Productions are also putting together a window display in the vacant storefront between the Castro Smoke House and Dapper Dog.
"[We're] working on a fun, festive window to highlight Harvey Milk and his passion for film and the queer community of the '70s in San Francisco," wrote Shubin in an email.
In front of a backdrop inspired by artwork from Armistead Maupin's Tales from the City are two mannequins, one depicting Milk walking through the Castro and one of a "radically fabulous queen" out in the world "fighting for her rights," Shubin said.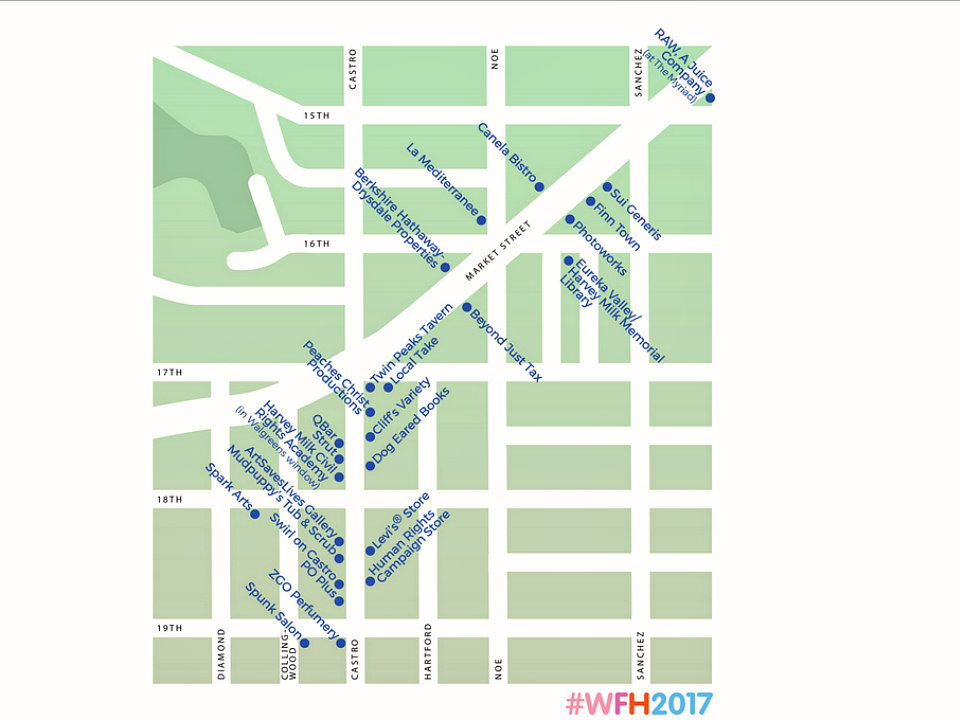 All of the participating artists and designers are doing so on a voluntary basis, and an event is being planned at Spark Arts (4229 18th St.) in early June to sell the artwork.
"If you give someone a design challenge in the Castro, they jump on it," Springfield said. "The creativity is there and the love for Harvey is there—Windows for Harvey brings those two together."
Artists participating in Windows for Harvey 2017 include: Adam Ansell, Alan Beckstead, Aviva Kanoff, Billy Douglas, Danyol Leon, Eva Silverman, Harvey Milk Civil Rights Academy students, Jason Mecier, Jeffrey Burke-Whitten, Jessica Presley-Grusin, Juanita MORE!, Jun Yang, Peaches Christ Productions and Sylvie Guillot.
Promotional posters were printed thanks to a grant from the SF Office of Economic and Workforce Development.