If you have in mind a visit to the San Francisco Conservatory of Flowers, this week might just be the time for it.
According to conservatory spokesperson Nina Sazevich, one of the conservatory's crown jewels—an Amorphophallus titanum, popularly known as a "corpse flower"—is sporting one of its rare flowers, which is expected to be fully open later this week.
Amorphophallus titanum is an oddity in the extreme, one of the big, sexy dinosaurs of the plant world. Almost extinct in the wild, the inflorescence, or blossom, is a ten-foot-tall structure that smells like rotting flesh and looks—hence the name—like a mushy phallus. The plant's leaf structure is actually a single leaf that can reach up to 20 feet tall.
Currently, the plant's bud is over four feet tall and growing at the rate of up to three inches a day; it looks something like this: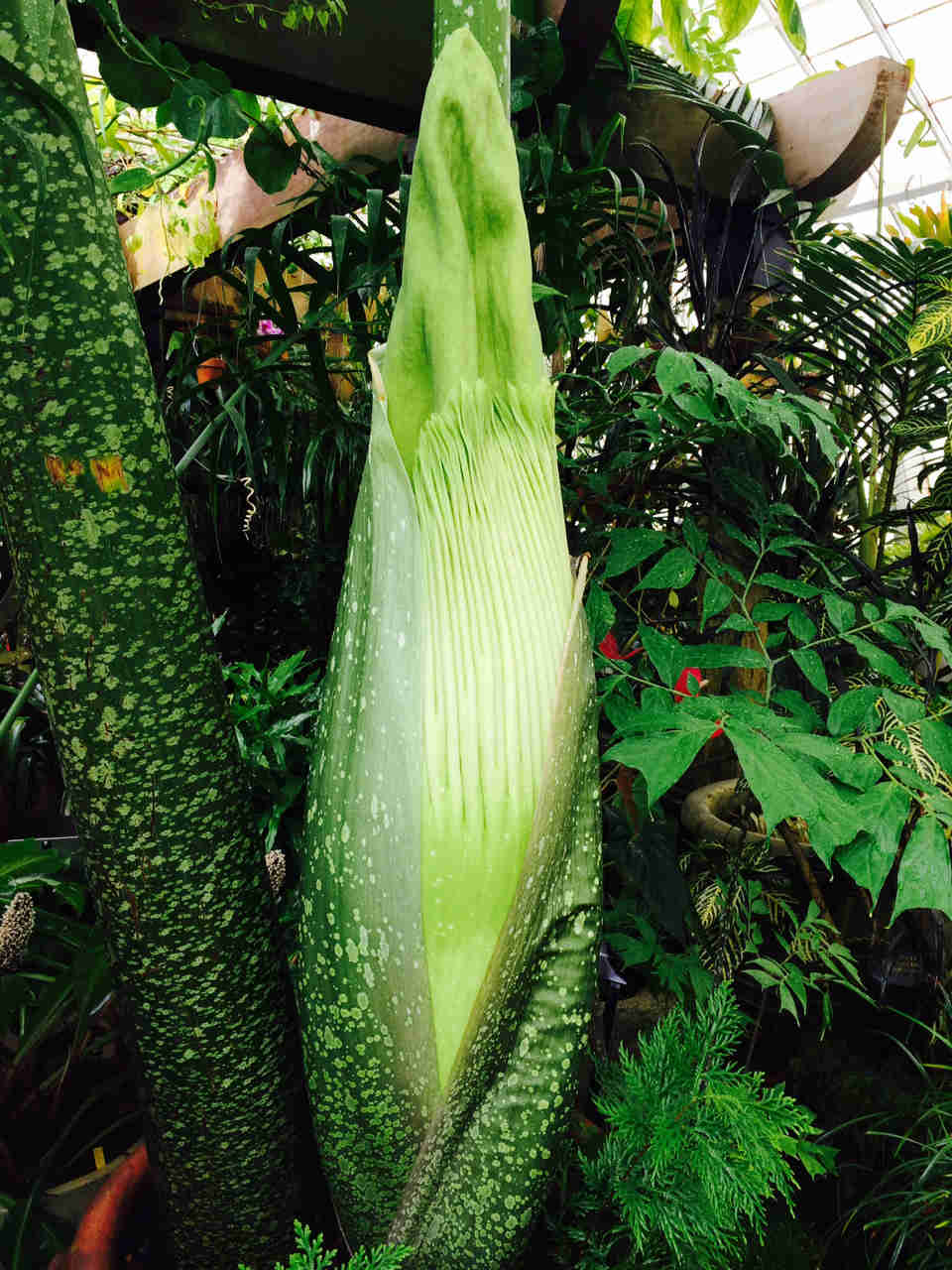 The conservatory's titanum last flowered in 2005, when it was captured on film in the top photo. The current specimen, nicknamed "Terra the Titan," came to the conservatory three years ago from the Mission district home of Sidney Price, who bought it from a plant sale at the UC Berkeley Botanical Garden.
At the time, he said, it was about a foot-and-a-half tall.
"The first two months of that late fall, I did not think it would survive in the northern exposure from my kitchen window," Price said. "[I] soon discovered more light coming through the skylight in my bathroom."
"What a difference location makes," he continued. "Between the light, humidity and my love, it took off." In four years, the plant was seven feet tall and had to find a new home.
To stay updated on the progress of Terra the Titan's bloom, the conservatory is offering a livestream to capture the corpse flower's big moment: 
The conservatory will be extending its hours when the plant is in full bloom. Sazevich told us that the last time it bloomed, they saw over 1,000 more visitors to the conservatory to visit the stinky flower.