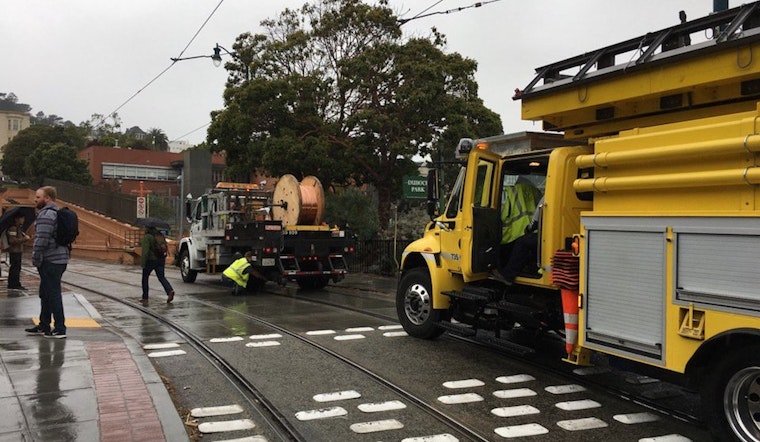 Published on June 08, 2017
SFMTA announced that "an equipment issue" in the Sunset Tunnel between Duboce Park and Cole Valley is delaying service on the N-Judah this morning.
ATTN: Due to an equipment issue in the Sunset Tunnel, #NJudah svc is delayed. Bus shuttles en route to support. Will update.

— SFMTA (@sfmta_muni) June 8, 2017
Until the issue is resolved, Muni is running bus shuttles and advising riders to take alternate routes. Inbound and outbound trains will switch back at Carl & Hillway in Cole Valley and at Duboce & Fillmore.
A great sign when you are waiting for the N Judah ... @HoodlineSF pic.twitter.com/BWNiLi0ALW

— Paul Krohn (@paul_krohn) June 8, 2017
Alternate routes include:
NX Judah Express
7X-Noriega Express
7-Haight Noriega
7R-Haight-Noriega Rapid
6-Haight Parnassus
Thanks to tipster @paul_krohn.
[Update: 9:47am] SFMTA announced that the tunnel issues are resolved and that N-Judah service has resumed, but some riders still report seeing shuttles along the route.
UPDATE: Sunset Tunnel cleared. #NJudah resuming regular service. Residual delays possible while we balance service.

— SFMTA (@sfmta_muni) June 8, 2017
[Update: 10:15am] Hoodline tipster Patty C. was riding an inbound N-Judah this morning in the Sunset Tunnel when the problem occurred around 7am.
"We started to enter the Cole Valley tunnel, and suddenly there was a strong jolt, power went off, and the streetcar came to a halt," she said via email. Passengers "were kept trapped on the streetcar for over an hour" because the stalled street car was "a long distance from the entrance."
After approximately an hour, "patience wore thin and a bunch of us demanded that we be let out," wrote Chinn, who said the walk through the tunnel over an "extremely uneven gravelly/rocky pathway" took 30 minutes to an hour.