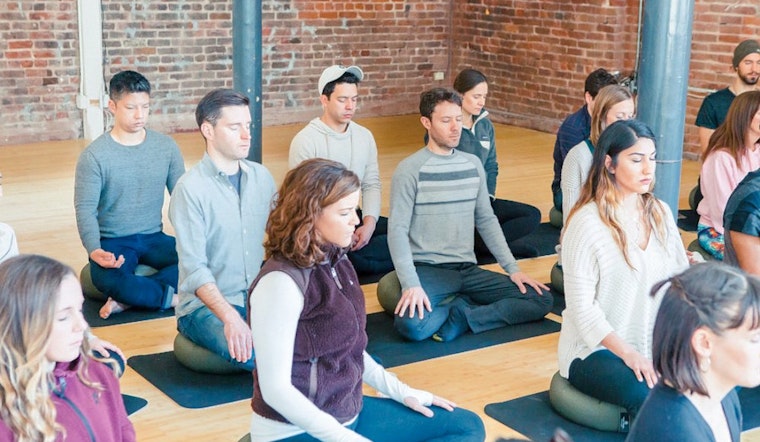 Published on July 24, 2017
A new drop-in meditation center has opened its doors in the neighborhood. Called WITHIN Meditation, the new addition is located at 405 Sansome St. (between Commercial & Sacramento) in the FiDi.
Founded by Hannah Knapp and Megan Parker, the center aims to "give you the space, techniques and community to start and grow your mindfulness practice." It currently offers 30-minute morning meditation classes on Tuesdays and Wednesdays only. 
The first class for newcomers is $10, with drop-in rates at $18, and 5- and 10-class passes and unlimited monthly memberships available. (See more on classes and rates here.)
With a five-star rating out of seven reviews on Yelp so far, the new meditation center seems to be a welcome addition to the neighborhood.
Kiana N., who was among the first Yelpers to review the new spot on July 10th, said: "**MUCH NEEDED** I struggle every day to live in the present. I'm either dwelling on the past or planning for the future. Through guided meditation at WITHIN Meditation and WITHIN Meditation gives me the opportunity to just be present."
Yelper Erik D. added: "You cannot get a better guided meditation experience anywhere in Bay Area. I came to Hannah and Megan at WITHIN Meditation as a novice and have become a more focused and relaxed individual."
And Joe W. said: "I have been looking for a consistent meditation practice in SF and and I'm so glad I found WITHIN! The vibe is incredibly welcoming and suited for all experience levels."
Intrigued? Stop in to try it for yourself. WITHIN Meditation is open Tuesday, and Wednesday from 7:15am–9:30am. (It's closed on Thursday–Monday.)