By
Hoodline
- Published on July 19, 2017.
With the classic hamburger being one of the most prevalent menu items across America's cities and towns, it's not difficult to find a passable patty near you. But if you want a burger that's not a Big Mac and not going to break the bank, where's the best place to go?
Hoodline crunched the numbers to find the top 50 burgers around the country that are under $10, using both Yelp data and our own secret marinade to produce a data-driven breakdown of where burgers sizzle supreme (and cheap) in the US—and how the Greater Los Angeles Area compares.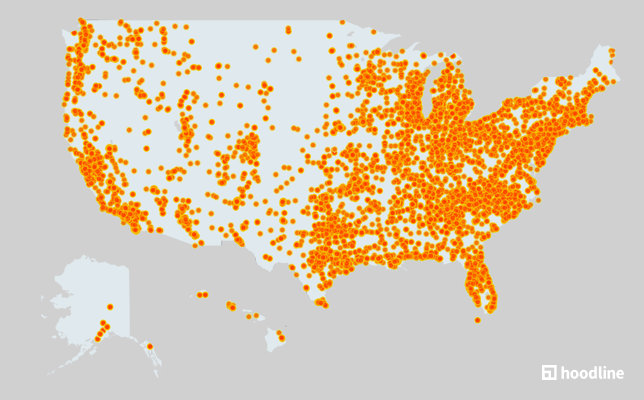 Not surprisingly, LA is well represented, with eight of the best cheap burgers in the country. The highest-ranking spot, at #5, is Bunz, a Huntington Beach staple that landed on our list with a perfect 5- star rating with 255 reviews.
What makes Bunz so bomb? Characterized by a basic menu of bold burger options, even Bunz's combo options—with a burger, fries and a drink—come in at under $10, making it a popular lunch and dinner go-to for locals and perceptive passers-by.
Next on the list at #7, you'll find Hawkins House of Burgers, in Watts. With a 4.5- star rating with 801 reviews, it serves up a beefy menu of single and double burger options, and even its triple burger with cheese comes in at under $10. Called house of burgers for a reason, Hawkins is only one of ten eateries on our top 50 list that's only categorized for burgers and not something else, like hotdogs or Mexican.
Rounding out LA's best cheap burgers is Grinderz, at #16 with a 4.5- star rating with 562 reviews. Burgers, alcohol and sports seem to be a combination that works. According to our analysis, 18 percent of the top 50 hamburger haunts are cross-categorized for burgers and bars, and Grinderz is only one of two establishments on our list to show up as both a burger place and a sports bar.
Curious to know where to nab the juiciest, most flavorful, least expensive burgers around the country? Here's the rundown of the top 50 affordable burgers to plan your next cross-country road trip around: