A mural is at the heart of a dispute between neighbors in Bayview. 
Since opening in January, business has been steady at Luxurious Nail Boutique & Spa, located at 4138 3rd Street (near Innes) in Bayview. However, according to owner Richard Washington, the salon's biggest issue has been visibility.
To remedy this, Washington applied for a $25,000 grant from SF Shines Program. Sponsored by the Mayor's Office of Economic and Workforce Development (OEWD) and the Local Initiative Support Corporation (LISC), the program provides various forms of facade and business interior improvements to small businesses in underserved neighborhoods throughout San Francisco.
Over the course of three months, with support from Steven J Eichler of Eichler Designs and Precita Eyes Muralists, Washington was able to secure a new awning and mural installation featuring cherry blossoms.
As the work progressed, neighbors occasionally popped in the salon to express their gratitude for the new facade.
However, earlier this month, Washington received a call from Nancy Zeng, the building's commercial property owner. He was told that he needed to remove the mural and repaint the building to its original color.
"It's frustrating and confusing," Washington told us. "Upon receiving the grant from the city to do the mural and awning, I went directly to Nancy for permission and she signed off on everything.
"Now I'm being told that everything has to go through the Homeowners Association (HOA), which is made up from the seven condo owners on top of the building," he continued. "This is actually the first time I've heard of the HOA, and my lease didn't say anything about me having to ask their permission to make my business visible. If that was the case. I would have never applied for this grant."
With most of the work completed, the project has come to a complete halt. Nancy Zeng told us that this misunderstanding has caused her a great deal of stress and sleepless nights—not to mention money.
"I don't recall signing off a mural," she said. "I thought the application was for an awning and window signage. I wasn't aware of the mural until it happened, and the HOA doesn't like it and won't allow it."
She said that she was not happy about the situation. "I tried to contact them and help Mr. Washington, but what can I do? It is based on their decision."
Washington disputed Zeng's account, pointing out there was already signage in his window. He also said that he made it clear what his goals were in the application.
"Originally, we were going to install planters," he said. "But we switched gears when we realized that they may cause people to litter, so we decided to do a mural. Nancy was aware of this."
When we reached out to Andrew Cantor, president of the HOA, he said that the whole ordeal had caught the group off guard.
"It's flat-out illegal under the rules that govern our building," said Cantor. "Nancy sold my unit to me and I purchased it under the conditions that nobody is allowed to paint outside the building. She created the same rules that she's breaking."
"The HOA is not trying to make things difficult for Mr. Washington, but Nancy should have never signed off on this project without discussing with the HOA," he added. "It's messed up because it's not Mr. Washington's fault. I would be just as frustrated if I were in his situation."
Cantor's comment is supported by the condo contract itself. Residents who purchased a condo in the building were required to sign off on two clauses.
One required the occupant of the commercial unit to maintain a sign of "reasonable dimensions," while the other said that "if the owner fails to properly maintain the sign, the HOA may...repair the building and hold the owner accountable. 
Although these clauses were never presented to Washington when he signed his lease for the salon, he will have to comply with the terms and remove the mural by the end of this week.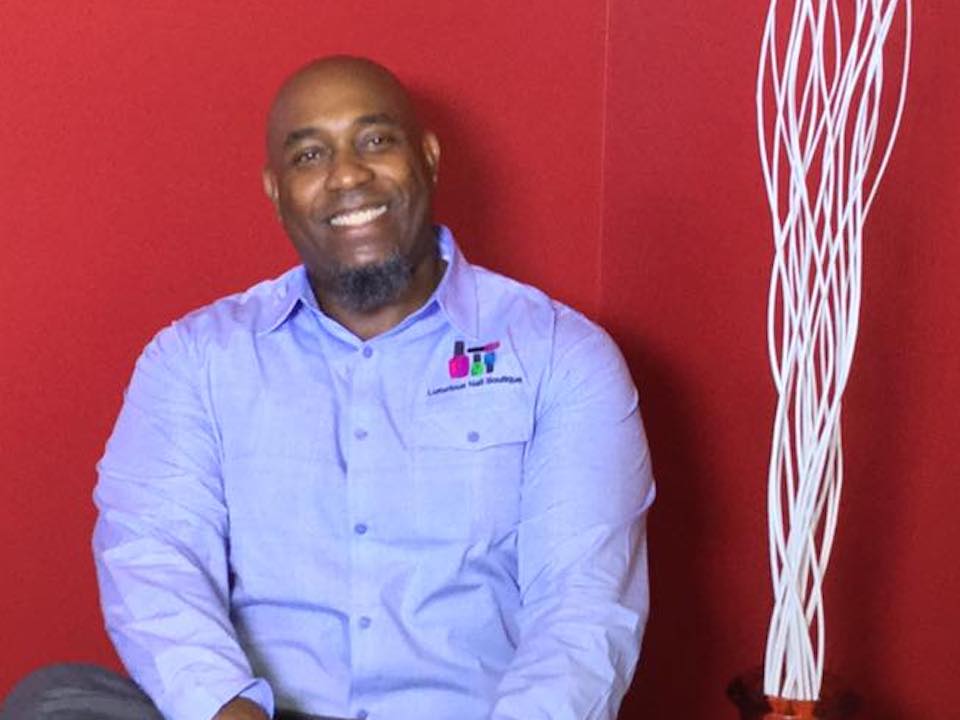 He said that as a small business owner, he believes that he should have the right to make changes that would increase visibility for his business. 
"It's really upsetting," he said. "They are telling me that the artwork is not subtle. It's not like anything offensive was painted on the building. It's cherry blossoms and bamboo shoots—come on!"
Despite the order to remove the mural, he said that he was open to working with the HOA and "arrive at a solution that is fair to everyone." 
Update, 9/24: Hoodline obtained a copy of the lease, which showed that Washington had received a copy of the HOA rules.
"Mr. Washington signed and received a copy of the [rules] when he signed his lease," said Sylvia Zeng, Nancy's daughter. "These rules are very clear and they do prohibit any murals on the exterior of the building and commercial space." 
We reached out to Washington about this. He told us that he was "rushed through the lease signing process and it was an oversight." He still hopes to work out a solution with the HOA.