Developers of a Mid-Market mixed-use building are hoping companies, families, and other groups will be interested in paying to tag the interior of the site's with graffiti before it is demolished early next year.
For the last three years, the space has served as The Hall, a food and retail vendor hall and community events venue, but the space closed at the beginning of the month to make way for the next phase of development.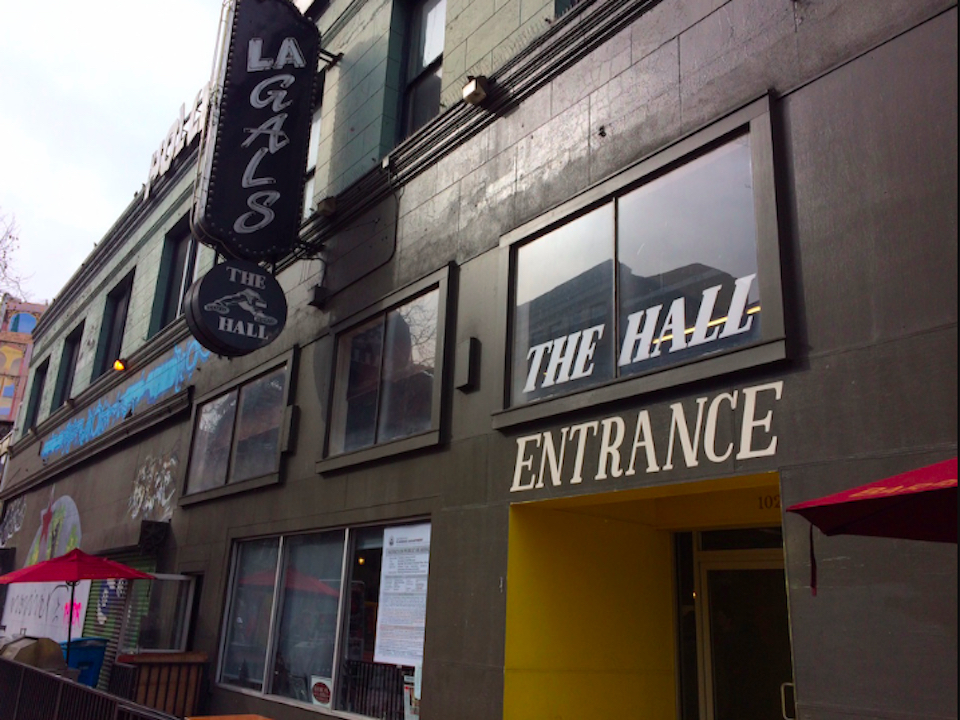 War Horse LLC and Tidewater Capital have partnered with graffiti artist Cameron Moberg (Camer1) to offer reservation-only packages that allows attendees to spray-paint the space's interior.
Moberg told Hoodline he "grew up on 6th Street" and has a strong connection to the neighborhood.
Although he lived in the Mission, his parents ran a community recreation center at 6th and Natoma, so graffiti became an early interest that grew into a passion.
As Moberg grew older, he started teaching people how to paint and volunteered at the center running children's games and activities. Lately, he's been mulling ideas for how to combine the fun of games and learning how to paint and bring the experience to grown-ups, he said. 
After he met Tidewater Capital founder Craig Young at the Hall, "we got to talking about the idea, and thought we'd try it," explained the artist.
"The idea came together as part of our process to source concepts with our community partners," Young told us.
As we previously reported, The Hall announced a closing date earlier this year to give vendors and workers time to find new opportunities, but sought community proposals of how to use the space until demolition begins.

"There are a lot of new people moving to the city, and so many of my artist friends have left," Moberg said. He hopes this space will help new arrivals and visitors recognize the value of local art and graffiti culture.
"Once they try the spray can, and see how difficult it is, they could recognize the value even more," he said.
The Canvas will largely be reservation-only, but there are plans in the works to do pop-up lunchtime events for people to just walk in. Moberg also plans to host events for kids in the neighborhood, and he would like to have some open evenings combined with ticketed events like DJ or band shows.
"My passion project would be to host actual graffiti battles during a concert," he added. 
Most of the painting will occur in the cubbies that used to house food vendors, Moberg said, and there will be some walls on wheels for larger groups. All of the walls, mobile and stationary, will get a fresh coat of paint between each group, so everyone can start with a blank canvas. 
Team-building events for 20 people or more can be booked for $75 per person, and celebrations are available for 15-50 participants at $30 per hour, per person. Both of those options would include the chance to take home a piece of your own work on a canvas, shirt, hat, or tote bag for an additional fee. 
There is also the opportunity to schedule a live-painting event: tell the planners what the event is, they'll choose the artist(s) at $500 each, and you'll have the option to purchase the piece completed during your event for an additional cost. 
The Canvas will be available for events through the holiday season, as construction on the planned building won't start until early 2018, and you can start planning your event on its website now.