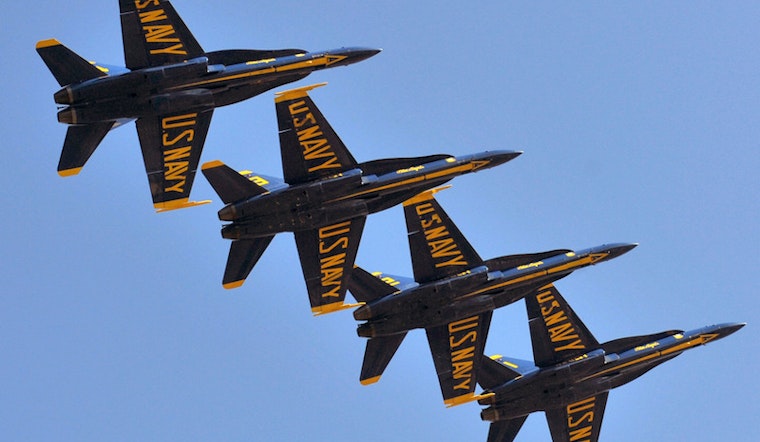 Published on October 03, 2017
Yesterday afternoon, San Francisco welcomed in the U.S. Navy's Blue Angels, officially kicking off this year's Fleet Week. 

The event, which has been around since 1981, takes place every year in early October in San Francisco. It celebrates the contributions of the men and women of the naval forces and the military as a whole.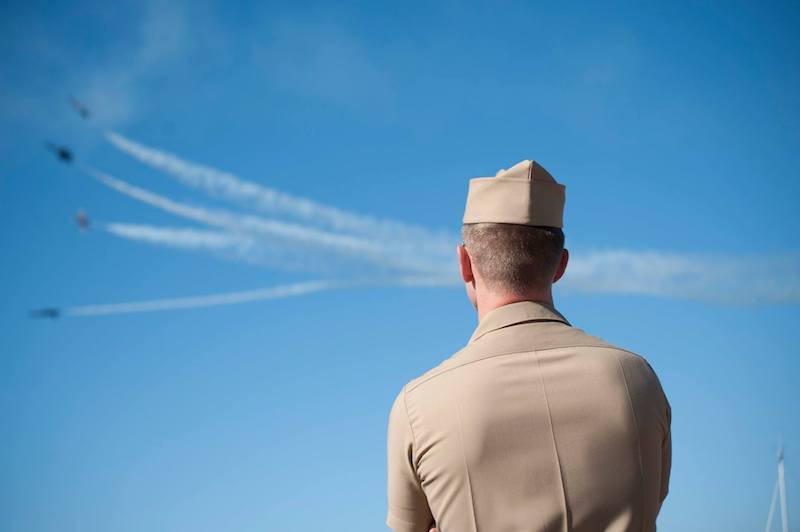 According to organizers, the yearly event is the largest event of its kind in the country, generating more than $10 million in annual revenue for the city. Since it has become so big and popular, the Department of Defense uses SFFW as a model to replicate in other cities across the country. 
So what can San Franciscans expect to see this week?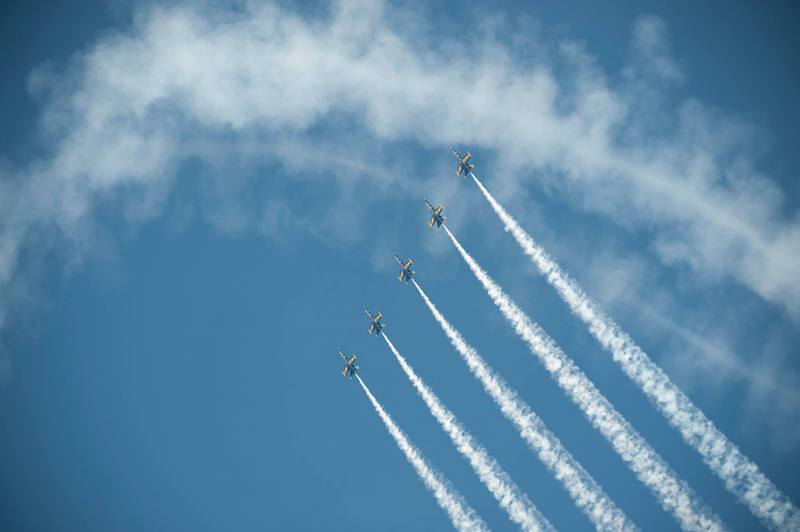 The first event will begin tomorrow morning at 9am with the veterans' art exhibit at The Cannery Galleries. Visitors will also have an opportunity to learn about the U.S.S. Essex LHD 2, an amphibious assault ship that was commissioned in 1992, before finishing off the veterans' resource fair.
The week will continue with a variety of activities including a softball tournament on Thursday, a tribute concert commemorating fallen soldiers that evening, a parade of ships on Friday morning and more. The San Francisco Fire Department's boat, the St. Francis, will be first ship to go under the Golden Gate Bridge this year. 
The highlight of the week will be the airshows taking place from 12-4pm, October 6th to October 8th. Donna Flynn, Fleet Week's "air boss," will be on duty again to ensure that pilots coming in from San Francisco, Oakland or Nevada are following flying procedures.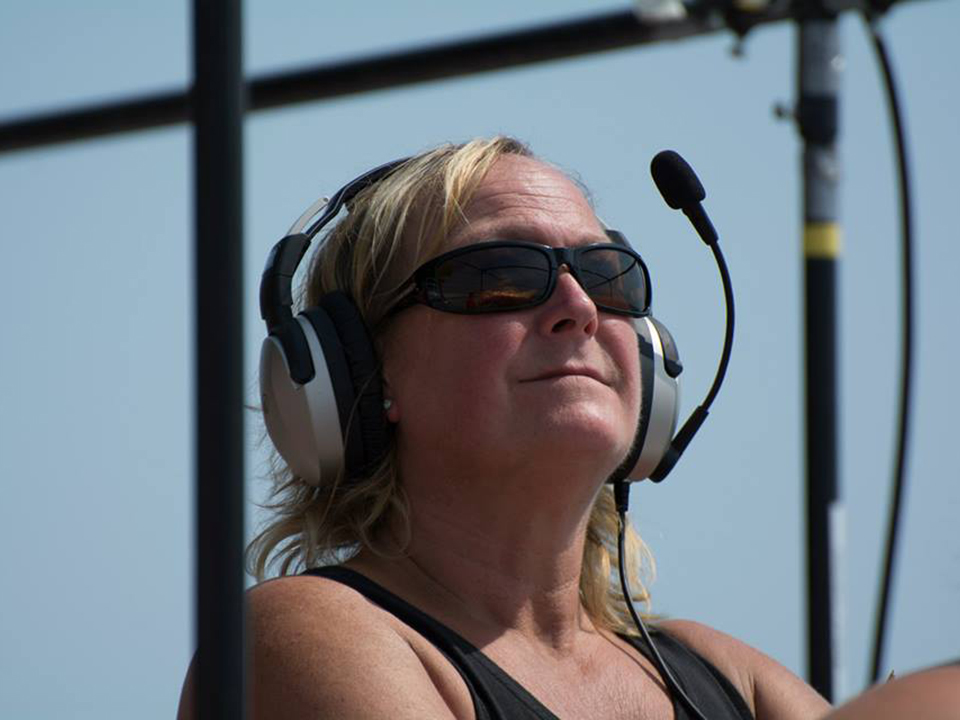 In the wake of the mass shooting in Las Vegas, SFPD is stepping up security during what promises to be a busy week. In addition to Fleet Week, the city is hosting Hardly Strictly Bluegrass and Oracle's Open World.  
"We want to reassure the public that we are working with our local and federal partners to provide a safe environment for everyone," SFPD said in a statement. "The public can expect to see a visible police presence including officers on foot, motorcycle, on horseback and in patrol cars at the various events around the city."

Every officer will be on duty this week, and SFPD will have additional resources for any "spontaneous events." Police also encourage people to stay alert and to call 911 if they see any suspicious activity.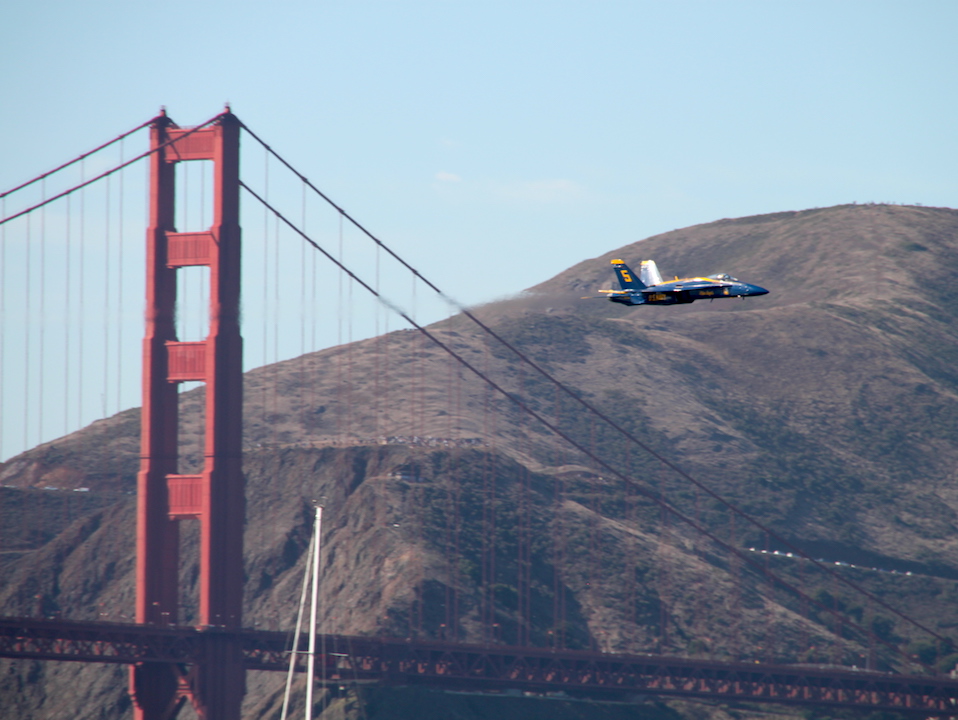 To get to Fleet Week's events, SFMTA recommends visitors take Muni to get to the Marina, especially as parking is in short supply. There will also be added Muni service this weekend. Muni is also offering free rides, which includes the cable cars, to military personnel in uniform or with military IDs. 
If you are a boat owner, Fleet Week provides online guidelines with restrictions and safety requirements for all boat operators. To ensure everyone's safety, the San Francisco Police Department Marine Unit, U.S. Coast Guard and other public safety agencies will be out in the water.
[Update: 10/5/17, 7:55am]
In 2015, SFSPCA veterinarian Jennifer Scarlett told SFGate that playing classical music on low volume can help soothe pets stressed by the noise of low-flying jets.
A long run or another type of exercise or play followed by positive affirmation in the form of treats and belly rubs is another way to relieve stress. Animal expert Dr. Temple Grandin has researched the Thundershirt, a pressure wrap that's been shown to slow a dog's heart rate and reduce anxiety.
If these measures don't work, you board a dog in a kennel for about $50 a day or obtain an anti-anxiety prescription from your local vet for about $100. 
Veterinarian Jill Chase was more succinct, and said the top two cures were "tranquilizers and leaving town," adding that "cats seem to understand more than dogs what they need to do and where they need to go."
For some experiencing post-traumatic stress disorder, Fleet Week can trigger anxiety and flashbacks. Resident Julie Mastrine, who suffers from anxiety, has started an online petition to end Fleet Week, citing its impact on veterans, refugees and others who may have anxiety disorders.
So far, her petition has more than 25,000 supporters, with 1,369 votes coming from San Francisco residents.
Here are some of the highlights of this year's Fleet Week.
Fleet Week events