Published on October 30, 2017
Finding success with earlier cleanup and litter mitigation measures earlier this year, the Richmond District Neighborhood Center has sponsored ten new receptacles for cigarette butts.
Five ashcans installed on Clement Street last week were placed in collaboration with local merchants, who helped determine optimal locations, said Pawel Dlugosz, who's worked on RDNC cleanup efforts.
The other five are set to be installed in the not-so-distant future, he said.
After installing ashcans along the Balboa Street merchants corridor, RDNC has collected more than 4,650 cigarettes for recycling, said Dlugosz, who explained that tobacco and paper are composted, while plastic filters are reduced to pellets.
According to Sarah Huck, RDNC's development director, staff from Peabody Elementary School will maintain the cans, using them as part of an after-school  program on environmental health and waste awareness.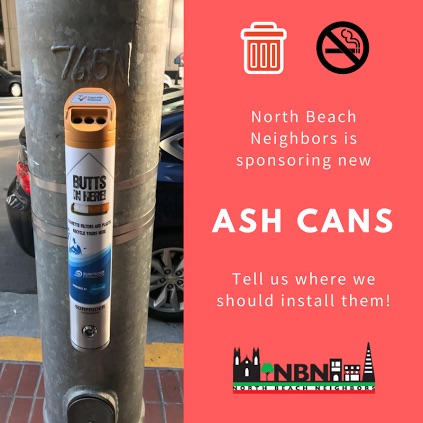 Citing the success of butt-eradication programs in other parts of the city, North Beach Neighbors is now soliciting feedback on the potential placement of three new cigarette disposal receptacles in their area.
The association hopes to "save thousands of toxic cigarette butts from entering our streets, sidewalks, gardens, and waterways."
To submit feedback on preferred sites, take NBN's online survey.