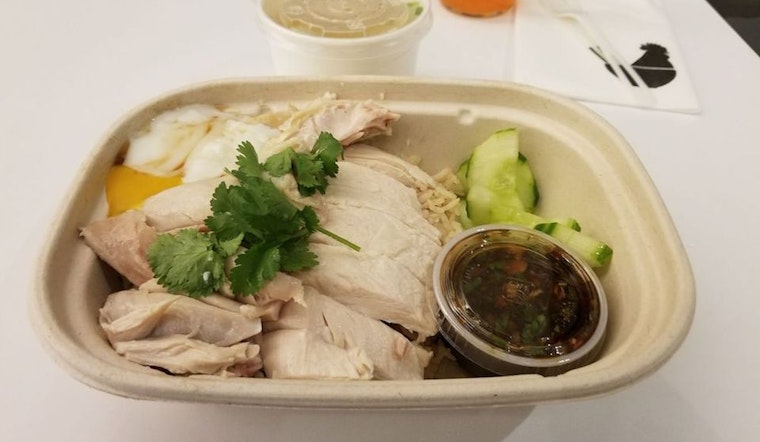 Published on December 27, 2017
Downtown has another Thai option, that's potentially a winner for those who love poached chicken. Called Rooster & Rice, the new addition is located at 125 Kearny St. (between Vermehr Pl. & Post St.) in the Financial District area near Union Square
This new spot—which has other outposts in the Marina and in SoMa—specializes in khao mun gai, a popular Thai dish comprised of poached chicken served over "fragrant chicken rice" and garnished with cucumber and cilantro. The dish is generally served with fresh chili, ginger, garlic and soy bean sauce, with a side of chicken broth. 
On the menu, expect to see options like "The Original," with breast and thigh meat served with jasmine rice; "The Marina," with skinless breast meat and organic brown rice; "The Paleo," with breast or thigh meat and seasonal veggies; and "The Vegetarian," with organic tofu, brown rice and veggies. (You can check out the full menu here.)
Rooster & Rice has garnered good initial reviews thus far, with a 4.5-star rating out of five reviews on Yelp.
Denise L., who was among the first Yelpers to review the new spot on December 19th, said: "The same simple menu of Hainan chicken, rice/veggies, and add-ons is the same, and I appreciated how there was much more seating here than the other locations. My favorite is still the Marina with a poached egg added, and the Paleo if I'm trying to eat clean."
Yelper Bob F. added: "Chicken and rice on a cold day is nice comfort Asian food.I got the Marina (all breast, skinless, and organic brown rice). The chicken tasted very fresh and the rice was cooked just right."
And Kimberly L. said: "Legit chicken for lunch! Clean and pretty fast service and friendly people."
Head on over to check it out: Rooster & Rice is open weekdays from 11am–8pm. (It's closed on weekends.)