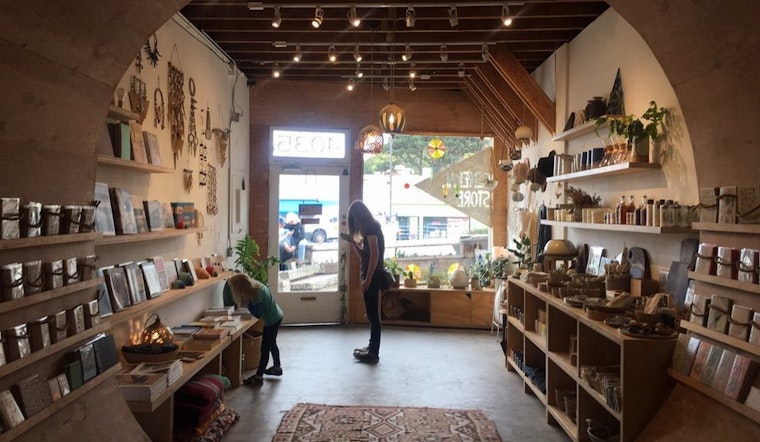 Published on December 21, 2017
San Francisco is a world-class shopping city, but Union Square, the Marina, Haight Street and Hayes Valley tend to hog the spotlight. As the city's western neighborhoods raise their retail game, however, it's time to rewrite the guidebooks.
Instead of heading downtown to find last-minute gifts, we rounded up a list of local purveyors in the Outside Lands that'll have you covered. 

The General Store (4035 Judah St. between 45th and 46th Avenues)
The General Store—which has another outpost in Venice, CA—features a selection of artisanal housewares, apparel, jewelry, apothecary items, and gifts for kids. 
Expect to see items like a handmade stoneware hanging planter with hemp twine string; textiles from sister artist duo Hopie and Lily Stockman of Block Shop; handcrafted, sustainably sourced jewelry from Polly Wales and herbal tinctures from Poppy & Someday.
Stop into the shop's backyard garden to browse an assortment of potted plants for sale. (You can see a full line of products offered, including new arrivals, here.)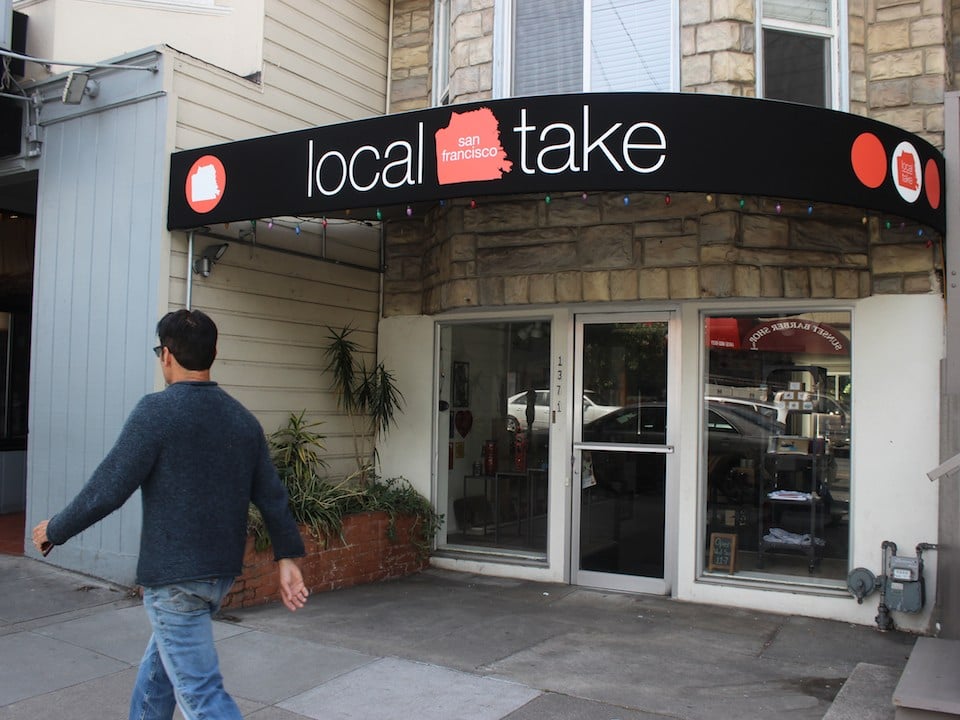 Local Take (1371 9th Ave. between Irving and Judah Streets)
This San Francisco-themed retailer is a departure from tchotchke-lined shelves in touristy neighborhoods, featuring a variety of art and home goods, jewelry, along with men's and kids clothing. 
If you stop in, be on the lookout for California and San Francisco-inspired art prints; tote bags and tea towels emblazoned with images of Sutro Tower and the Golden Gate Bridge; plush toys, and T-shirts featuring Muni cars and cityscapes. 

The shop features more than 150 Bay Area artists and designers and rotates its stock frequently. (You can take a look at some of the items on offer here.)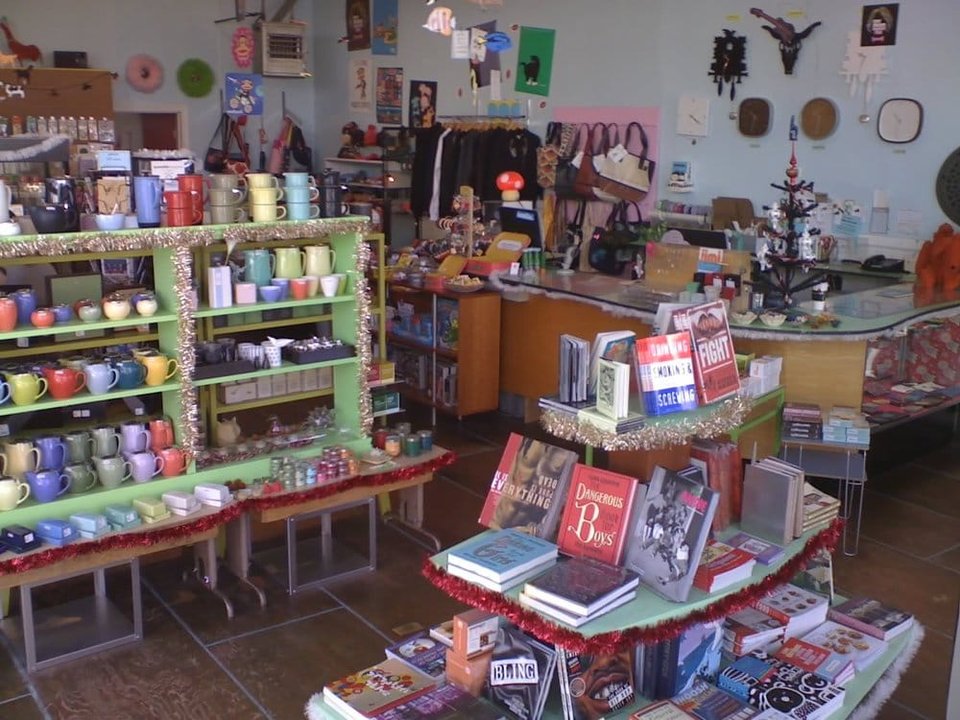 Wishbone (601 Irving St. between 7th and 8th Avenues)
For 20 years, Wishbone has featured an array of gifts for "all ages and genders" like jewelry, books, stationary, baby gifts, cards, candles, and more in the Inner Sunset.
The store carries whimsical tote bags with messages like "Awesome Sauce," keychains, magnets for the fridge, novelty salt and pepper shakers, a selection of handbags and wallets, and ceramic mugs. (You can check out samples of what's on offer at the shop here.)
Avenues Dry Goods (4120 Irving St. Between 42nd and 43rd Avenues)
We first profiled Avenues Dry Goods in 2016 when journalist Eve Batey opened the shop with her husband, Tim Ehhalt. The pair, who manage the space, also design and silk-screen their own T-shirts.

Everything at the store "comes from local artists, craftspeople, and curators," and some of the products are made by staff in-house as well. "There's a story behind every item in the shop," according to the store's website. 
Customers will find gifts like San Francisco-themed T-shirts, a Golden Gate Park-inspired bandana, and a Twin Peaks monorail pin. 
The business has also partnered with Sand Shed, a vintage/upcycled collective that features sustainably sourced products like wicker tote bags, turquoise jewelry and vintage clothing. 
Rounding things out, you'll also find locally-grown succulents and air plants, as well as personal care items and a small fridge frequently stocked with Mexican Coca-Cola.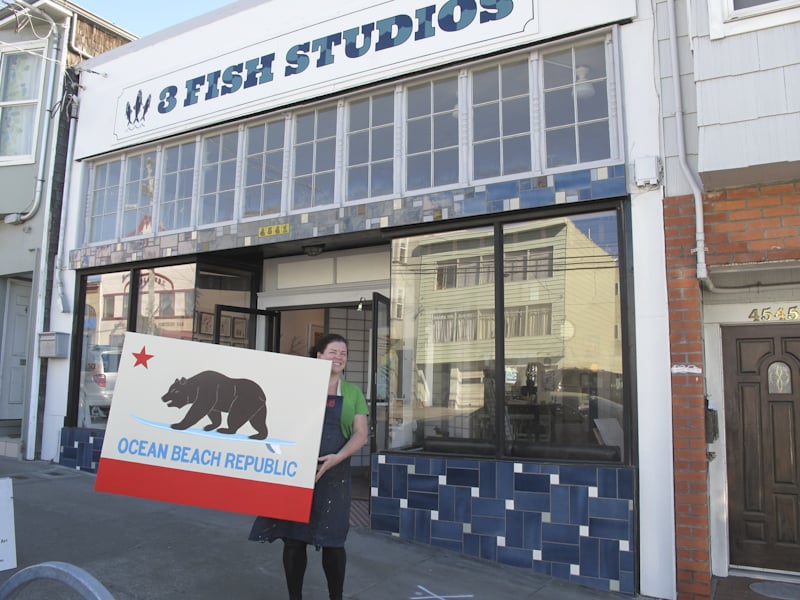 3 Fish Studios (4541 Irving St. Between 46th and 47th Avenues)
3 Fish Studios is the personal gallery, workshop, and studio of married artists Eric Rewitzer and Annie Galvin.
Painters and printmakers, the shop offers many of their creations, including art prints, linocuts, postcards, magnets, and tote bags. 
Look for a collection of artist prints from a series called "I Love You California," paintings showcasing San Francisco themes, a limited edition linocut collaboration with artist Paul Madonna, and a "49 Mile Drive" tote bag. (You can check out a selection of the artist's work here.)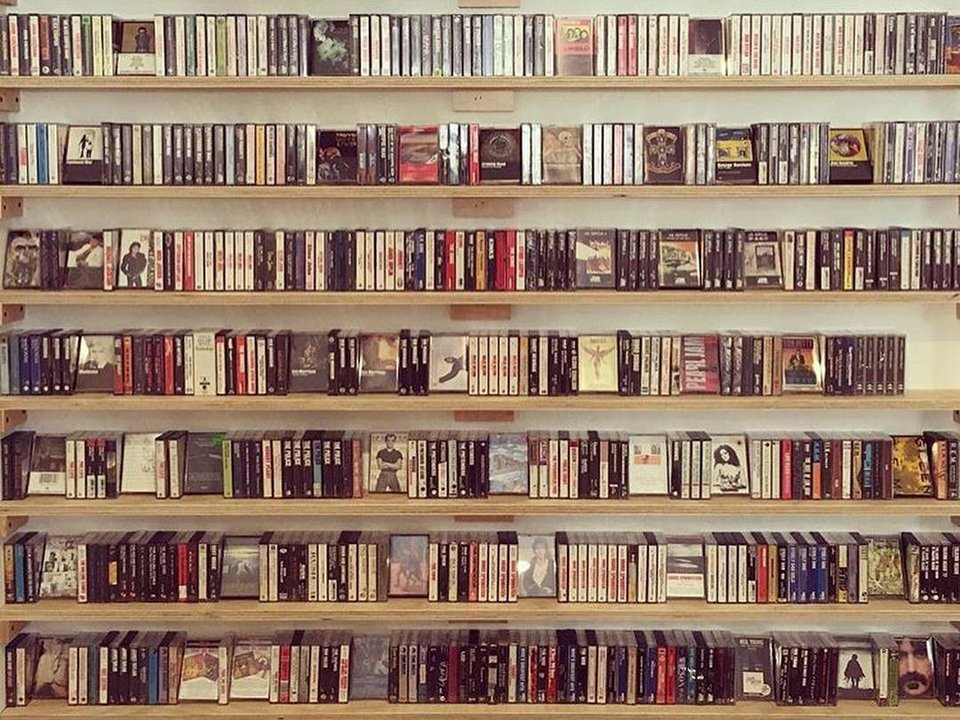 Tunnel Records & Beach Goods (3614A Taraval St. Between 46th and 47th Avenues)
This shop's offerings are diverse, so expect to see a wide selection of gifts such as records, home goods, cards, books, vintage items and jewelry, ceramics, band merch, surfboards, audio equipment, and more.
Look for items like vinyl records from hard-to-find artists like The Sun Ra Arkestra, João Donato, and Pharaoh Sanders; ceramic mugs, retro vases, and an array of wood home goods like a cherrywood cake knife, walnut coffee scoop, and olive wood bowls. (You can check out a full selection of items on offer here.
Know of a favorite business in the Sunset we've missed? Text us at 415-200-3233, or email [email protected]