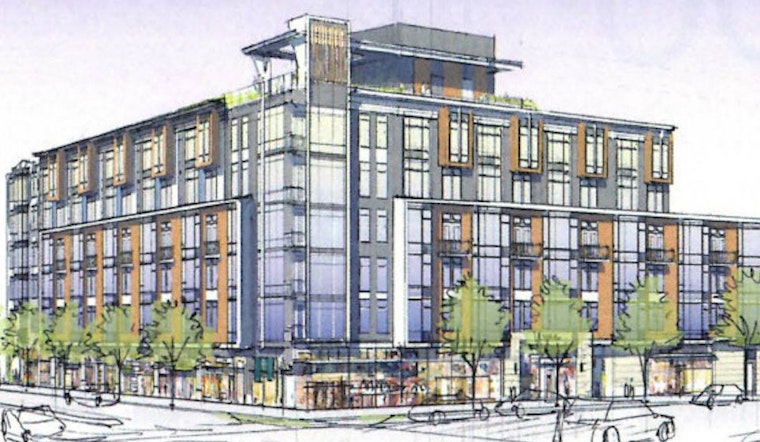 Published on February 20, 2018
This Wednesday at Madrone Art Bar, developer David Kriozere will answer questions, take feedback and generally discuss plans for 400 Divisadero, a proposed 177-unit residential and commercial development.
The project, helmed by Kriozere and unveiled to the public last October with a preliminary round of suggested designs, would transform a parcel that today includes a Shell gas station and Touchless Car Wash at Oak and Divisadero.
The community evenings at Madrone are the latest in the developer's community outreach and engagement efforts. Begun last Wednesday, the series of open houses will continue indefinitely to allow Kriozere to hear from members of the community.
Issues at stake for the proposed development—which would add 8,000 square feet of ground-floor retail—include traffic and parking impacts,  housing density, bicycle safety, and the potential visual and aesthetic impacts of a new, 65-foot-tall building.
"It is a more informal way for interested residents to meet and share questions, concerns, ideas, comments, etc.," Kriozere said. "I enjoy hearing people's first-hand perspectives this way too. While I will continue to hold public meetings, this kind of smaller setting is nice."
If you're unable to make Wednesday evenings and you'd like to be in touch with Kriozere directly, his email is David [dot] Kriozere [at] 400Divisadero [dot] com.