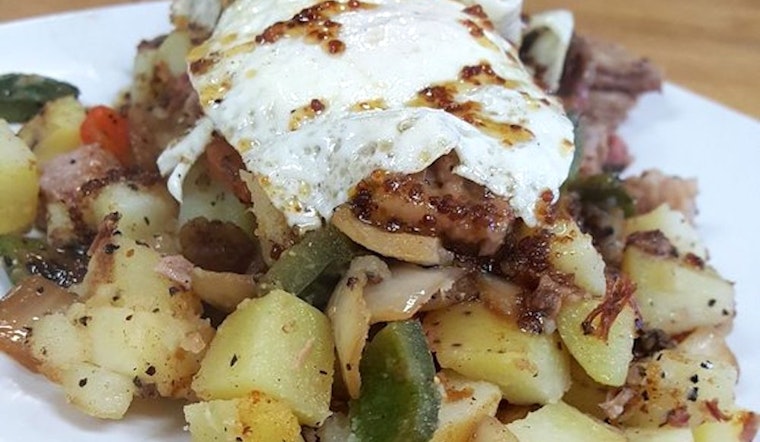 Published on February 05, 2018
Hungry? A new neighborhood barbecue spot has you covered. Located at 856 N. 13th St. in downtown San Jose, the fresh addition is called Mesquite and Oaks.
This newcomer—specializes in house-smoked barbecue, breakfast fare, sandwiches, and more. 
On the menu, expect to see breakfast items like brisket and egg tacos, a Texan brisket breakfast sandwich and brisket hash and eggs.. 
For lunch and dinner items, there are sandwiches with pulled barbecue chicken served with grilled onions and peppers, barbecue sauce and house-made pickles. Meat plates are also offered, with choices such as hot links, brisket, chicken leg quarters, spare ribs and pulled pork served with a choice of sides like baked beans, house chili or potato salad. 
With a five-star rating out of 15 reviews on Yelp so far, the fresh arrival is on its way to developing a local fan base.
Elvia G., who was among the first Yelpers to review the new spot on January 28th, said: "So good, me and my husband went last night. Will come back soon. We had the two meat combo...really good."
Yelper Cin-Yee S. added: "Always on the hunt for the best Bay Area barbecue (especially brisket) and still mourning the loss of San Jose BBQ and Texas Smokehouse, so Mesquite and Oaks is a welcome addition."
And Nelly T. said: "What a great addition the neighborhood...The interior decor was homey and cute, and owners were genuinely welcoming and appreciative. Yup, go check them out and support our local neighborhood business. I'll be back!"
Intrigued? Stop in to try it for yourself. Mesquite and Oaks is open Tuesday–Thursday from 5pm–8pm, Thursday from 9am–2pm, Tuesday, Wednesday and Friday from 9am–2:15pm, weekends from 8am–3pm, and Friday from 5pm–8:30pm.