Tonight, an installation atop Salesforce Tower will use 11,000 LEDs to display a sculpture created by a local artist that will be visible up to 20 miles away.
Jim Campbell's Day for Night will be revealed at nautical twilight, which is between 8:48 – 9:25 p.m.
The piece, installed on the building's top six floors, will be the nation's tallest public art installation, with the highest point 1,070 feet up, according to a press release from Hosfelt Gallery, which represents the artist.
The building is now the tallest in San Francisco and the second tallest on the West Coast behind the Wilshire Grand Center, which stands at 1,100 feet.
The lights are capable of displaying low resolution moving color images and only require the same amount of energy to operate as five toaster ovens, according to the gallery. 
Additionally, the sculpture's content will change continuously as cameras throughout the city capture scenes to be played back at night on top of the tower. Day for Night will never project advertising or messages and will be used solely for Campbell's creations. 
"My inspiration for this project was the city itself," said the artist. "Unlike a Jumbotron that projects outward, this piece is a soft dreamscape that subtly floats on the night skyline, playing back the crashing waves on the beach, the rolling fog, boats on the bay, street scenes, or the rising and setting sun."
Campbell began his career as an engineer after receiving a degree from the Massachusetts Institute of Technology. He previously worked in Silicon Valley on high-resolution screens and televisions later switching to making custom electronic sculptures and installations using LEDs as his primary medium.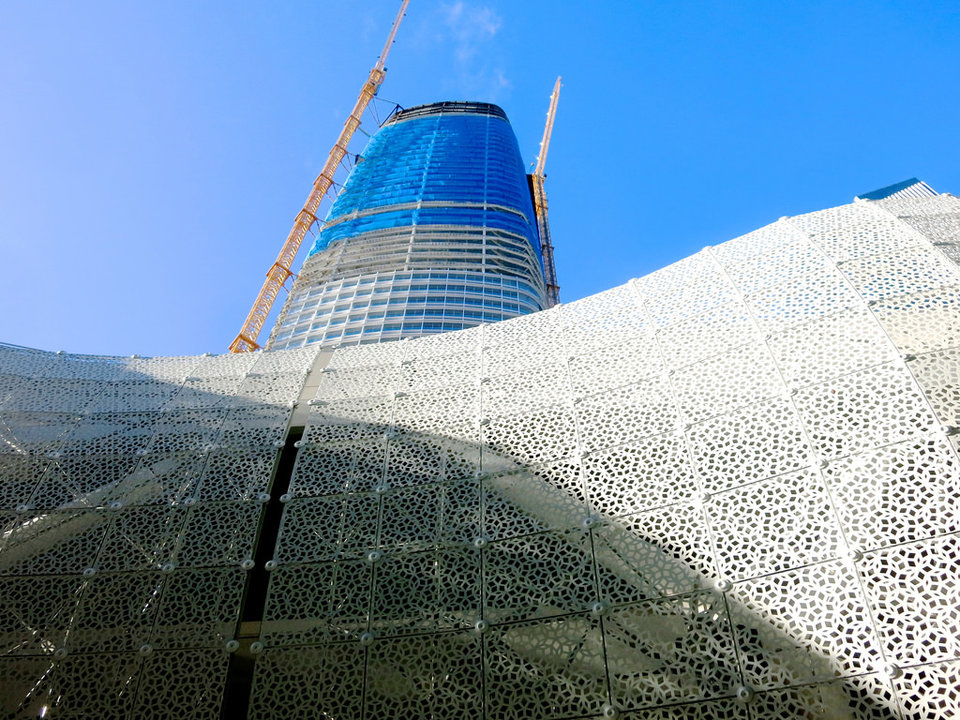 Previously, Campbell was commissioned to create The Journey, a 1,000-foot-long ceiling sculpture at the San Diego Airport, and his work now hangs at the San Francisco Museum of Modern Art, as well as at the Hosfelt Gallery. A forthcoming solo exhibition will be held at Hosfelt in 2019. 
"The Eiffel Tower was a product and symbol of its time — an era of enormous advances in engineering and technical possibility," said
Just as the Eiffel Tower represents the pinnacle of 19th-century engineering, Campbell's sculpture reflects the city's relationship to high technology, said Todd Hosfelt, founder and principal of Hosfelt Gallery.
"Campbell's piece atop the Salesforce Tower will not only be an icon of the San Francisco skyline, it will come to be a symbol of this place, at this particular moment in history," he said.
SFGate has rounded up some of the best spots in the city to view the debut of Day for Night, weather permitting.