In this edition, a community campfire is back for another season in the Presidio, an Outer Richmond pizzeria is poised to expand with a new concept, and a new sushi joint joins the Ingleside mix of culinary attractions. 
Presidio
Presidio Twilight (103 Montgomery St. Presidio)
The Presidio Trust and Off the Grid are bringing back Presidio Twilight for its fifth season Thursday evenings beginning May 17, 5–9 p.m. 
Located an the Main Parade Ground, the evening campfire features a diverse selection of food offerings, live music, free outdoor games and 30 lantern-lit cabanas and fire pits for lounging, according to the organizers. 
"What better way to enjoy the great outdoors than in a national park at the doorstep of San Francisco?" said Allison Stone, Director of Park Programs for the Presidio Trust.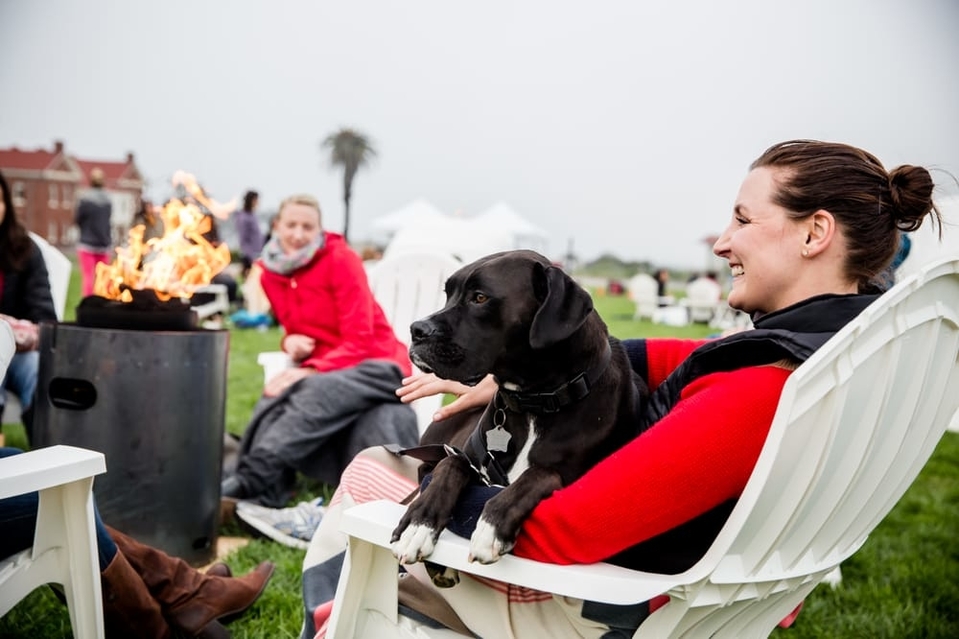 For eats, expect to see food trucks from The Boneyard (barbecue), Mozzeria (Neapolitan-style pizzas), Cousins Maine Lobster (lobster rolls, fried clams, seafood), Twister Food Truck (Asian-fusion), Johnny Doughnuts, Casablanca (Moroccan and Mediterranean fare), Waffle Roost (gourmet chicken and waffles), and 808 Poke Shake (traditional Hawaiian poke).
New this year to the lineup is I Love Cheesesteak (Asian-fusion cheesesteaks), Yoshi Sushi & Grill, Wezy (Asian baos) and Mixwell (fusion noodles). 
Outer Richmond
Pizzetta 211 (6101 California St.) 
Distinguished Hoodline Tipster Al M. reports that Outer Richmond pizzeria Pizzetta 211 is opening another location in the former Golden Star Laundry & Cleaner space, which has been closed since 2013. 
It appears from a letter posted to the new business' window that plans have been in the works for nearly two years and that the expansion will be a concept slightly different than its flagship locale.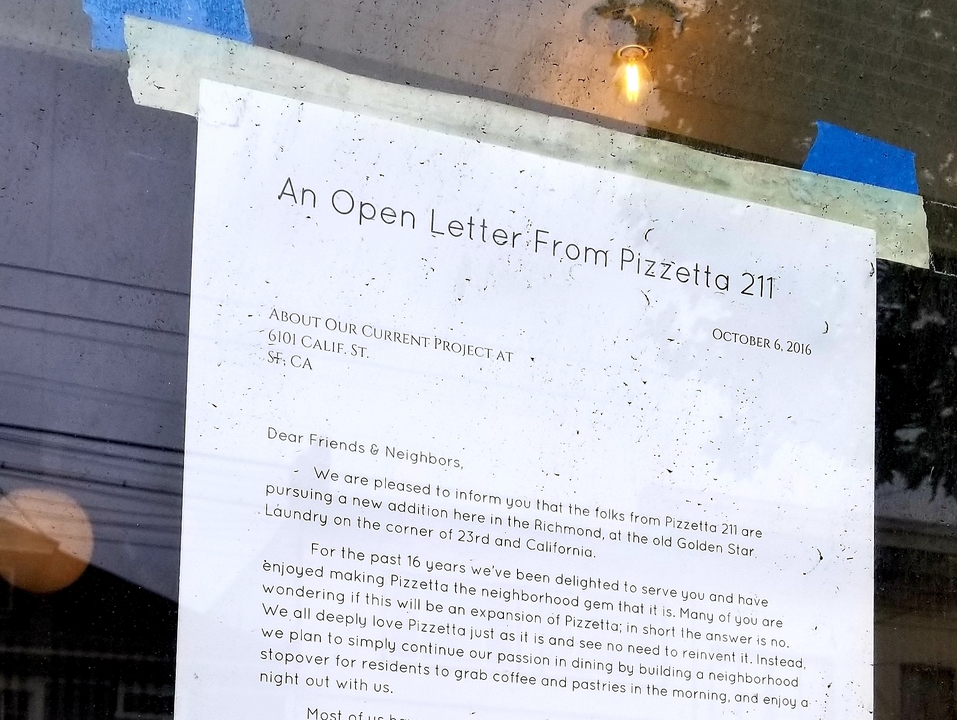 "Many of you are wondering if this will be an expansion of Pizzetta," the message reads. "In short, no. We all deeply love Pizzetta just as it is and see no reason to reinvent it."
Instead, the new iteration aims to become another neighborhood hub, featuring morning pastries and coffee, and a cozy dinner atmosphere. Expect to see fresh seafood, house-made pasta dishes and sharable plates for dinner. 
On Al's visit, he was told that renovations should be "wrapped up around May 22," but owners weren't sure when the exact opening would be. 
As always, our informant plans to check back to see how things are moving along.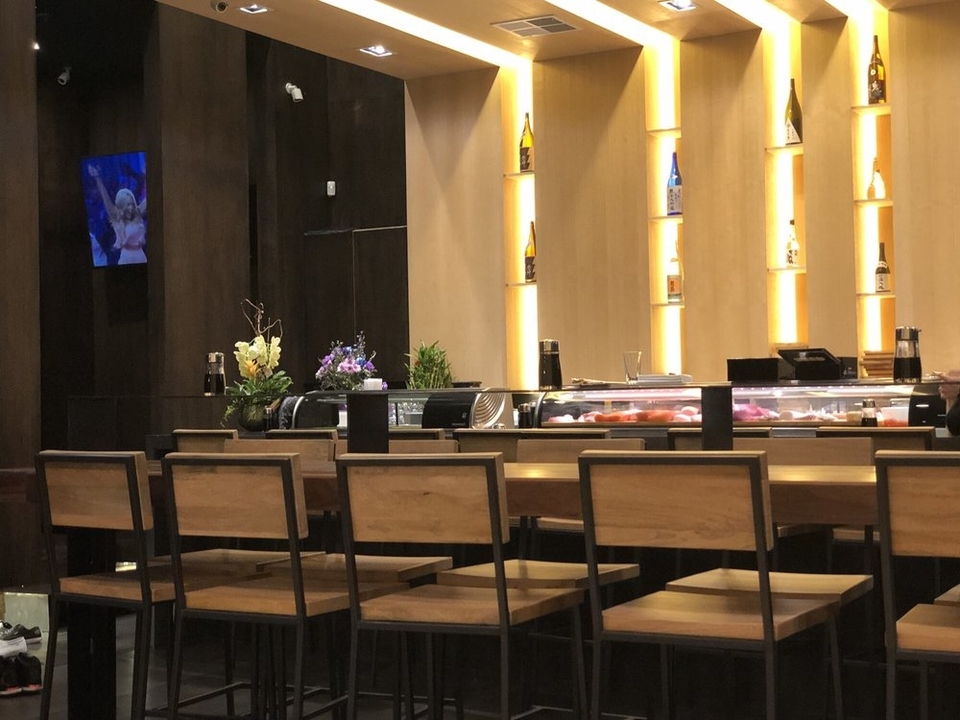 Ingleside/Westwood Park
Sakesan Sushi & Robata (1400 Ocean Ave.)
Lastly, first-time tipster Laurel S. reports that a new sushi spot, Sakesan Sushi & Robata, has opened in the former Las Americas Supermarket. 
The new restaurant comes from the folks behind Sakesan Sushi & Bistro (626 Clement St.) and features a wide assortment of sushi and sashimi mainstays along with robatayaki grilled meat and veggie skewers. 
On the menu, expect to see oysters delivered fresh daily on the half shell; starters like karaage fried chicken, kaki fry oysters, assorted tempura; and robata variations like shiitake, pork belly and beef tongue.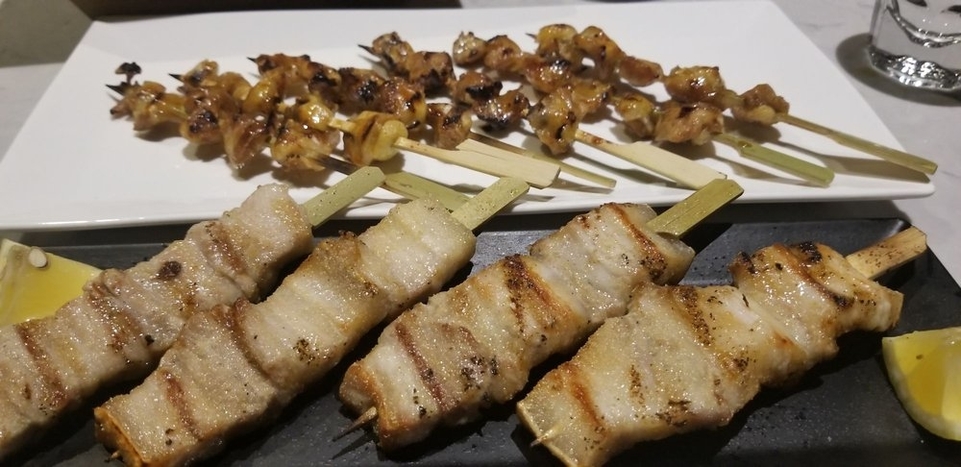 For sushi, there's an extensive selection of nigiri rolls, hand rolls, omakase (chef's choice) sashimi and more. 
And as the names suggests, there's a large assortment of Japanese sake varieties like Junmai, Junmai Ginjo and Nigorizake. 
Sakesan Sushi & Robata is open daily for dinner from 4 p.m. to midnight.
Many thanks to Al M. and Laurel S. for the tips!
If you've seen something new in the neighborhood, text tips and photos to 415-200-3233, or email [email protected] If we use your info in a story, we'll give you credit.