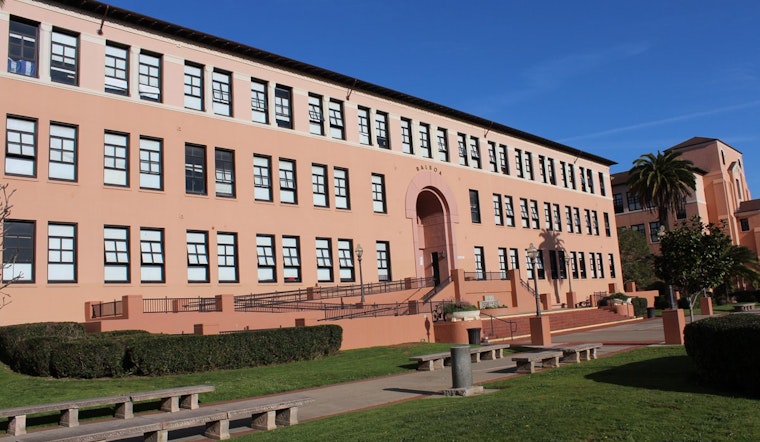 Published on August 30, 2018
Four San Francisco schools are on lockdown this afternoon after reports of a shooting at Balboa High School.
Police confirmed via Twitter just after noon that Balboa and other schools had been placed on lockdown because of an unspecified incident.
Three other nearby schools — James Denman Middle School, San Miguel Early Education School and Leadership High School — were also on lockdown, according to the San Francisco Unified School District.
Officials at Leadership High School said that there were shots fired at Balboa. Social media reports from inside Balboa indicated that there may be a shooter still inside.
School district officials said all students are safe.
Update, 1:47 p.m.: Lockdowns have been lifted at all schools.
San Francisco police spokesperson Officer Grace Gatpandan told reporters that three people have been detained at Balboa High School.
Students are being released early from Balboa High School while the other three San Francisco schools locked down today will resume their regular school days, according to the school district.
School district officials said one student suffered a minor injury and their parents had been contacted.
Police said that a firearm has been recovered but did not say how the student was injured.
Extra staff are available at the teen health center at Balboa for support, according to the school district.
Some schools in Daly City were also placed on lockdown today as a precaution.
Update: 5:00 p.m.: A fourth person has been arrested for today's gunfire incident at Balboa High School, according to San Francisco police.
All four people arrested are Balboa High School students. One was arrested for the firearm discharge, the other three are under investigation for acting as accessories after the fact, police said.
Police recovered the gun and a spent bullet casing. The minor injuries suffered by one student were unrelated to the gun going off, police said.