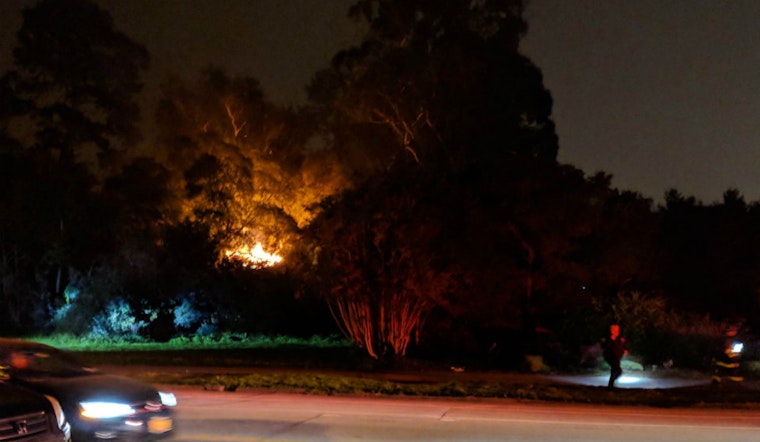 Published on October 25, 2018
Shortly after 7 p.m. yesterday, October 24, a small fire broke out in the underbrush behind the John McLaren Memorial Rhododendron Dell, to the south of the 8th Avenue entrance to the north side of Golden Gate Park.
San Francisco Fire Department community affairs and media relations representative Lt. Jonathan Baxter confirmed the fire, adding that it was a "small outside fire with no structural damage," but made no comments on the supposed source of the fire.
golden gate park is on fuego. I've never seen a fire this big with my bare eyes. Should I run or keep staring...

— kaylen (@kaaylen) October 25, 2018
Readers also reported a similar fire that broke out last month, on Chain of Lakes Drive, farther west in the park. That fire broke out just before 8 p.m. on September 19th, and was extinguished by firefighters 15 minutes later, with no injuries reported, the fire department confirmed.
And though that fire was still under investigation when we contacted SFFD, the two most recent incidents are being treated as non-suspicious.
This stands them in direct contrast to the other recent fires of note in the park, this summer's ignition of the golf course clubhouse, and last year's Koret Children's Quarter Playground fire that melted the playscape near the carousel.
Both of those incidents have been investigated as arson, in part because of the structural damage incurred—in one case, upwards of a million dollars' worth.
Until the rainy season kicks off, the continuing risk of fires in parks remains high. If you see a brush fire, report it immediately to 9-1-1.
Thanks to tipster Alex G.