The SFPD has launched a targeted attempt to clean up UN Plaza in collaboration with other city agencies, and will meet with local businesses this morning to discuss its ongoing efforts.
As some readers have noticed, a mobile SFPD unit was deployed in UN Plaza on September 11th, and there has been an increased number of officers on foot and motorcycle patrol in the area.
A tipster recently alerted us that a local business coalition meeting has been planned for 9:30 a.m. today, Monday, October 15th, at the Strand Theater, just across Market Street from UN Plaza, to discuss the SFPD's ongoing efforts and other plans for cleaning up the neighborhood. 
The officers assigned to the UN Plaza efforts are largely from the Tenderloin station, with support from officers from the Special Operations Bureau's Honda motorcycle unit, media relations officer Michael Andraychak told us. 
Tenderloin Police Station's commanding officer, Captain Carl Fabbri, will attend the neighborhood coalition meeting this morning, Andraychak said. 
While there have been some targeted efforts to clean up UN Plaza and the surrounding streets over the past year, the command van was placed in UN Plaza to help coordinate enforcement and serve as a hub for increased foot and motorcycle patrols, Andraychak said. The increased police presence aims to build on the positive results the unit has seen in the area during previous enforcement efforts. 
While there have been some reports of increased encampments in nearby neighborhoods, Andraychak said the SFPD is working with the city's Healthy Streets Operations Center to provide services to those in need that are being displaced by the clean-up efforts.
There is currently no end date planned for the increased police presence in the area, he added. 
One police officer on site told us the increased patrols were ordered by Mayor London Breed's office, in part to ensure the security of contractors and construction employees working to close the nearby BART station entrance at Market and 8th streets, in front of the Hotel Whitcomb. Breed's office has not responded to multiple requests for comment on the clean-up efforts.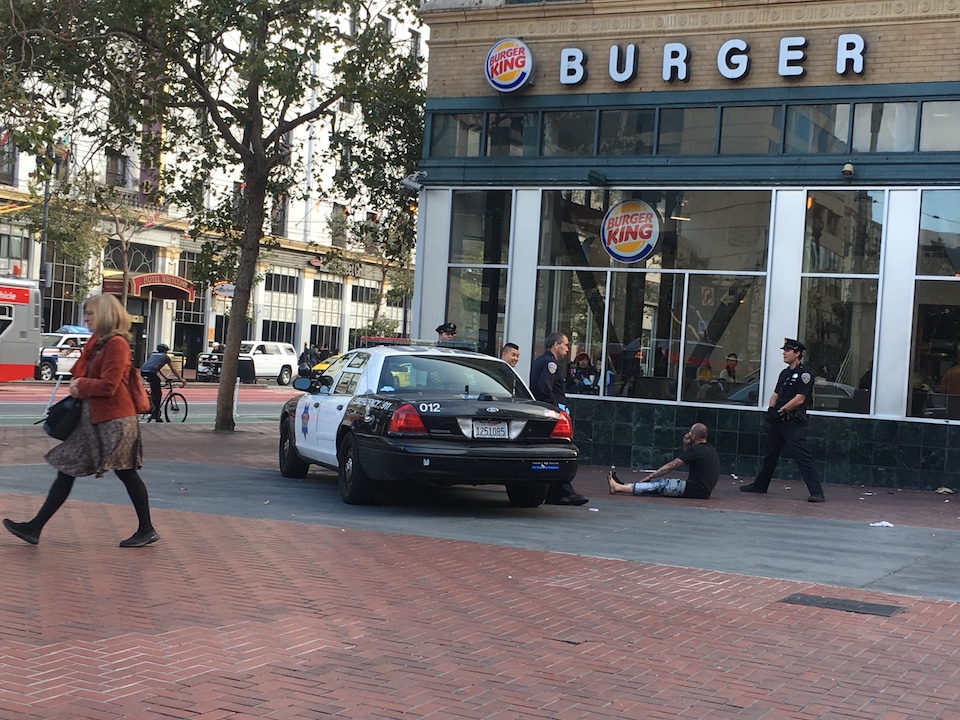 That entrance closure is part of an ongoing BART construction plan to add a new substation within the Civic Center station as part of a project to provide more power to the system to improve the frequency of BART trains. A total of 28 substations will be replaced system-wide through the $1.225 billion project, which currently has $41.9 million in Measure RR funding to replace two substations at the Civic Center and Montgomery stations.